Your Life
Travel
5 Fall adventures: Great ways to experience autumn
From turning leaves to Halloween festivities, enjoy the beautiful season
By
Erik R. Trinidad
Posted: 10/09/15
Updated: 11/10/17
The fall season is upon us, that crisp time of the year when Mother Nature starts to wind down for the winter ahead. The warmer temperatures of summer may be gone, but that's no excuse to start hibernating just yet. Just put on a sweater or a coat from late September to mid-December, because there are plenty of fun things to do this autumn, may it be out in the woods, in a beer hall, or on the streets of New York.
1. Apples and Ale
Even though the name implies it takes place in the tenth month of the calendar year, most of Oktoberfest actually takes place in September — ending on the first weekend of October — in Munich, Germany where it all began. However, there are plenty of exciting Oktoberfest festivities this side of the Atlantic, which continue the tradition of indulging on brews and bratwürsts. One particular destination that does an epic rendition of the German party is Alpine Village in Torrance, California, near Los Angeles. People dance to the music of oompah bands with steins of beer — all while clad in dirndls and lederhosen — each weekend from mid-September until the end of October. If beer's not your thing, try some cider. Cider houses are found in many places where apple orchards are nearby, but to really experience unfiltered apple juice as people did a hundred years ago, check out the historic cider mills of the greater Detroit area — some dating back to the 19th century. The Dexter Cider Mill is one of them, having been continuously in the business of pressing apples as they did 120 years ago.
2. Meet Some Ghouls and Goblins
Speaking of apples, there's the Big Apple, the place to be on Halloween for the Greenwich Village Halloween Parade. Boasting to be "the nation's most wildly creative public participatory event," it brings more than 50,000 participants to Sixth Avenue, joining giant puppets, floats, dancing troupes and marching bands, all wearing costumes and cloaks of enthusiasm. To watch the parade on the sidelines as a spectator is entertaining, but if you're in town, you might as well participate. Anyone can join. Just be sure to show up in a creative costume — makeshift ones are always crowd-pleasers. The parade, which gets in gear once the sun goes down, is one event where anything goes.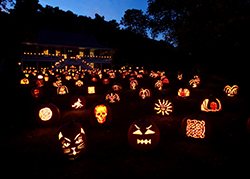 3. See the Great Pumpkins
Up the Hudson River from New York City is Sleepy Hollow Country, where there are several family-friendly events during the fall months. A noteworthy one is the Great Jack O' Lantern Blaze at Van Cortland Manor in Croton-on-Hudson, which is a spectacular display of 7,000 individually hand-carved pumpkins. All of them glow with eerie illumination, showing off not only ghastly faces, but flowers and other artistic interpretations of the season. And the artwork isn't confined to the side of a pumpkin; the gourds are arranged in the form of dragons, dinosaurs, and even the Headless Horseman himself.
4. Wine and Blind
San Franciscans know that world-class vineyards are just a short drive away in nearby Sonoma and Napa Valleys — after all, wine tasting tours are popular year round. However, in the fall, the Francis Ford Coppola Winery in the Sonoma Valley town of Geyserville hosts a unique Tasting in the Dark event. Led by Hoby Wedler, a blind graduate of UC Davis, the affair invites guests to experience wine tasting from a new perspective: blindfolded. With sight eliminated, other senses are enhanced and participants "discover new depths of sensory appreciation" via glasses of vino, perhaps with one that makes it to your Thanksgiving table. The event goes on twice a month on specific weekends from September through December, which can be found on the winery's website. (Reservations are required.)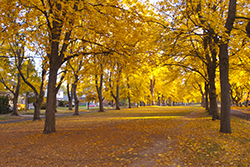 5. Make Like A Tree And Leaf
What's autumn without a scenic getaway to see the colors of the changing leaves? Foliage of deep auburn, shades of crimson and subdued tawny hues blanket the landscape in deciduous tree regions around the country and the Pacific Northwest is no exception. A fun leaf-peeping day or weekend trip from Seattle involves driving along the Mount Baker Byway — with the distinction of being a State Scenic Highway and a National Forest Scenic Byway — stretching about 60 miles from Bellingham, WA to Mount Baker in the eastern wilderness. Looking for some more adventurous fun? See the leaves up close by hiking. The Fall Creek National Recreational Trail in Oregon is a nice way to get a full view of the fall foliage.
If you'd rather stay confined to an island, there are also colors of autumn falling from the trees of the San Juan Islands, accessible by seaplane or ferries that accommodate cars. While there's no set viewing time, you'll likely get a good glimpse of autumn leaves in reds, yellows and vibrant oranges from now until late November.
Make your fall experiences even more rewarding with Chase Freedom. The card is for the essentials. The cash back is for the fun.
Erik R. Trinidad is a Brooklyn-based freelance travel and food journalist. His work has appeared in National Geographic Traveler, Saveur, Condé Nast Traveler, The Huffington Post, Epicurious, Cooking Channel, and Discovery.com.