Small Business
Manage Your Business
Essential innovations for small business owners while on the go
Keep your business running when you're away from the office
By
Tom Samiljan
Posted: 10/06/17
Updated: 02/15/19
The following story is intended to help small business owners with tips to grow and manage day-to-day challenges, brought to you by Chase Business Banking.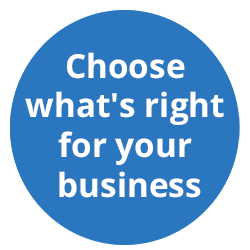 With nearly a decade of experience working in the corporate world, two years ago Mike Karp started Rorbi - his own video production company, and his daily workflow changed dramatically and today, its not unusual for him to juggle live chats with clients on his smartphone, payment of caterers via cloud-based bookkeeping software, and use the Chase Mobile® app to track purchases.
Karp also uses his smart phone to manage schedules on the road, including his trips to remote locations down a windy road two hours north of Mexico City. "I'm still learning how to balance all these things," he says.
For Karp, smart technology is crucial. Without the resources or support staff of a large corporation, gadgets help run small business each and every day.
Here are a few must-haves:
1. Pick the right mobile card payment system
Whether you have a well-established business or you're selling crafts as a side gig, a small business needs to be able to process credit cards, on the go.
There are many options available for mobile card payment systems, but one of the most important features is to choose one that can read EMV chips. It's a security feature, since you could face greater liability from swiping chipcards.
Always read the fine print with any card reader, since some charge a flat fee for using their services and others take a percentage of each sale.
2. Use wearables as communication tools
There's nothing worse than being glued to your phone when you should be focused on clients. And yet, some messages can't be ignored. So, Jennifer Overkhat, a Los Angeles real estate agent, wears a smartwatch that's paired with her phone.
"I do my best to put my phone away during meetings or meals," she says. "But my smartwatch will notify me of anything important that comes up with a quiet vibration."
3. Stay online when out of the office
WiFi is pretty ubiquitous, but there will be times when you have to be sure that you will be able to have solid internet access.
A mobile router (sometimes called a travel router) is just like the router you have at home, except it's smaller and portable. It's a way to make sure you can get online when traveling or when internet access could be spotty, like if you're outdoors. Mobile routers connect to existing WiFi networks, although some have built-in SIM cards for data internet. They are better options than just using your phone as a hot spot, since routers don't gobble up data usage or add extra charges to your cellular bill.
If a portable router isn't an option, an affordable wireless hotspot is an easy way to make sure you always have access to internet.
Now that LTE (and soon, 5G) mobile broadband speeds are the norm and data access plans are so reasonable, being in transit is no longer a barrier to getting work done.
Karp pays $10 a month for each gigabyte of data no matter where he is in the world, which certainly came in handy during a shoot in Mexico. "I use it constantly," he says.
4. Bring your power wherever you go
No small business owner should leave the office without an external battery, though preferably it should be at least 5000 mAh, which is usually enough to re-boot the average smartphone at least four times or a tablet at least twice.
"My battery pack is thinner than my smartphone," says Prasad. "If I'm running around town and my phone dies, I can just plug it in via USB. It fits in my pocket, so I don't mind carrying it around."
5. Consider the value of Digital Scanners
Taming the paper tiger is a constant battle for a small business. Between receipts, invoices and contracts, there are lots of documents that needs to be kept, and a portable digital scanner is a good way to store them while also being mindful of space.
There are a lot of benefits to digital scanning. For one, documents are usually automatically backed up when saved to a computer. They can be searched via keyword. Scanned images can also be saved as PDFs with digital signatures to authenticate contents.
Some business owners find portable scanners especially useful at conferences, when everyone is trading business cards and marketing materials. Once you have a digital image of these items, you don't need to keep the hard copies.
Most digital scanners require a plug, but many operate with batteries and have WiFi access, so that they can link up with online programs and apps.
Tom Samiljan is a Chase News contributor. His work has appeared in Travel + Leisure, Bloomberg Pursuits, and L'Uomo Vogue.