Small Business
Manage Your Business
A Colombian company pioneers farm-to-table coffee
Devoción sources beans from small farmers to make the ultimate fresh cup
By
Rebecca Dalzell
Posted: 10/05/17
Updated: 09/24/18
September 15th through October 15th is National Hispanic Heritage Month, and there's a lot that the community has to celebrate, especially when it comes to small business. This story highlights the insights of a Hispanic business owner, brought to you by Chase for Business.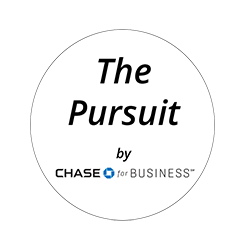 Williamsburg, Brooklyn is crowded with coffee shops, each selling some version of an enlightened cup. Yet among all the organic, Fair Trade, and single-origin options, Devoción stands out. It's the only farm-to-table coffee roaster in the world. It is also a Hispanic-owned business.
The Hispanic population makes up about 57 million people in the United States, currently about 18% of the population. Each Hispanic-owned business creates about eight jobs for the American workforce, according to the 2016 Stanford University State of Latino Leadership report. Hispanic-owned businesses were responsible for 46% of the growth in U.S. employment between 2011 and 2015, which is 15 times higher than the national average.
"One of the most significant benefits observed with the growth of small and medium Hispanic businesses is that it promotes true diversity within a local community as these firms tend to hire Hispanic and non-Hispanic employees, while contributing to the economic growth of the local economy," says Anthony Chan, the Chief Economist for Chase.
In Devoción's airy café, customers drink pour-over brews made from the freshest beans possible. It's sourced directly from Colombian farmers and roasted 10 days after the harvest. The industry standard is six months. The result is a full-bodied cup whose pronounced flavors are unlike anything else in New York City.
From Medellín to Miami
Devoción is the brainchild of Steven Sutton, a native of Medellín, Colombia whose family fled the FARC-fueled violence for the United States when he was a teenager. After graduating from college, he worked in the music business as a general manager, running tours and festivals in Colombia. Eventually, he fell into a job managing a coffee distribution company in Miami.
Sutton, a lifelong coffee drinker, noticed that nobody was selling high-end Colombian beans. Though Colombia is the only country that can grow coffee year-round—and is home to half a million farms—its beans weren't celebrated like those from Kenya or Guatemala. Sutton wondered why.
Hidden in the mountains
Traveling to Colombia regularly for work, Sutton realized that many great coffee farms are in remote, dangerous areas inaccessible to big companies. On mountainous roads, they are hours apart by car. He founded Devoción in 2006 to help small coffee farmers and bring their beans to discerning consumers worldwide.
Starting a business felt natural to Sutton, who got funding from his family and partnered with his two brothers. Sutton's father had immigrated to Colombia from Syria with no money—and didn't speak Spanish—but he still became a textile entrepreneur.
"Medellín is a city of business," Sutton said in an interview at the Brooklyn café. "Ever since I was small, I saw everybody in the family talking about business and working hard."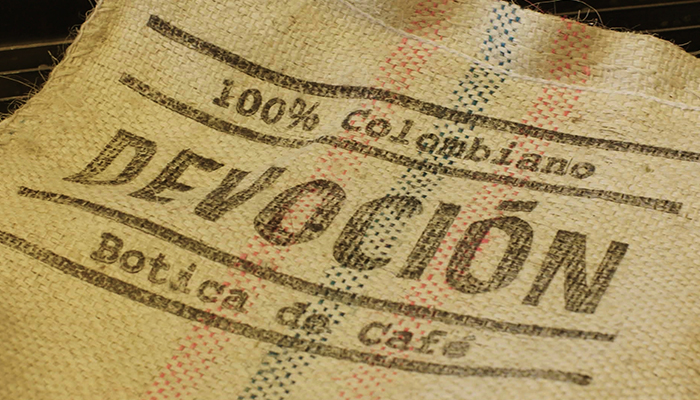 Learning the ropes
To launch Devoción, Sutton learned as much as he could about how coffee is purchased and distributed in Colombia. He drove around the country meeting growers and building a network of farms, many in the troubled "red zones" of guerrilla activity, where he could buy coffee directly.
The brothers' learned the logistics of importing and exporting fresh goods. They found ways to ensure fast shipping.
The first café, in Bogotá, opened in 2006, and the second, in Williamsburg, in 2014. A third location, also in Brooklyn, is slated for late 2017.
"We pretty much own the whole network from our farmer to our roaster to your cup," explains Sutton. "We can do it really quickly and ensure that the highest possible quality is in that cup."
Bringing farms to the forefront
Devoción employs 60 people in Colombia, who connect with farmers and source the best beans. It now works with over 400 farmers, and pays them above Fair Trade prices while teaching them how to be more profitable. The company roasts over 300 tons of coffee a year.
Though farm-to-table food has been popular for years, the principle hasn't been translated to coffee. Sutton hopes to push the movement forward, lifting the entire Colombian coffee industry in the process. As with farm-fresh food, consumers pay a premium that trickles down to the farmers.
"When we talked about it, people said you're going to broke after a year," Sutton says. "But after 11 years, we're still here."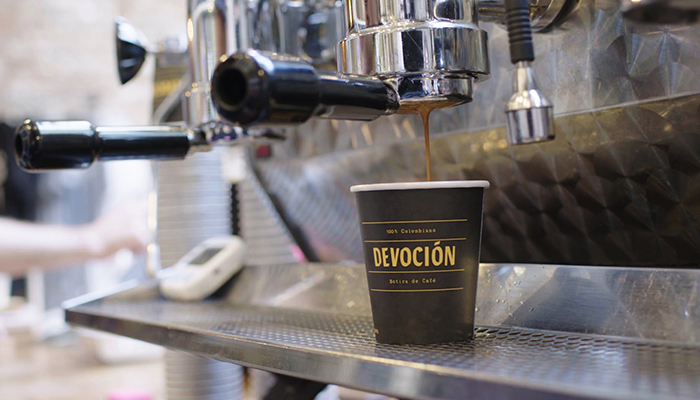 Coming to America
The company is viable because people are willing to pay extra for high-quality coffee. (Beans cost $18 for 12 ounces.) Like any food, coffee simply tastes better when fresh.
To open the café, Sutton and his family had help from a small group of investors and sought advice from Chase. That connection was especially useful when Sutton was breaking into the American market. Coming from Colombia, he faced a steep learning curve when opening a business in New York City.
"Everything was more of a process, and of course cost ten times as much" as in Colombia, Sutton says. Electric and gas permits were a particular headache. The whole process took eight months, twice as long as he had expected.
The Williamsburg café employs about 15 people and serves 600 coffees a day. Sutton also sells beans to top restaurants in New York City. Any coffee over 30 days old he donates to City Harvest, a nonprofit that feeds the hungry.
In the roomy, brick-walled café, customers lounge on leather couches under a large skylight. Staghorn ferns, dragon trees, and coffee plants cover the back wall.
The design signals Devoción's commitment to an experience that is fresh, authentic, and feels like Colombia, says Sutton. "We're making the biggest effort to virtually take you to the farm."
Rebecca Dalzell is a Chase News contributor. Her work has appeared in New York Magazine, Travel + Leisure and The Washington Post.