Community
Giving Back to Community
Living and Giving with Pride: Columbia, South Carolina
By
Jennifer Walsh
Posted: 10/01/15
Updated: 11/10/17
In 2014, Jennifer Walsh launched Pride & Glory, a beauty brand that creates college-labeled products and returns part of its revenue to student-run charitable efforts on those campuses.
Here, she shares her experience working in Columbia, South Carolina, where a portion of Pride & Glory's proceeds go to the University of South Carolina's Leadership and Service Center.
Nothing beats the rolling hills of Columbia, South Carolina. The lush green trees of the spring and summer and the glorious yellows and reds that erupt in the fall make it a beautiful place to be no matter what season.
This city has a charm that is reminiscent of times past until you realize how much growth has taken place just in the past decade. I love getting to know the locals, and they love discussing how great their town really is.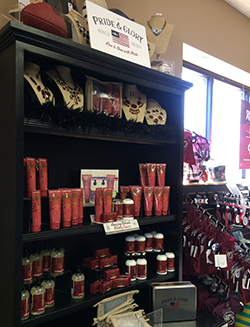 Lucky for me, I have been able to spend some time in this growing city over the past two years, and what I have found keeps bringing me back. I think it has the perfect combination of southern charm mixed with up-and-coming trendsetters.
"Locally owned stores in Columbia offer something unique to the city with a much more personal aspect," says Ellie Riegel, a University of South Carolina student I met during my time there. "I love this city and I want it to thrive. For that to happen, local businesses need all the support they can get."
You Can Tell a Town By Its Boutiques
I couldn't agree more with her sentiments. I love to really get a feel of the community vibe by stopping in the locally owned boutiques.
I have not only fallen in love with one locally owned boutique, I have fallen in love with its two owners as well. Their excitement for what they do is literally contagious and hits you the minute you walk into their store, Miss Cocky.
Miss Cocky was established in 2009 by two best friends of 30 years, Caroline Courie Johnson and Mandy Dawson Fanning. You can tell how much they appreciate their customers and love being a very active part of their community. Their store is in the heart of downtown Columbia and very close to campus, and it carries all things Gamecocks. You can't walk out of that store without a smile on your face.
Another great way to get to know a city is by eating where to local college students eat. Hunter-Gatherer Brewery & Alehouse is just that spot. I do not visit Columbia without a stop here. They usually don't accept reservations, so I always try and get there on the early side and find a spot at the bar to talk to everyone. The staff is kind, and the meals have always been top notch. The students I work with tell me that this is the place they go when their parents are in town and paying for dinner.
Riegel, a senior, says she loves walking down Main Street to the Soda City Market on Saturdays.
"The market features dozens of local vendors with Columbia flare. Any opportunity I have to walk through downtown on Main Street, through the Vista on Gervais Street, or through Five Points on Harden Street, I take it. This city has so much to offer, and each time I walk through it I discover something new."
Campus Meets Community
Riegel says she is also drawn to the spirit of community and diversity. "I love being a college student in Columbia because it is a blend of different cultures and backgrounds, which makes it a great place to explore and learn from our surroundings. The community is very inclusive of college students and encourages us to get involved as much as possible."
The university has a wonderful team that helps develop and oversee volunteer outreach programs with the city, with thousands of staff and students participating.
We are excited to be working with this incredible group, to help further their amazing efforts within this city.
Jennifer Walsh is the founder of The Beauty Bar and Pride & Glory.