Bold Leaders
Inspirational Thinking
Pursuing Passions Can Create a Force for Social Change
Entrepreneurs Explain How Their Ideas Went Global
By
Dahna M. Chandler
Posted: 09/30/15
Updated: 11/10/17
At the 2015 Social Innovation Summit in Washington, D.C., entrepreneurs shared their stories and the memories of the moments when they realized they were passionate about becoming forces for global, social change.
Here are three of their stories.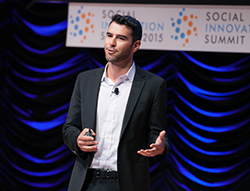 Adam Braun, Pencils of Promise
Adam Braun spent his teen years preparing for a career on Wall Street. At 16, he worked at a hedge fund. He became a Bain & Company consultant after college. But "I always felt compelled to do more," said Braun, whose grandmother's Holocaust survivor experience shaped his upbringing. "Her survival truly motivated me."
Braun decided to travel the globe, observing struggles of others. "I wanted to do the most meaningful thing I could to ensure her legacy would last and her survival made others' lives better," he said.
He began asking every child he met what they wanted most in the world. In India, one young boy answered, simply, "a pencil." As he handed him one, Braun remembers, "I watched as a wave of possibility washed over him. I then saw the profound power and promise possible in the small act of giving a pencil to just one child."
Over the next five years, he backpacked across 40 countries on six continents, giving pencils and pens to thousands of people. "These pencils led to powerful conversations with local parents and children," he says.
Taking a leave from Wall Street, Braun launched Pencils of Promise, which he calls a "for-purpose" organization. He built its first school, the Pha Theung Preschool in Laos, and dedicated it to his grandmother.
"I saw how meaningful it was to dedicate a good deed to someone else. We can bring happiness to our own lives by honoring the people we love most. I think that's when I realized that Pencils of Promise had become more than a passion."
Since 2009, the organization, which counts JPMorgan Chase among its supporters, has built 304 schools.
"One year of school increases an individual's earnings by 10 percent. Literacy unquestionably reduces chronic poverty, and I think that the communities we are working with will reap the benefits of educating their children," Braun says.
Braun also wrote a book, The Promise of a Pencil, to inspire others. "It's organized around 30 core mantras that should enable any reader to take their own extraordinary journey towards creating a life of success and significance." That, he concludes, "will make your life a story worth telling."
Robert Fogarty, Dear World
Four years after Hurricane Katrina, Robert Fogarty took his camera to New Orleans to capture residents writing love letters to the city. That project became "Dear New Orleans" and evolved into "Dear World," a photo project where participants have messages written on their bodies that are captured in photos and shared with the world.
"Dear World," which Fogarty defines as "part business/art project/social experiment," has told stories of people involved in the Boston Marathon bombing and the Syrian refugee crisis as well as those of thousands globally.
Fogarty has captured the portraits of international notables, including Seal, Ali Velshi and Ed Norton. But he says taking the portrait of former New Orleans Saints football player Steve Gleason, diagnosed with Amyotrophic Lateral Sclerosis (ALS), was especially poignant. As he captured Gleason's message to the world, "No white flags," he says he realized the profound effect of the project.
Then, while photographing Boston Marathon bomb survivor and friend Dave Fortier, Fogarty says he recognized that the project was helping people share healing journeys. "The act of telling these stories can make a positive change in someone's life. And, it was cool to hear that from someone like Fortier, who had been interviewed by hundreds of people and told his story hundreds of times."
He says his work is effective in corporate settings as well. "The senior leaders who write on their employees say that it's an essential way to learn about them."
Elliot Kotek, Not Impossible
Elliot Kotek allows others to inspire big visions. He is co-founder of Not Impossible, which creates DIY, accessible, tech-based solutions to health, mobility and communications obstacles for people around the world. It then tells those stories to inspire others to do the same.
A prolific storyteller, he has written about "thousands of thinkers who excel at their crafts and careers," he says. "By retaining curiosity, being prepared, and being inquisitive, I spent countless brilliant hours speaking to people about their passions."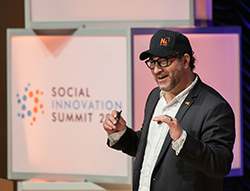 Kotek says he lives his life as a series of single defining moments: "I find myself consistently looking to do more, looking to do better, do it bigger, or do it with more people I like and/or admire."
He's impassioned by crowd-sourcing solutions and disrupting systems that have long been inaccessible to those with limited resources. "We should be nurturing innovative ideas, by devoting ourselves to them, by bringing others around to support them, by congregating to appropriate resources for them, by reaching out to mentors and other leaders to advise on them, and then investing in them emotionally," he says.
For Project Daniel, which made 3D prosthetic limbs for a 14-year-old Sudanese boy who lost his arms in a bomb blast, Kotek used technology to connect people from around the world who worked to solve this teen's challenge and then help other Sudanese kids who lost limbs in war. The project also gave Daniel's community new tools to solve other problems.
Not Impossible also has crowd-solved solutions that help people with ALS communicate and launched an initiative to help kids with cerebral palsy develop a regular gait.
As importantly, Kotek is committed to inspiring others to change their world with stories about these innovations. "Remember, you don't need to fix the whole problem to make a difference," he says.
Photos: Jensen Sutta Photography | Dahna M. Chandler is a Washington, D.C. area business and finance journalist.