Community
Giving Back to Community
Pride & Glory Beauty Entrepreneur Activates College Volunteers
Founder of College Products Line Shares Her Startup Tips
By
Katie Sherman
Posted: 09/30/15
Updated: 11/10/17
Serial entrepreneurs are often unyielding in their passion, and Jennifer Walsh is a perfect example.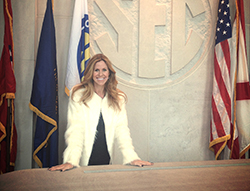 After launching a beauty-products store in Florida that grew to four locations and then selling the company, she's one year into a new brand: Pride & Glory is a college-focused beauty line with a philanthropic twist, selling products that bear the universities' names and returning part of the proceeds to the campus volunteer groups and charities that give back to the local community.
Walsh says the inspiration for her new business came while she was volunteering in New York after Hurricane Sandy devastated the coast in 2012. She had been an active volunteer, working on the board of the Rockefeller Foundation and for NY Cares and the Special Olympics, but she decided it was time to combine those efforts with her day job.
On each campus where Pride & Glory is active, Walsh shares a percentage of the profits with teams of students and staff who partner with local organizations and charities to give back through volunteering and other philanthropic efforts.
"Colleges have the greatest propensity to give and the loudest voice," she says. "So it's about bath and body supplies, but it's also about more than that."
A Partner-Focused Business Plan
While the beauty stores involved manufacturers trying to get on her store's shelves, the new business requires Walsh to knock on retailers' doors and prove that she can be a viable partner. She says there are several important elements to her strategy:
Being well researched: Show potential partners your passion and intelligence. "I'm a ferocious reader. You can't tell me I don't know something in my field," she says. She stays up to date by engaging in academic lectures and reading the industry trades, making sure she's ready to jump on opportunities as they arise.
Operating a charity: "I made the choice to open a for-profit with a nonprofit arm," she says, with a registered charity that demonstrates a commitment to service.
Leveraging her personal brand: Retailers want a story, she says. "So much of my brand is me. I'm trying to use that as a platform and leverage my 18 years of experience" including her work as a celebrity makeup artist and as host of a TV show focused on beauty.
Investing in social media: "Social media is amazing," she says. "That has been my biggest and best tool." She has amassed more than 30,000 followers on Twitter and more than 10,000 on Instagram. She has also recently taken to the live video-streaming app Periscope in her efforts to reach beauty buffs and university fans and alumni.
Careful hiring: "Internally I always say, 'Hire slowly and fire quickly,' " she says
Asking for help: "I said, 'I need help', and people started coming into my life." She says close friends in public relations, marketing and operations have contributed guidance and contacts that have been crucial to her launch. "I moved back to New York when I was 39 and divorced and just selling my first company [Beauty Bar]. The [friends who helped] are so caring and beautiful and have positive energy – you just want to share with other people. "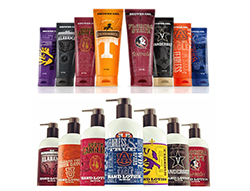 Walsh says she's currently selling products linked to eight universities and has more licensing deals in the works. In addition to growing the business and supporting local communities, she says she's committed to helping others along their own entrepreneurial journeys in the same way people have helped her.
Katie Sherman is a Brooklyn based freelance writer. She has written about beauty and fashion for Vogue and Vanity Fair, among other publications.