Small Business
Manage Your Business
How to manage risk at your small business
Take these five steps to evaluate opportunities
By
Charles Wallace
Posted: 09/28/17
Updated: 02/04/20
The following story is intended to help small business owners navigate business management tasks and more specifically building a solid business foundation, brought to you by Chase Business Banking.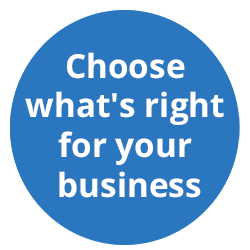 When Kerri Couillard's husband asked her to get rid of the baby gear from their garage so he could park his car, she experienced one of those lightning bolt moments when a great business idea is born. Why not rent the crib, strollers and high chairs she had stored after her two sons were grown to traveling families?
Within a couple of days, Couillard had set up a website and earned her first $300 from renting baby equipment. Her company, Babierge, was born in her home in Albuquerque, New Mexico. A computer programmer by profession, Couillard says that she was soon earning more money from renting baby gear than from her work as a freelance coder.
Over the next two years, Couillard grew Babierge slowly. By 2015, she realized that if she was going to take her business to the next level, she needed to join the "sharing economy" being built by companies like Airbnb, Uber and Opentable.
At an investment forum for women-owned companies in Silicon Valley, Couillard met Fran Maier, who had co-founded the online dating site Match.com. Maier immediately liked the Babierge concept, but she also had a tough demand. She would lend her vast experience to help grow the company, Couillard says, but she wanted to be CEO and share ownership of the firm.
Couillard was faced with the kind of "bet the company" business risk that can make or break a young company, according to Thomas Anastasia, an adjunct assistant professor at the Questrom School of Business at Boston University.
Couillard's decision to share ownership of the company with Maier proved to be a sound move. The company has expanded to 42 markets in the US and Canada.
Here are some key things small business owners should consider before taking a risk:
1. Come up with 10 reasons your business proposal is a bad idea
Most people only look at the positive aspects of a new business. Before you take the plunge, you need to seriously look at the potential downsides. It's necessary to take this sort of devil's advocate perspective to help you work through how the business idea could fail. This sort of thinking will allow you to identify areas that you otherwise might not anticipate.
And ensure you get a financially savvy friend to help with the process so you consider areas of profitability, cash flow and financial structure that will translate your creative idea into a rational one.
2. Is your business nimble enough to handle the potential risk?
What sort of procedures and policies do you have in place that allow you to move very quickly? Are you limited by legal issues? Do you have financial constraints that would prevent you from taking advantage of your success from taking the risk? Do you have the right talent on your team to be able to capitalize on that success?
David Cox, who founded a company called LiquidVPN, which provides a virtual private network to companies with wi-fi communications, understood that he didn't have the right talent on board. He realized that he had to hire full-time engineers and rent a dedicated building if he wanted to keep growing.
After failing to get a business loan, Cox decided on a risky course of action—he decided to do the jobs himself and save the money he was paying freelance software engineers. The bet paid off. Cox wound up with $150,000 in capital and was able to hire two full-time developers. The business took off. He now has 12,000 customers who pay a monthly fee and is adding new business at the rate of 50 customers a day.
Finally, having financial flexibility is important too. A solid business foundation includes business lines of credit that will help to have cash on hand if there are unanticipated cash flow shocks.
3. Be careful to avoid "confirmation bias"
This involves considering the reasons why your plan might work without factoring in the chances of failure by looking at potential revenues and costs. As a result, Anastasia says that people often ignore historical data. If they are going to open a pizza restaurant, for example, they might ignore the fact that two other pizza places failed in the same neighborhood. Most people will say they are going to do better than those other guys. But the reality is that those failures were probably a good indicator that the neighborhood was not the right market for a pizza restaurant.
You can avoid this by studying market research for your business sector at local libraries. They often have in-depth studies of sectors by zip codes so you can see how others have fared.
4. Is your company considered innovative?
Is your business a leader in your field, or does it have a conservative reputation? Neither is bad. But if your reputation as a company is that of an innovative leader, you need to take risks to show that you are forward thinking. On the other hand, if you are a conservative firm and have a steady business model that does very well by adhering to that model, then you don't have to take the risk. How do you find out what your reputation is? One way is to call competitors and just ask: "What do you think about us? The alternative method is getting that feedback from clients and customers, asking them what their image of the firm is, what your brand recognition is as it relates to risk and innovation.
Charles Wallace is a Chase News contributor. His work has appeared in Time, Fortune, and Money magazines, among other media outlets.