Small Business
Managing Your Business
The Roundup: Technology and Your Business
From Internet of Things to High-Tech and High-Touch Retail
By
Adam Johnson
Posted: 09/28/15
Updated: 11/10/17
Sleeker iPads from Apple and a streamlined logo at Google have defined September as an important pivot moment in technology, as companies try to distinguish themselves at a series of high profile tech conferences.
In this edition of The Roundup we help business owners identify technologies and themes emerging from Silicon Valley that could change the ways they work.
In the News: Disrupting Traditional Business
The TechCrunch Disrupt Conference took place in San Francisco last week, with GoPro Founder Nick Woodman and FitBit's James Park joining legendary venture capitalist John Doerr on stage with dozens of tech's most innovative CEOs. Attendees describe it as an "MBA in a box," as speakers share personal stories about products they've developed and companies they've led. This year, Apple retail pioneer Ron Johnson described his new startup, Enjoy, while IBM's Watson demonstrated the latest artificial intelligence upgrades using voice recognition. The week also included the hugely popular overnight Hackathon and cutthroat funding contest StartUp Battlefield. Business owners who were too busy to attend can still get plenty of bite-sized advice by following @TechCrunch on Twitter.
On Main Street: Businesses Put Money to Work
"FinTech" is a new buzzword among venture capitalists to describe startups at the intersection of financial services and technology. Automated savings plans, cash management accounts and peer-to-peer lending are all prime examples. The Financial Solutions Lab backed by JPMorgan Chase and managed by the Center for Financial Services Innovation, recently selected nine such companies from a field of 300, including Digit.co. The company's mobile app analyzes weekly banking activity to identify when funds should be automatically transferred into a separate savings account. It's an easy way to help people build a nest egg, and the company has received backing from Google Ventures. Consulting firm Accenture estimates that FinTech startups attracted $12 billion in new capital for 2014, implying a growth rate three times faster than overall venture funding.
In the Corner Office: Economic Insight and Business Inspiration
Has your business entered the "Internet of Things" yet? We can't get enough of our gadgets, and now these devices are embedded with software, sensors, and network connectivity that enable them to collect and exchange data. With these connections come big changes for the way you do business, whether you're a retailer looking to connect with your customers, a doctor looking to remotely monitor your patients, or a manufacturer making your products stay in touch after they're sold. Here's a look at three ways the Internet of Things will change every business, both big and small.
The Explainer: Tech Terms
So you've mastered business software and you're working on your social media skills, but how savvy are you about SasS, CRM, CMS and SEO? Don't worry, we have the guide to help you master all the acronyms.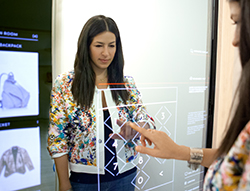 What I Wish I Knew: Rebecca Minkoff
Rebecca Minkoff has built a brand on being tech savvy, from engaging customers online to creating a hybrid brick-and-mortar/e-commerce experience. Her journey was not without challenges, as she moved against the herd at a time when fashion wasn't exactly looking for customer feedback.
"The mentality [when I started was that] designers needed to be far away from the consumer. And tell her what she wants. Department stores said 'you're dirtying yourself by talking to consumers.' And we were like 'Why? She's happy. She wants to weigh in on this experience.'" Read more about Minkoff's story and the store of the future.
For everything your business needs in one place, from news and expert tips to valuable products and solutions, visit chase.com/forbusiness.
Illustration by Angela Southern | Adam Johnson is a journalist and former business-news anchor at Bloomberg Television. He worked as an investment professional for two decades and writes frequently about business and finance. Follow him on Twitter @AJInsight.