Your Money
Understand Your Finances
A financial strategy can help make your passion a reality
By
Pauline Millard
Posted: 09/25/17
Updated: 05/03/19
This series will demonstrate how a personalized financial strategy and access to J.P. Morgan investment expertise via Chase Private Client can assist you in planning for your financial needs today and the life you want tomorrow.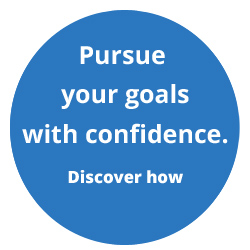 We all have passions that we want to pursue, and with a little planning, they can become a reality. The benefit of working with a financial advisor is that they can create a strategy, set goals and chart your progress so that you—and your ideas—can thrive.
Here are a few things to consider when you realize you're ready to make your calling a reality:
Gain clarity in long-term planning
Working with someone to create a financial strategy is an important step for your long-term planning. It can help you define your goals, assess your risk tolerance and establish your priorities. You may realize you're more risk averse if you know your lifestyle will change.
A financial advisor can also help you balance competing goals, prioritize them and identify trade-offs that you wouldn't consider.
Create a cushion of cash so you have flexibility
Your financial strategy should also address your need for cash to manage expenses. For example, if you're leaving a full-time job, you'll need cash to pay monthly living expenses and funds to pursue your passion points.
Regardless of the twists and turns your career may take, you still need to plan for retirement. "Most self-employed people are unaware that they can start their own 401(k) or other retirement savings plans," says Anthony J. Caravetta, a J.P. Morgan Private Client Advisor.
Manage your credit score to know where you stand
A top-notch credit score offers more than just bragging rights. It can translate into financial savings as you finance everything from a house to a car to a small business. A high score can increase your chances of qualifying for a loan with a lower interest rate, while a poor number can cost you more in the long run by increasing monthly payments.
A new venture may need financing, and keeping your credit score healthy is a good way to keep that option open, if you need it. Know what contributes to your score. If you see discrepancies on your credit report, work to resolve them.
Understand the benefit of going out on your own
Whether your goal is to be your own boss or run a nonprofit, you'll still have to understand the basics of small business, such as expenses and other operating costs. Learn how to put together a business plan and glean the wisdom of others so that your big idea can grow. And if you go out your own, choose an area that you're passionate about and where your experience will increase your chances of success.
Career changes can increase your financial ceiling
For a long time, many people could safely expect to spend an entire career in a single field—often, at just one or two companies for several decades. But more than ever, people are spinning through multiple industries or roles, for various reasons.
Career changes are a normal part of life. They're not the same as job hopping, because sometimes life or economic events cause for a change in your professional course. Keeping your skills up to date is key to a thriving trajectory that will allow you to pursue a career that aligns to your passions. And if you've been working with a financial advisor to plan for your future, you'll be more knowledgeable when the time comes.
JPMorgan Chase Bank, N.A. and its affiliates (collectively "JPMCB") offer investment products, which may include bank managed accounts and custody, as part of its trust and fiduciary services. Other investment products and services, such as brokerage and advisory accounts, are offered through J.P. Morgan Securities LLC (JPMS), a member of FINRA and SIPC. Annuities are made available through Chase Insurance Agency, Inc. (CIA), a licensed insurance agency, doing business as Chase Insurance Agency Services, Inc. in Florida. JPMCB, JPMS and CIA are affiliated companies under the common control of JPMorgan Chase & Co. Products not available in all states.
INVESTMENT AND INSURANCE PRODUCTS ARE:
• NOT FDIC INSURED • NOT INSURED BY ANY FEDERAL GOVERNMENT AGENCY • NOT A DEPOSIT OR OTHER OBLIGATION OF, OR GUARANTEED BY, JPMORGAN CHASE BANK, N.A. OR ANY OF ITS AFFILIATES • SUBJECT TO INVESTMENT RISKS, INCLUDING POSSIBLE LOSS OF THE PRINCIPAL AMOUNT INVESTED
Pauline Millard is a Chase News contributor.