Your Life
Home
Rescue Dog Finally Finds a Perfect Owner: Joel Silverman
Four-Legged Star of Chase's TV Ad Had Trouble Getting Adopted
By
Debbie Swanson
Posted: 09/23/15
Updated: 11/10/17
The sweet dog that gently retrieves an ATM receipt, looks up at her owner, then trots happily away at the end of a Chase TV commercial has good reason to be happy: She finally has a home after three failed adoption attempts.
When owner and commercial co-star Joel Silverman left the Nevada Humane Society after adopting her, he experienced his first taste of her exuberant personality.
"She pulled like I've never seen a dog pull. Her energy level was crazy," says Silverman, an animal trainer with 36 years and hundreds of successful animal relationships to his credit.
Silverman had spotted the 1½ year old border collie/Australian shepherd mix when filming his TV series at the Nevada Humane Society.
"She was very alert," he recalls. "There was something about her personality."
He asked to take her into a room, where he casually tossed her a treat. She made easy work of catching it, so he told her to stay, backed up a bit, and tossed another.
The attentive dog had no problem catching that one, either.
"I kept doing that until I'd backed all the way up to the other side of the room, and she sat and caught every one," he said.
At the time, Silverman's dog, Foster, was getting older, and the idea of getting another had been on his mind. He decided he found his match, and wasn't dissuaded when he learned that she'd been adopted and returned to the shelter, not once, but three times, because of her rambunctious personality. He followed his instinct, brought home the dog, now named Duchess, and began to practice what he preaches.
"First, I learned about her. For example, I discovered she was afraid of brushes. Maybe she'd been hit with a brush in the past. It took three months to get her to accept a brush. I also began to teach her corrections," he says. "Soon, I became her best friend."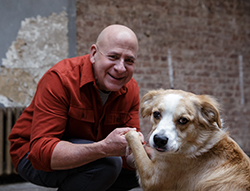 Eager to Please, Easy to Teach
Like many dogs with abounding energy, Duchess had a high prey drive; her attention to sights, sounds, and odors was elevated. "That doesn't means she wants to kill, she just wants to chase prey," he explains. That understanding is key to a successful relationship with this type of dog, he says. He took steps such as pulling back on toys that would amp up this innate drive – such as squeakers or things easily torn apart – and offering durable items she could gnaw while safely expending energy.
"This kind of dog just wants a job. If you're not going to give them a job, they'll find their own — like tear up a couch."
Learning proved to be the perfect job for the clever dog. Silverman calls Duchess " the smartest dog I've ever had, by far."
When discussing the Chase commercial, Silverman says he knew Duchess would rise to the occasion.
"She already knew how to carry a letter to the mailbox, so from that, I knew I could teach her how to hold a receipt," he says.
To teach her to lighten her grip from holding a durable envelope to a delicate bank receipt, Silverman used a term Duchess already knew: "easy." Her eagerness to please kicked in, and within two days, she was gently carrying the lighter paper.
"We filmed it in real time. The receipt comes out, she takes it, looks up at me. It went perfectly," he says proudly.
Silverman and Duchess plan to hit the road throughout the Midwest to promote dog training and responsible dog ownership. Silverman also teaches a wide offering of training classes. His goal is to share his techniques, which he says are easily duplicated at home. He hopes to improve the lives of dogs everywhere — those in homes, as well as those like Duchess, turned over to shelters due to problems that proper training can reverse.
"I enjoy teaching people," Silverman says. "Whether it's the importance of training, or the message that when you adopt a dog, it's a dog you'll keep, I'm passionate about helping people learn."
Debbie Swanson is a freelance journalist who has written for Reuters, Forbes, USA Today and other publications. She frequently covers pets, personal profiles, and business topics.