Your Life
Discover Innovation
Smart devices offer new ways to stay connected in your home
Must-have tech for the ultimate in home connectivity
By
Dawn Allcot
Posted: 09/22/16
Updated: 08/09/18
We asked home technology pros to share their picks for the best innovations in home connectivity—from the front door to the family room and everywhere in between. Here's what they had to say.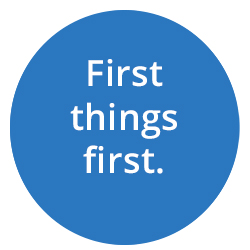 Tomorrow's kitchen is here
Never run out of milk again. WiFi-connected cameras inside a smart fridge let you assess the contents without opening the door. Radio-frequency identification and UPC scanning technology can help you write your shopping list.
"When you take out a product and don't put it back, the refrigerator puts it on a list that's stored in the cloud so you can access it from your mobile device," explains George Tucker, executive producer for AVNation.TV, a podcast for technology professionals.
Taking it one step further, a smart oven can connect to that fridge, suggest recipes based on what you have on hand and set the perfect cooking time and temperature for a fuss-free meal. "Many of today's smart kitchen appliances have real value for a busy family," says Tucker.
Lighting to set the mood
Smart lights come in many forms, and can be used for safety—to illuminate a path from your bedroom to the bathroom at night, or to provide battery-powered back-up lighting when the electricity goes out—or to set the mood. "The next generation of smart bulbs give users the ability to have a properly, cohesively designed lighting system previously only found in luxury homes," says Tucker.
Smart switches can connect to controllers operated through a mobile app, permitting users to program scenes based on certain activities—such as watching a movie in the family room—or time of day. Other systems use WiFi-enabled bulbs that don't require wiring—just screw in the bulb, and go.
Smart plugs—an easy option for plug-in lamps—can also offer remote access and automation for nearly any electric device, from a fan or space heater to your coffee maker.
Tech to protect the homestead
Would-be thieves may recognize lights on timers, but won't detect the random action of today's smart lights that track your daily usage and then mimic that usage when you're away. And, if someone rings the bell, tech support can respond in a very "smart" way. "You can share access to your home without handing out keys, unlock the door for service people and use a smartphone app to see who's there," says Joseph Kolchinsky, founder of OneVision Resources, a Boston-based provider of smart home support services.
Home entertainment in every dimension
Today's technology offers more than just convenience and security. Object-based 3D surround sound systems enhance the home theater experience by bringing out nuances in movies—from birds chirping in the corner of a room to a helicopter approaching overhead. "Unlike conventional 5.1 or 7.1 surround sound, 3D offers a subtle but more precise multi-dimensional experience," says David Kepke, president of Multimedia Resource Group, a Chappaqua, New York-based home technology firm. "It's the technology movie fans don't know they need until they experience it."
Connected apps and voice control
In the past, each of these devices would have required their own app for control, but new products and apps are bridging the gap between separate systems. "Now, we have a smart device eco-system to take a set of apps and combine them into one interface," says Tucker.
Imagine controlling every element of your smart home from a single screen on your mobile device—or even with your voice.
"The number of voice-controlled products and interfaces will likely increase exponentially by the fall," says Vin Bruno, CEO of the Custom Electronic Design and Installation Association. These voice-activated systems can also collect and analyze data and then perform functions based on that data.
Like the lights that "learn" when you'll need them, these devices recognize patterns to automate actions based on your behavior.
Today's smart home systems—and those on the horizon—could meet our needs in ways never before imagined.
"Artificial intelligence, a form of complex computing that enables systems to make informed decisions behind the scenes, will make life for homeowners more convenient, comfortable and efficient," says Bruno.
Dawn Allcot is a freelance writer whose articles have appeared on Forbes.com, Electronics360 and more. She has covered audio visual technology for various trade publications for nearly 20 years and frequently writes about smart home applications.