Your Life
Discover New Destinations
Destination: Chicago
Check out these Sapphire Six spots on your next adventure.
By
Bill Hageman
Posted: 09/15/17
Updated: 05/23/19
We know our Chase Sapphire Reserve cardmembers are pretty savvy when it comes to knowing great places to grab a bite, have some fun, or enjoy a drink…or two. So we took a cue from where our Sapphire Reserve cardmembers visit to develop our Sapphire Six Lists. The best part? You earn 3X points when you use your Sapphire Reserve card on travel and dining. Check, please!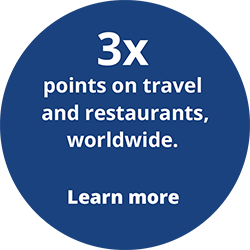 From its days as meat packer to the nation, Chicago has always been a dining destination. Innovative—even daring—dining is welcomed.
The city claims some of the world's top chefs, who work their magic nightly, so a visit isn't complete without a great meal. Or several. One could spend an entire vacation doing nothing but table-hopping among hot restaurants in the River North and West Loop neighborhoods.
"What did you like best?" friends will ask when you return home from Chicago. It's probably the pork belly mantou buns or chili-and-chocolate-glazed salmon.
Here's our Sapphire Six travel guide for Chicago: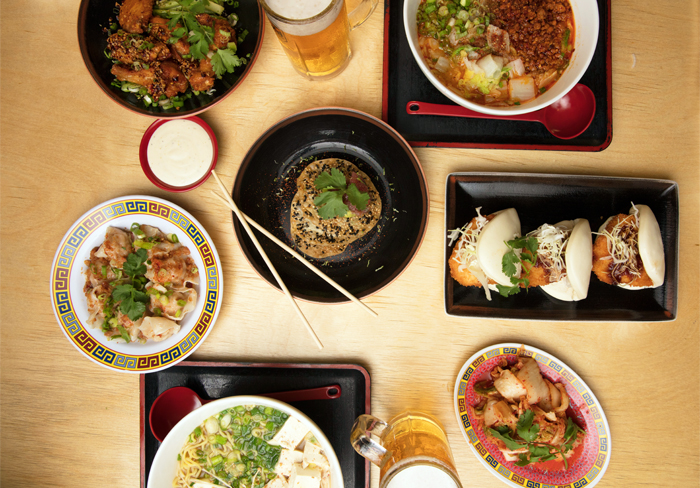 Ramen-san
From the outside, it's easy to overlook Ramen-san's unobtrusive wooden door and hanging sign. But you'd miss one of the most unusual and rewarding dining experiences in the River North area. "We don't take anything too seriously, unless it comes to the food and hospitality," says general manager Amarit Dulyapaibul.
The menu on West Hubbard Street features great items—gyoza, raw tuna and sesame crisps, kimchi fried chicken and a wide variety of ramen are among the crowd favorites.
Music—80s and 90s old-school hip-hop—is part of the restaurant's identity. So is its Japanese whisky list, with rare brands, such as 17- and 21-year Taketsuru and Hibiki—no longer in production—and the extremely rare Mars 3 Plus 25.
There's also a nice selection of beer, highlighted by a very cold Asahi draft, dispensed via a Hoshizaki blast chiller.
Another reason to visit is Late Night Fried Rice, a rotating menu that's served after 10 nightly. "We wanted it to be a place not just for lunch or dinner," says chef and partner Doug Tsaltis. "but someplace that's busy all night long."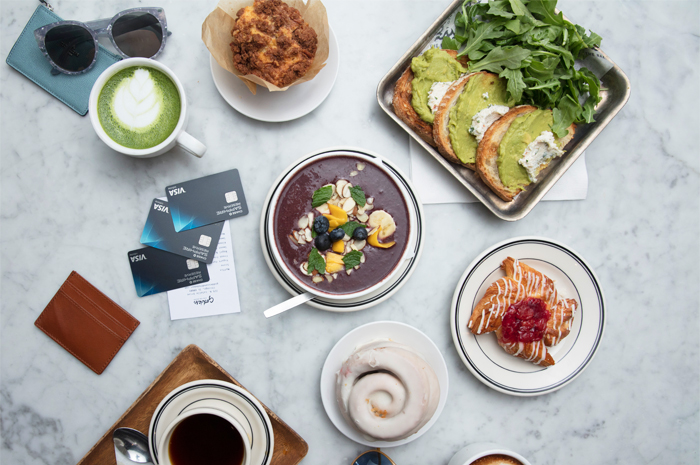 Goddess and The Baker
In the middle of a hot, stormy weekday morning, this year-old cafe is packed. Everyone from families sporting Cubs gear to well-dressed business types are ordering breakfast or coffee to go or relaxing at a table.
"We get a mix of tourist and locals, people who actually live [in the area] and a lot of workers from the financial district," says owner Tamar Mizrahi. "We often have a line out the door."
That door is at Wacker Drive and LaSalle Street, just across the street from the city's new riverwalk.
Mizrahi especially recommends the coffee—a large selection is posted on a chalkboard, with details about roasting—and the rainbow cake, with layers of red, orange, yellow, green, blue and purple, frosted and with sprinkles.
Of course, she serves muffins, cookies and other items baked daily to go with your Mayan Mocha. Or try a Southwest salad or the Santa Monica turkey sandwich with a glass of wine.
"Our main goal is that everyone enjoys themselves, that we have really good food and that people leave happy," she says.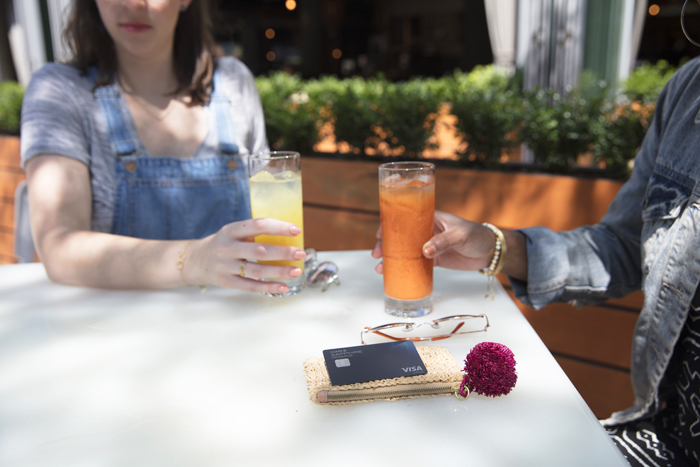 Beatrix
For a coffee house and restaurant in the heart of a bustling tourist destination, Beatrix has a somewhat different feel.
"We're more about neighborhood than anything else," says partner Michael Giles, who opened Beatrix on Clark Street in River North in 2013.
Casual and upbeat, Beatrix features low seating, couches, beams and a slight industrial feel. Then there's enough electrical outlets to get some work done while eating, or even hold a meeting. "We want people to come in and set up shop," Giles says.
And to dine. "Taste over trend" is one of the restaurant's maxims, so treat yourself to the quinoa cakes with poached eggs or the light and fluffy lemon pancakes for breakfast.
The Straight A Salad—arugula, avocado, Asian pear, asiago and almonds—makes the grade if you're seeking something light and healthy for lunch. For dinner, kick back with the pork shank or a burger.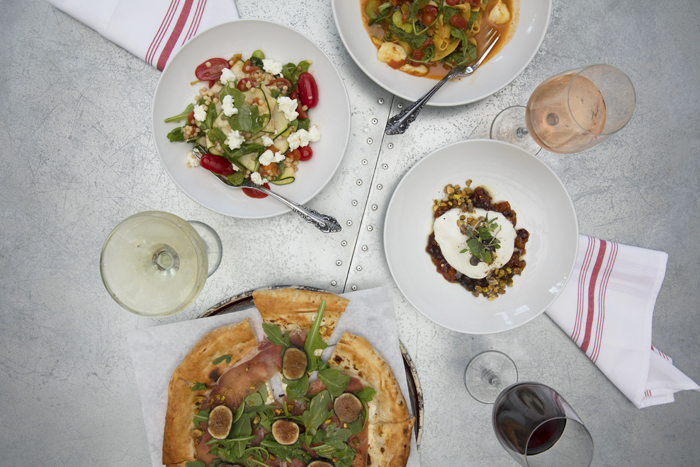 Bar Siena
Nestled along Randolph Street in the West Loop's restaurant row, Bar Siena specializes in regional Italian fare. In the 8,000-square-foot DineAmic establishment, chef and partner Fabio Viviani has put together a menu with a nod to Italian street food.
There's also an impressive pizza bar complete with a red mosaic oven dubbed Bella ["the hottest girl in town"]. The most popular pizza is the prosciutto fig pizza, which comes with spiced pistachio, taleggio and local honey. Bar Siena also has extensive antipasti, salad and cheese/salumi offerings on the menu, and a solid selection of pasta dishes, short rib lasagna and sweet corn ravioli among them.
Save room for dessert. The Bombobar specializes in bomboloni, a hole-less doughnut that's fried, rolled in sugar and then injected with sweet goodness, such as salted caramel, vanilla bean custard or maple cream. It's a perfect end to a perfect meal.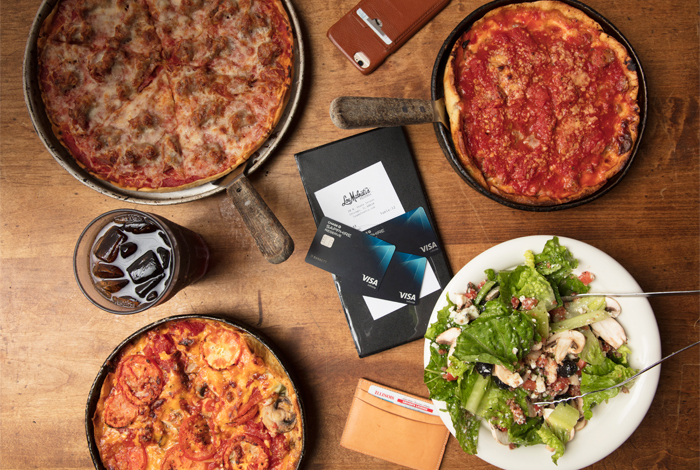 Lou Malnati's
Chicago is a pizza town, and nothing says pizza like Lou Malnati's deep-dish masterpieces.
Malnati's started 1971 in the northern suburb of Lincolnwood and has steadily grown to 48 locations, each boasting its own unique design and décor.
The cornerstone is the deep-dish pizza, each handmade from scratch. It boasts California vine-ripened tomatoes, fresh mozzarella and the shop's own sausage blend. The flaky crust recipe is a family secret, handed down from generation to generation. There's also thin crust pizza. And there's a good selection of appetizers (try the stuffed spinach bread), soup, salads, pasta (the lasagna is excellent), sandwiches and desserts.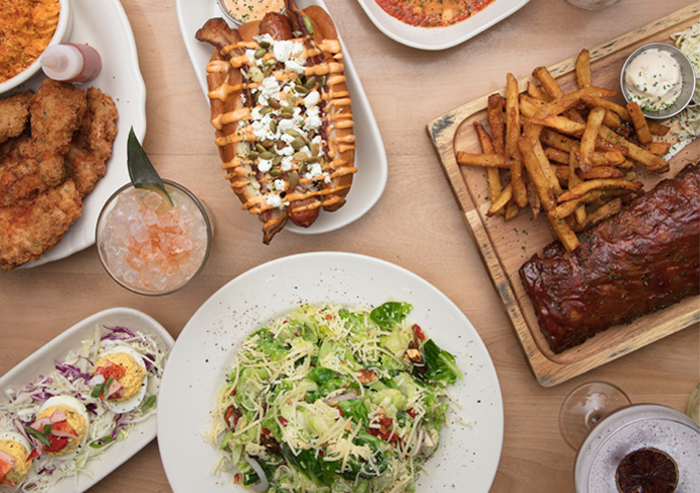 The Vig
In the most general of terms, The Vig is a sports bar, with photos on the wall and TVs.
But the comparisons stop there.
Start with the look—clean, well-lit and architecturally eye-opening—it's something of a throwback to the 50s. And that look helps set the tone—one of energy and fun.
Then move to the food, which includes a country ham charcuterie starter, a bone-in rib-eye, pan-seared salmon, salads, sandwiches and desserts. And a list of available beer, wine and spirits as long as your arm.
The Vig is a winner in the Old Town neighborhood for a drink and conversation, a leisurely dinner or a late-night wind-down.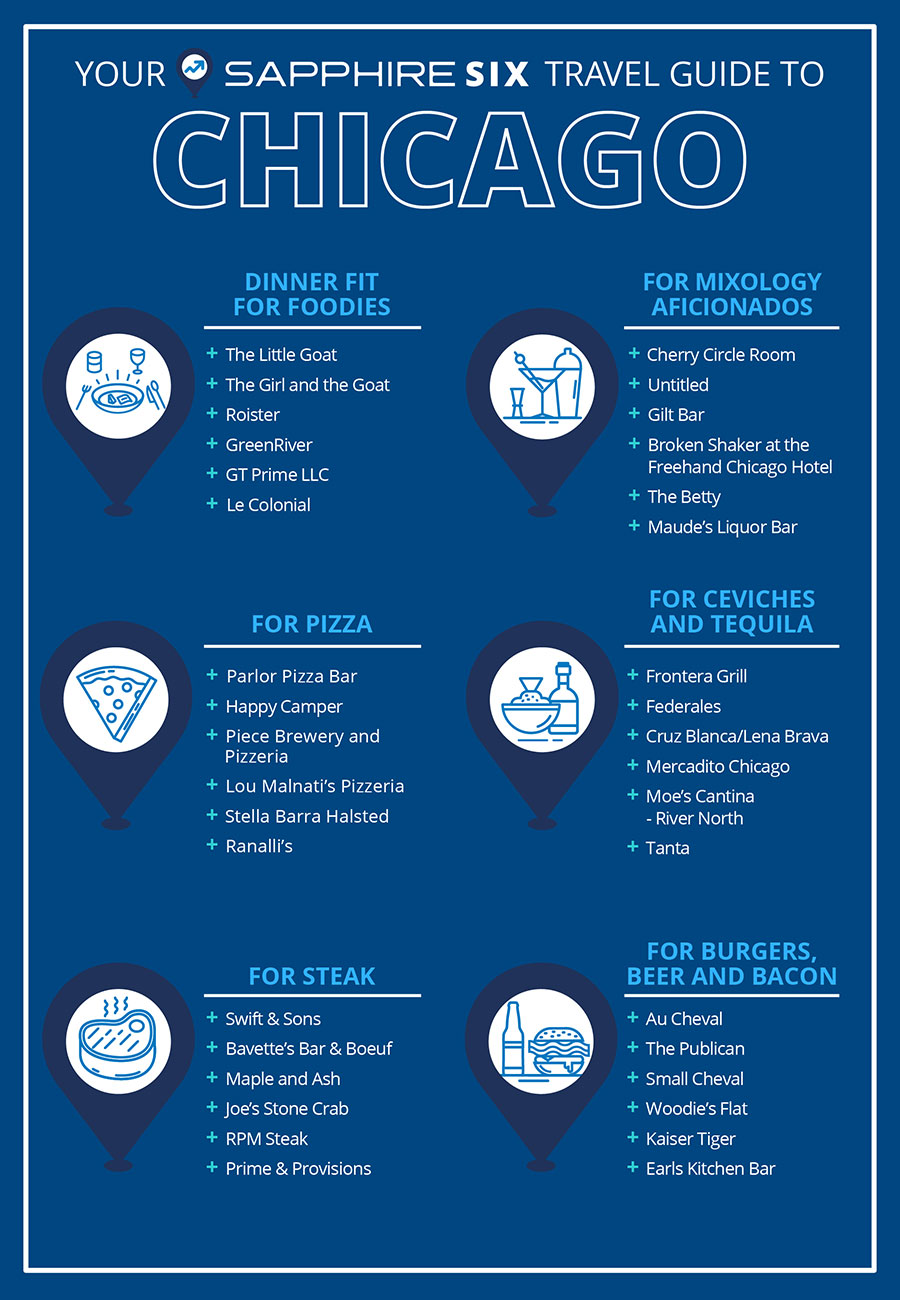 A quick note on methodology:
So how did we come up with the Sapphire Six? By pairing anonymous Sapphire Reserve cardmember spend data with feedback shared on social media, we were able to determine the most popular restaurants by unique visitors and category.
Inclusion on the Sapphire Six is not an indication of an affiliation or endorsement by JPMorgan Chase. The words or symbols used to identify the source of goods and services of a third party may be the trademarks of their respective owners.
Bill Hageman is a Chase News contributor. His work has appeared in the Chicago Tribune and the Delaware State News.