Small Business
Success Stories
will.i.am: 'I Want to Be Known for Ideas'
By
Lauren Coulston and Oscar Raymundo
Posted: 09/18/15
Updated: 11/10/17
He may be best known as the founder and frontman of The Black Eyed Peas, but seven-time Grammy award winner will.i.am is also an entrepreneur with a voracious appetite for innovation.
"I am excited about technology because of the infant state it's in and because it's so powerful at the same time," he says.
That excitement led him to build what he calls "The Future," a creative compound in Hollywood housing audio, visual and physical studios where he goes to create, to ideate and to find new ways to apply technology to everyday life. He was a founding equity stakeholder in Beats Electronics, the headphone maker and music-streaming service acquired by Apple last year for $3 billion.
He is also a partner with The Coca-Cola Company on EKOCYCLE, a brand he created that is advocating the importance of recycling waste into valuable items such as apparel, fashion accessories and sporting goods.
And he was the first recording artist to debut a song on another planet when his "Reaching for the Stars: Mars Edition" was beamed back to Earth from NASA's Mars Space Laboratory to celebrate the landing of the Curiosity rover there.
Paving a Path for Future Innovation
"will.i.am's passion, knowledge and vision for new technology is completely contagious," said Phil Molyneux, president and chief operating officer of i.am+, a company will.i.am created to develop wearable technology. Its first product, a luxury smart watch called PULS, operates without being connected to a phone or other device.
"The PULS is creating an entirely new category," said Molyneux, former president and chief operating officer of Sony Electronics. "It's an untethered, fully operational phone on your wrist. It's essentially a computer on your wrist that does not require a secondary device to operate."
will.i.am says he received his entrepreneurial training after starting The Black Eyed Peas, when he developed a strategy about using music, visual content from album packaging and merchandise to engage fans.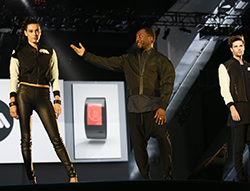 The Celebrity Challenge
But he says success and celebrity aren't necessarily advantages in starting a business.
"For some reason, there are a lot of cynics and skepticism on celebrities that want to do things outside of their box," he said, adding that fans have a low tolerance for celebrities trying to sell them something that feels disingenuous or inauthentic. "I think if people in the past were to do things for passion and not paychecks, we'd be in a different situation."
While traditional Silicon Valley investors weren't anxious to support him, he says, funding projects himself allowed him to show the depth of his commitment.
"If you believe in something so much, you're going to go to the end of the world to make it real even if it means funding it yourself. And now I have partners. Big ones. To get here, you have to prove to people how much you're committed."
That commitment attracted others, including Molyneux.
"The challenge is big, but we believe it will completely change the way people interact and communicate," Molyneux said. "Combine that brilliant technology with design — we have some of the best talent in the design and fashion industry as partners — Andre Leon Talley and Gucci for example — and you have an incredibly unique product."
will.i.am cites Virgin founder Richard Branson, Beats co-founder Jimmy Iovine and record executive David Geffen — all moguls who got started in music — as his role models.
Just don't pigeonhole him as a "music guy."
"I want to be known for ideas," he says, "whatever bucket they're in."
Photos: © Art Streiber/AUGUST | Lauren Coulston is Vice President of Content Solutions in the Brand Marketing Group at JPMorgan Chase. She has written for The Huffington Post and Boomer Market Advisor. Oscar Raymundo is a tech and culture writer based in San Francisco.