Your Life
Explore Major Purchases
Here's how to get your car road trip ready
Conquer the open road with these smart tips.
By
Kelsey Mulvey
Posted: 09/19/18
Updated: 11/26/18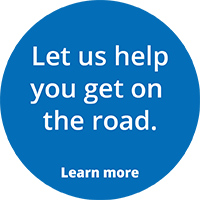 Going on a road trip? You're not alone.
Road trips made up 39 percent of vacations taken by American travelers in the past year. While road trips are a great way to cover a lot of ground and take in new sites, they can require a lot of preparation. And no, we don't mean creating an awesome playlist or planning your route.
The last thing you want is to have your car break down in the middle of nowhere, so it's important to take preventive measures before you embark on your big adventure.
Here are some tips on how to get your car road-trip ready:
1. Check your tires
Your car's tires are like a pair of running shoes. They make getting from point A to point B a more comfortable, enjoyable experience. But even the nicest shoes get wear and tear. "If you're working out, you want to make sure you have a good pair of running shoes," says Jim Manelis, a Chase Auto executive. "It's the same for your car's tires."
Driving with deflated tires can impact your fuel consumption and increase your chances of getting a flat tire, so it's important to get them checked ahead of time.
Many new cars have monitoring systems that make it easy to check your tire pressure. But if you're driving an older model vehicle, get an expert opinion. Some auto stores will check and inflate your tires for free.
2. Inspect your ride
Cars get tested on long road trips, and you may wind up using parts of your car you don't normally use. Err on the side of caution and have your essential fluids—oil, transmission fluid, steering fluid, brake fluid, and washer fluid—checked before you take off.
"It's important to have your engine running in the best condition possible," Manelis explains. "You might spend a couple dollars on your check-up, but it'll solve a lot of problems when you're stuck in the desert trying to hail down a tow truck."
A standard check up can cost as much as $250, but it's better to be safe than sorry.
3. Get some assistance
Your daily commute to work or weekly trip to the grocery store may not call for roadside assistance, but a 2,000-mile road trip certainly does.
Annual memberships can cost anywhere from $50 to more than $100, but paying for one upfront can save you money in the long run. A basic membership, for example, covers fuel delivery, flat tire services, and jump-starting your battery. Plus, it'll save you the headache should something happen to your car.
Before you buy a membership, check your car's owner's manual. Manelis adds some newer models have complimentary roadside assistance.
4. Fill up with care
Of course, the cost of fuel varies from city to city. To get the most bang for your buck, Manelis recommends filling up before you leave and research the best prices along the way. "You don't have to wait until your tank's empty to fill up, especially when you can save," Manelis says.
The savings are substantial, he says. Play your cards right, and you can save about 30 cents per gallon.
"That's like a cup of coffee at the next exit," Manelis adds.
Kelsey Mulvey is a Chase News senior editor. Her work has appeared in The Wall Street Journal, Business Insider, and other media outlets.