Your Life
Dining and Drinking
Southern Comfort Food: Carla Hall's New Adventure
Passion and Entrepreneurial Spirit Drive a New Brooklyn Restaurant
By
Jennifer Chandler
Posted: 06/04/15
Updated: 11/10/17
"Brooklyn chose us."
This is how the daytime Emmy-Award winning co-host of ABC's The Chew, Carla Hall, described finding a home for the first Southern Kitchen, a neighborhood eatery serving comfort food set to open in Red Hook, Brooklyn this fall.
Hall was voted "fan favorite" during her time on Top Chef, in part due to her catchphrase "Hootie Hoo!" Hall is also an entrepreneur, having launched several businesses, among them Carla Hall Petite Cookies, an artisan cookie company that specializes in creating "petite bites of love."
Hall's career path wasn't always food-centric. She began as an accounting major at Howard University and became a CPA, but soon realized that accounting was not for her.
"I didn't want to be 40 years old hating my job," she said.
Instead, she went on to travel around Europe working as a model, and it was there that she discovered her passion for food and cooking. Unsure of exactly what she would do with her newfound passion, Hall says she "was willing to play in order to find out."
Hall eventually attended L'Academie de Cuisine in Maryland, went on to work as a sous chef at the Henley Park Hotel in Washington, D.C., and served as executive chef at The State Plaza Hotel and The Washington Club. In addition, Hall has written cookbooks, including her newest, Carla's Comfort Food: Favorite Dishes from Around the World.
Hall's latest project, Southern Kitchen, was started on the crowd-funding website Kickstarter. Hall says she had toyed with the idea of opening her own restaurant for some time, and Kickstarter allowed her to "put it out there while involving the community." Backers who donated $25 to her Kickstarter campaign will have their names displayed on the founder's wall in every Southern Kitchen she opens.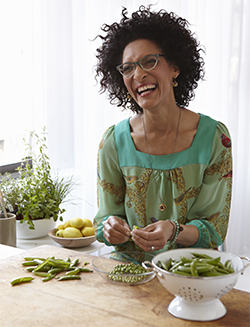 Passion and a Path
"Let me count the ways," is Hall's response when asked if there are things she wished she knew when she was starting out. "I had no business plan. I just jumped right in." But advises others to have a balance between "the fire in your belly telling you what to do" and structuring a plan for success.
Hall also advises finding someone to walk the path with you, "to bounce ideas off of.
"You need to know when to get out if what you are doing isn't working."
In addition to having a plan and finding a partner, Hall advises moonlighting while getting started. "Keep your day job, but take every possible opportunity to break into the industry of your choosing. Most importantly, you need to talk to people in the industry, and seek out ways to insert yourself in the career of your choosing."
An Appetite for Charitable Endeavors
Last year, Hall teamed up with AARP Credit Cards from Chase. For more than four years, AARP Foundation and Chase have been working together to address food insecurity among older adults.
This year, AARP Credit Card from Chase is donating 10 cents for every restaurant purchase made with the AARP Credit Card to AARP Foundation in support of Drive to End Hunger. In total, Chase will donate up to $1 million this year to the cause, which helps provide assistance to the 9 million Americans aged 50 and older dealing with food insecurity. Since 2011, Chase has donated more than $6 million to the AARP Foundation's Drive to End Hunger.
One of Hall's favorite sayings is "if you don't feel like cooking, the only thing you have to make is a reservation." In line with that philosophy, Hall says you can use the AARP Credit Card from Chase when eating out and give back at the same time. "Baby steps can form a big effort."
Learn more about AARP Credit Cards from Chase.
For everything your business needs in one place, from news and expert tips to valuable products and solutions, visit chase.com/forbusiness.
AARP Credit Cards are issued by JPMorgan Chase Bank, N.A.
Photo: Great Powers | Jennifer Chandler is an attorney and freelance writer.