Your Money
Explore Major Purchases
3 smart questions to ask when you test drive a car
Plus, the one question you can skip.
By
Brian O'Connor
Posted: 09/11/19
Updated: 10/09/19
This story is part of the Chase Guide to Buying a Car.
Whether you're on the hunt for your first grown up ride or upgrading to a model that can accommodate your growing family, buying a car usually involves taking it for a test drive. You know, that thrilling first spin in a new—or new to you—vehicle before you sign on the dotted line.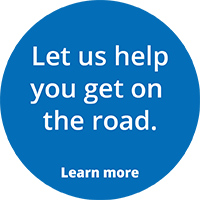 It's an easy way to see if your research has translated into a car that meets your needs. In fact, a recent survey by Chase found that 76 percent of consumers want to test drive a vehicle.
According to Rick Ricart, president of Ricart Automotive in Columbus, Ohio, a good test drive is all about asking the right questions. Check out his recommendations below:
1. "How do you like working for the dealership?"
It may not be the first question you'd think to ask, but you'll learn a lot more about the dealership's company culture and what your ongoing relationship is going to be like if you buy a car.
"You will quickly gauge how the experience will be post-sale," Ricart says. "It's something people rarely consider, but should because your relationship extends far beyond the purchasing transaction."
It's likely that over time, you'll return regularly to have your car serviced at the dealership. The test drive can be an ideal time to build a rapport with the team and gain an understanding of their customer service, availability, and communication style.
2. "Here's what I need from a car—how does it fit into my lifestyle?"
You might have a checklist of qualities you need from your new ride, but have you expressed them to your sales representative?
Ricart says a driver should know how they want to "connect" with the vehicle, and the kind of features they need for it to fit in with their lifestyle. Before entering the dealership, make a note of your requirements and desires for fuel economy, seating, safety, performance, and dependability.
3. "Can I see this feature in action?"
Whether you're buying used or new, you'll have certain options and features in mind for your ideal car, which could work differently across models. To ensure a smooth test drive, get the salesperson to show you these features in action. You may even notice something that isn't on your list.
Don't forget to try out common features. If your prospective car as a built-in Bluetooth system, try pairing your smartphone with your new ride. Most car seats recline, but how low do they go?
"Ask the salesperson to show you how all the capabilities of the vehicle perform," says Ricart. "This will help determine if this should be your primary transportation for the next few years."
The one question you don't need to ask
The one thing buyers do less of in today's competitive and transparent marketplace is haggle on price, says Ricart. The internet gives people the ability to calculate the selling price of car models ahead of time and compare prices online.
"It's less about asking price questions and more about doing the research ahead of time and understanding why the dealer has the vehicle priced at that amount," he says.
You can save time (and some stress) if you get yourself out of the mindset that you're going to come in, test drive the vehicle and start negotiating. Make sure you are comfortable with the selling price before arrival. Most often, you can easily research it online.
Understanding which questions you should (and shouldn't) ask now will allow you to drive off into the sunset with a great set of wheels.
Brian O'Connor is a Chase News contributor. His work has appeared in BBC, TIME, and Foreign Affairs.