Small Business
Manage Your Business
The business of keeping things fresh
Chase Ink Business cardmember "squeezes" creativity into profit
By
Rebecca Dalzell
Posted: 09/12/16
Updated: 11/10/17
When David Ojobaro started Squeezed, a cold-pressed juice business, he got two hours of sleep a night. He began juicing at 6 a.m., and made deliveries in the wee hours.
In his more haggard moments, Ojobaro felt grateful to be a digital-only company. "Behind a website, no one could see how tired I was," the 36-year-old entrepreneur says, with a laugh. "If somebody called, I'd make my voice cheery."
Four years later, Ojobaro has caught up on his sleep. Squeezed now has 23 full-time employees, and ships 50,000 bottles from its warehouse in Houston, Texas, each month. Football stars tout the benefits of the company's niche business: juice cleanse—or detox. Squeezed also maintains contracts with about 15 gyms, yoga studios and meal-delivery services.
Marketing the freshest juice in town
With a background in sales and marketing, Ojobaro knows that advertising is crucial to growing a business: "You have to spend money to make money," he says.
Each week, Squeezed hosts a contest on social media, rewarding $200 for the best tagged photo of its juice. These contests help Ojobaro promote his brand and build loyalty with existing customers. Ojobaro uses his Chase Ink Business Card to fund his advertising budget, including radio and television commercials, which has proven to result in many new orders each month.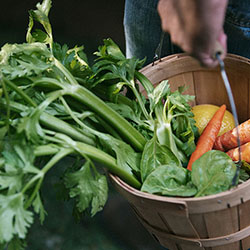 This spring, Ojobaro cashed in 60,000 points that he earned with his Ink card to create a pop-up pick-your-own juice bar in downtown Los Angeles. He turned a concrete alley into an oasis with orange and apple trees, ginger root, kale and basil plants.
"The whole idea was to show we have the freshest juice in town," Ojobaro says. "It doesn't get any fresher than being able to pick the fruits and veggies right out of the soil."
It was a way to get the juice into the hands of customers who might not order it blindly online. Some people, Ojobaro concedes, need to feel or taste something before buying it, which is the downside of a web-only business. The juice bar demonstrated that "our ingredients are the real deal and our product is as advertised," he says. For existing customers who saw the pop-up on social media, it confirmed the authenticity of the product and solidified their loyalty to Squeezed.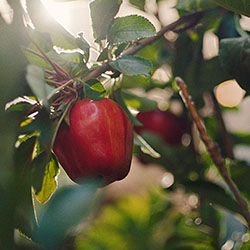 A commitment to health
Ojobaro has always been passionate about health and fitness. He studied kinesiology at Texas A&M University, and goes for three-mile pre-dawn runs. When his wife, Emily, made fresh juice one day, he immediately felt good, but it wasn't until he tried a four-day detox that he saw the business potential in juicing.
"I didn't have any food, but I had so much energy," he remembers. "I lost 11 pounds and my sleep was better. The detox just seemed like a slam dunk."
Most people plan ahead for a detox and get juice delivered, so it made sense for Squeezed to be an online company, rather than a brick-and-mortar shop. This also kept overhead costs low.
Ojobaro funded Squeezed himself, and the company grew quickly. In five months, Ojobaro broke even. And after two years, Ojobaro says he was making $400,000 a month in revenue. "Starting the company was a big risk, but it all paid off."
Eyeing new opportunities
At the moment, most of Squeezed's customers are in Houston. But Ojobaro sees his customer base shifting to a wholesale, or "co-pack" model. This would involve making juice for other companies that would sell it under their own label, or distributing it to places like gyms. "With the wholesale method we could sell all over the state, or beyond," Ojobaro says.
The pick-your-own juice bar and a subsequent Chase commercial featuring Ojobaro and his pop-up shop helped give Squeezed broader credibility. "It opened the door to a lot of businesses that went, 'Wow, those guys really are legit,'" says Ojobaro, who saw revenue spike after the commercial aired.
It was proof that creative marketing can reap tangible rewards, appropriate for a brand committed to keeping it fresh.
David Ojobaro and other small business owners found creative ways to use the points earned on their Chase Ink card to invest in their business. Learn more about the Chase Ink Business Card.
Rebecca Dalzell is a Chase News contributor. She has written about history, travel and other topics for The Washington Post, New York magazine, Travel + Leisure, and Time Out, among other publications.