Your Life
Enjoy Dining and Entertaining
Destination: Toronto
Check out these Sapphire Six spots on your next adventure.
By
Karen Burshtein
Posted: 09/05/18
Updated: 05/23/19
We know our Chase Sapphire Reserve cardmembers are pretty savvy when it comes to knowing great places to grab a bite, have some fun, or enjoy a drink…or two. So we took a cue from where our Sapphire Reserve cardmembers visit to develop our Sapphire Six Lists. The best part? You earn 3X points when you use your Sapphire Reserve card on travel and restaurants. Check, please!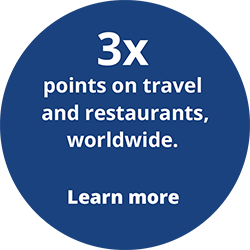 As North America's fifth largest city, Toronto is a lot more than Canada's financial capital. Toronto is also home to many standout bars and restaurants. Whether you dine to the nines or grab a nightcap at one of its craft breweries, Toronto's culinary scene should not be missed.
Make it your mission to find the best food and drinks in town, starting with these six favorites. We hope you came hungry!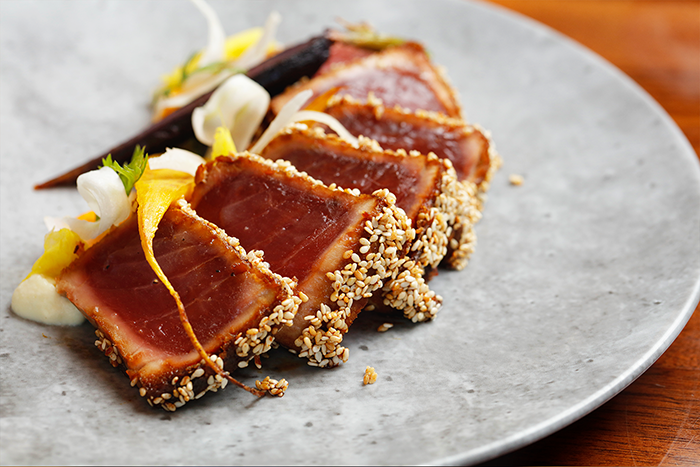 BlueBlood Steakhouse
Nestled in Casa Loma, a castle-turned-tourist attraction that dates back to 1914, BlueBlood gives its old, majestic roots a contemporary flair. Modern art from Andy Warhol and Mr. Brainwash adorn its wood walls, and the restaurant floor is decked out in custom furniture made with Italian leather and Canadian cowhide.
Hardcore carnivores will love the Waygu Filet Taster—a trio of four-ounce filets from the United States, Japan, and Australia—but the seafood tower and rack of lamb are also fan favorites. And if you want dinner and a show, both the Caesar salad and Baked Alaska are prepared table-side.
While BlueBlood attracts locals and business crowds, and many guests come for special events. The staff goes all out for major milestones, and has been known to hide thoughtful gifts in the castle's gardens.
Menu-Must Have: Craving something other than steak? You can't go wrong with the sesame ahi tuna, which is made with a flavorful wasabi crème fraîche.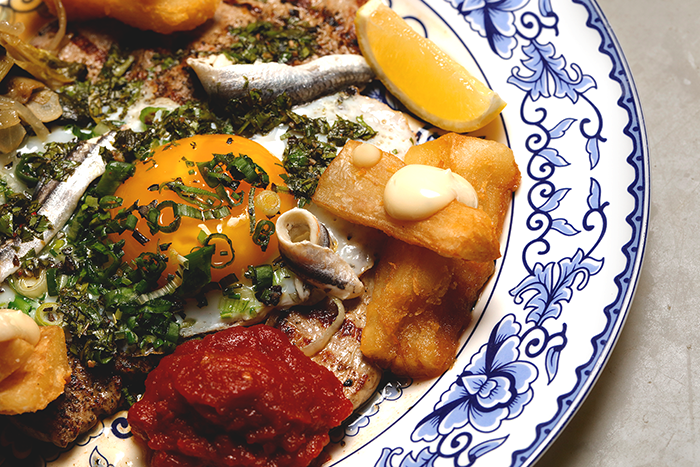 Leña Restaurante
At Leña, mother-in-law knows best. Not only did Chef Anthony Walsh name the restaurant after his Argentinian mother-in-law, he drew inspiration from her delicious home cooking. In fact, some of the best things on the menu were sourced directly from Elena—Leña for short. The signature Pollo Doña Aurora, for example, was originally prepared for Leña by her aunt before she left Argentina for Canada.
The restaurant's proximity to Toronto's financial district—and its art deco interior—makes Leña a popular spot for locals and avid Instagrammers alike. With sweet Alfajores pastries in the morning and bubbly pink Cava at night, Leña is always serving up something delicious.
Menu Must-Have: For a dish that packs a punch, try the veal milanesa. Leña recreates this Argentinian favorite with ingredients like white anchovies and yucca fries.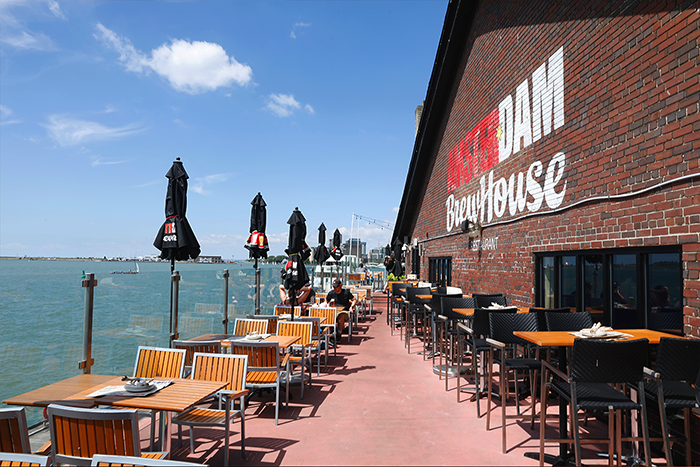 Amsterdam Brewhouse
Amsterdam Brewhouse is a must for anyone who wants to sample cutting-edge, award-winning beer. Located in an old shipping warehouse, this Harbourfront hotspot brews its beers on-site. Whether using ice grapes or 650 pounds of fresh Niagara peaches, brewmaster Iain McOustra and his team are constantly pushing the envelope and offering tastes of their most recent concoctions. Once you've placed your order, enjoy your brew on a patio that overlooks the inner harbour.
Here, what's on your plate is as exciting as what's in your glass. The menu features plenty of recipes that live up to Toronto's multicultural reputation, including lemon chicken schnitzel and a Thai green curry.
Menu Must-Have: Drink like the locals with a pint of light, Spotted Cow Beer.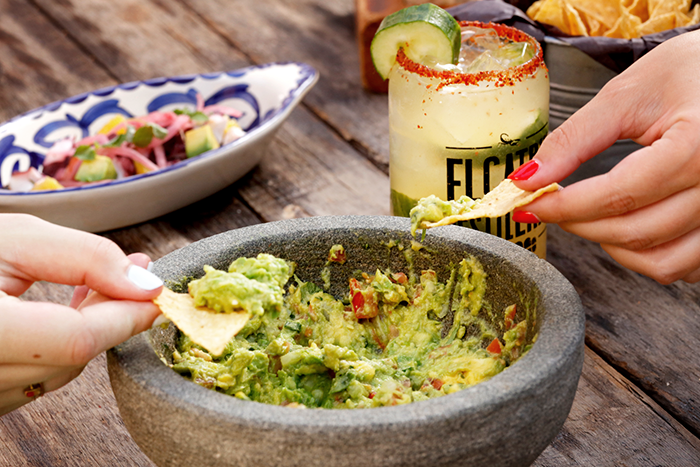 El Catrin
Olivier Le Calvez knows a thing or two about spice. As the executive chef of El Catrin, a Mexican restaurant in the Distillery District, he is responsible for bringing his Mexican roots to Toronto's dining scene. From potent margaritas, to grilled fish marinated in chiles, to short ribs coated in a rich, spicy mole negro, El Catrin's street food menu is bursting with flavor.
Customers might come for the food, but they'll stay for the electrifying ambiance. The team behind El Catrin loves design as much as a good meal, and hung up a floor-to-ceiling mural by celebrated graffiti artist Oscar Flores.
Menu Must-Have: Who doesn't love creamy guacamole? It doesn't get better than El Catrin's recipe.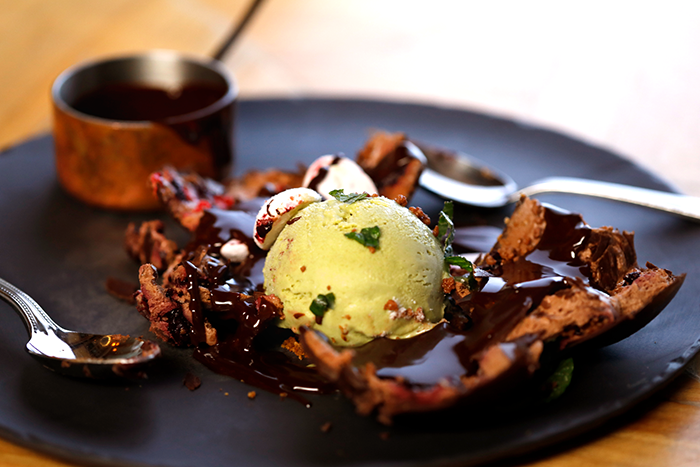 Cluny Bistro & Boulangerie
Cluny is a far cry from your grandmère's French restaurant. This Distillery District spot traded in the ubiquitous checkered tablecloths and candles for an eclectic ambiance and intricate, cornice ceiling.
Of course, the decor isn't the only thing that received an upgrade. From ginger, chili-fried frog's legs, to onion soup with gruyére, to table-side tartare, there's plenty of innovation to go around. And, if you have room for dessert, Cluny's assortment of sweets will not disappoint.
Menu Must-Have: Embrace your inner child with the chocolate bomb, a fun mix of candy, marshmallow, and lots of chocolate.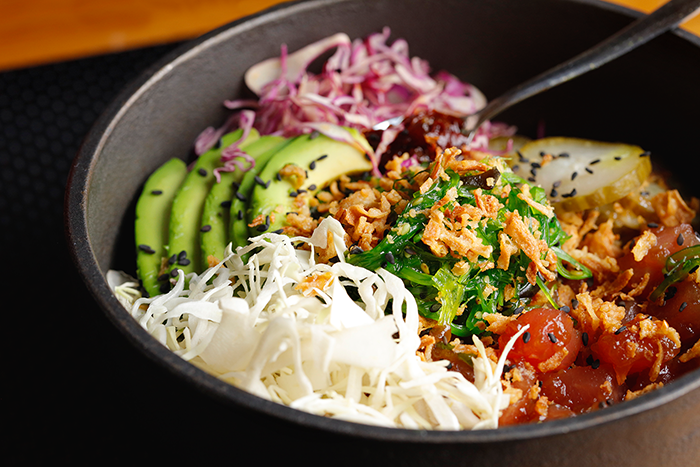 Pure Spirits Oyster House & Grill
Step inside this unassuming brick building and find a sprawling, lively seafood house. With plenty of awards and accolades under its belt, Pure Spirits is one of the best seafood joints in Toronto.
Guests sip on signature cocktails, like a thyme-infused bourbon blend, as chef Aaron Linley whips up plates of lobster pappardelle and wild Argentinian shrimp, made with garlic butter, Drambuie, parmesan and toasted crumbs.
Stopping in for a quick bite? Head over to the raw bar, where seafood rookies have their first brush with fresh, mouth-watering oysters. More seasoned foodies, on the other hand, often upgrade to Prince Edward Island malpeques and New Brunswick beausoliels.
Menu Must-Have: Linley's poke bowl is the perfect mix of spicy and sweet.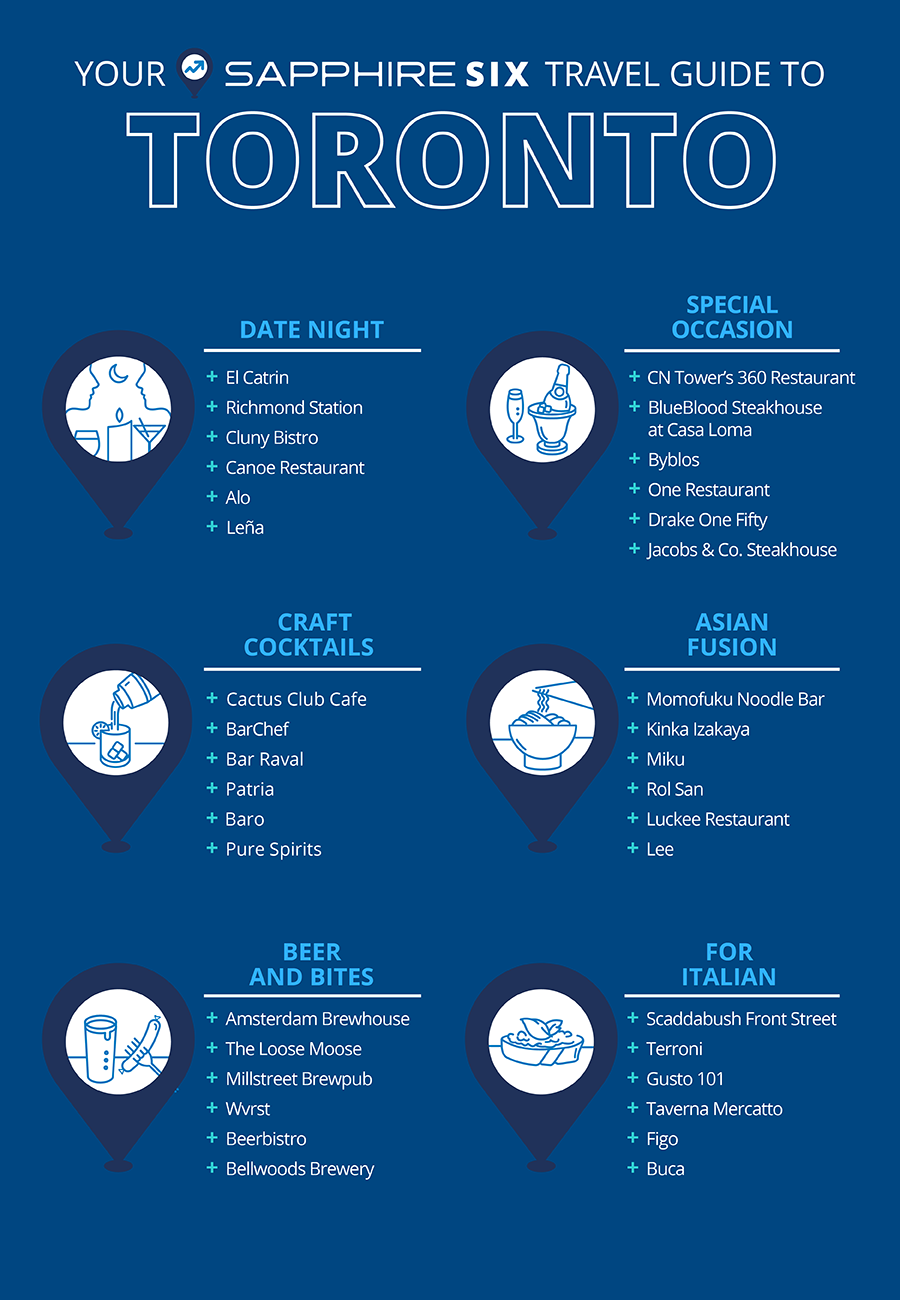 A quick note on methodology:
So how did we come up with the Sapphire Six? By pairing anonymous Sapphire Reserve cardmember spend data with feedback shared on social media, we were able to determine the most popular restaurants by unique visitors and category.
Inclusion on the Sapphire Six is not an indication of an affiliation or endorsement by JPMorgan Chase. The words or symbols used to identify the source of goods and services of a third party may be the trademarks of their respective owners.
Infographic Design: Thomas Rosinski | Karen Burshtein is a Chase Newsroom contributor. Her work has appeared in Conde Nast Traveler and Canadian Geographic, among several other media outlets.