Community
Giving Back to Community
Hard Times In The Big Easy: Musicians' Village Helps the Music Come Home
Partnership With Habitat for Humanity Provides Homes, Performance Space
By
Karen Dalton-Beninato
Posted: 09/03/15
Updated: 11/10/17
Trumpet player Leroy Jones' evacuation story from Hurricane Katrina mirrors that of many. He and his wife, musician Katja Toivola, fled to Houston and ended up staying with friends in Texas for months.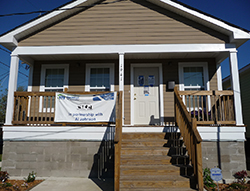 Like many of the musicians who are so important to the history and economy of New Orleans, Jones and Toivola found it hard to recover after the devastation of a decade ago without a place to live. But then their community rallied around them.
The New Orleans Musicians' Village helped to bring the musical traditions home with 72 rainbow-colored homes in the Ninth Ward, a park and a 170-seat performance space. The complex was envisioned by New Orleans natives Harry Connick, Jr. and Branford Marsalis and built by Habitat for Humanity and thousands of volunteers.
Village resident Shamarr Allen says he admires its founders.
"Harry and Branford had a plan to get local musicians back home, to keep the sound a certain way, and to keep certain traditions going," says Allen, a trumpet player who has performed around the world. "They had a plan to get as many musicians back to playing and living in the city as they could. I appreciate that and the opportunities they both have given me. I admire their love for the city, and it rubs off on you when you're around them. I probably would have stayed in Atlanta if it wasn't for the lectures they both gave me."
Encouraging the Next Generation
Allen, a music mentor in his own right, founded the True Orleans Foundation to give New Orleans youth an outlet to express themselves through music.
"The next generation are in good hands, if you ask me," Allen says. "There's so many people and organizations working with kids to help them discover their talents. I don't know where it's going, but I'm curious to see. The kids see things differently. They listen to different music, so their influences also come out when they play. I'm just glad I get to help and get a front row seat to the growth."
In addition to budding talent, the Village houses elder statesmen including Smokey Johnson, Fats Domino's longtime drummer. As Allen influences younger musicians, he says the old guard at the Village influences him. "It's awesome to be a part of the village for the most part. Mr. Smokey Johnson is the mayor of the village, and everyone looks at him as just that. You ask who's the mayor, everyone will tell you."
What makes the city, and the return to it, so special to Leroy Jones?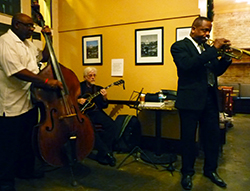 "After traveling back and forth from Finland and other destinations abroad, what makes New Orleans special for musicians is the sincere, open-hearted camaraderie that exists," Jones says. "The cats in New Orleans are warm and hospitable. If you've got a horn or if you're a vocalist, on most occasions you're welcome to sit in. It's probably due to all that Southern hospitality."
Allen agrees that after being a U.S. Cultural Ambassador and performing at the White House, what brings him home is music. "New Orleans music touches a certain emotion that no other music touches. It's feel-good music! It's appreciated around the world for that, and most of the world is intrigued by it. I believe that's what draws the rest of the world to it. The unexplainable feeling it gives you. I'm just glad I get to be a translator or vessel to get it the rest of the world."
Learn how JPMorgan Chase & Co. partners with the community to support New Orleans.
Photos by Jeff Beninato | Karen Dalton-Beninato is a New Orleans-based freelance journalist who has written for The Huffington Post, Forbes Travel, The New Republic, Earth Island Journal, The Times-Picayune and other publications.