Small Business
Managing Your Business
In Hospitality, Is the Customer Always Right?
Restaurant and Hotel Execs Tackle One of The Industry's Top Questions
By
Heather Freiser
Posted: 09/03/15
Updated: 11/10/17
Is the customer always right? And what does it mean to be right, anyway?
At the second annual Welcome Conference, hospitality's heavy hitters gathered to tackle questions like these that are crucial to the service industry.
They were brought together by restaurateurs Will Guidara and Anthony Rudolf, themselves an unlikely duo as they were once arch competitors. Guidara (pictured at left above) was the general manager of Eleven Madison Park, a restaurant he now co-owns as part of the Made Nice Hospitality Group. Rudolf (pictured at right above) was the general manager of Per Se, a staple of the Thomas Keller restaurant group, and now runs Journee, a center for restaurant professionals to share knowledge and resources.
In 2009, the two met at an industry event in what Guidara says he expected would be "the worst two minutes of my life."
Instead, a friendship was forged between the front-of-house masters, launching a discussion of industry issues and eventually a desire to have those conversations on a much larger scale. And so, the Welcome Conference was born. It connects those involved in, or passionate about, the restaurant industry to share ideas, offer perspectives and talk about issues key to hospitality and dining.
This year, Rudolf and Guidara, along with Chipotle CEO Steve Ells, Union Square Hospitality Group CEO Danny Meyer and others, attempted to answer key questions about being right in the restaurant industry, such as these:
Is the customer always right?
Can two people disagree and both be right?
Does the word "right" even belong in a conversation about hospitality?
Here's what some of the speakers said.
It's OK to Be Wrong
At least, it's OK to do something that everyone else thinks is wrong. Steve Ells said that when he started Chipotle in 1993, friends and relatives criticized key aspects of his business idea. Starting with the name Chipotle.
"[People said] 'I don't even know how to pronounce that. Chipoodle, Chipodle, Chipidle. And I don't even know what it means. No one's going to get it.' "
They also criticized his food choice and price points, saying the menu was too limited and he'd never be able to compete with the massive menus and low prices of fast-food competitors.
They even criticized his open kitchen concept: "Ew, they are going to see raw chicken. That's going to be a big turnoff." Despite all the criticism, Ells said, the customers loved it. And he cemented his place in restaurant history as a fast-casual pioneer. Chipotle's revenue topped $4 billion last year.
Be Part of Your Customer's Story
Thomas Kochs runs what Guidara calls "the greatest hotel in the world," Claridge's. The iconic London hotel opened in 1856 and receives 90,000 guests per year. Kochs says an overarching principles of the hotel's approach to "being right" is to become part of the story of people's lives. The only way to do that, he says, is through extraordinary service.
"This experience can mean a thousand different things to a thousand different people. This search for the perfect moment. This feel good factor. This moment when you feel like a million dollars. That's it. That's when we get it right," he says.
For Claridge's, it's about captivating moments and what Kochs calls "peak experiences." Getting these right and being part of a guest's story will keep them coming back.
"There is a guest that told me he signed his most important business deal at Claridge's and at the time he felt so insecure, he felt so exposed, and now he's a very rich man. What made him come back is how we made him feel."
Trust Those Around You
There's often contention between back-of-house and front-of-house priorities in a restaurant, but, that doesn't seem to be the case for Guidara and his partner, Eleven Madison Park Chef Daniel Humm.
Humm told a story about New Year's Eve at Eleven Madison Park. It was the end of the night, the kitchen had sent out dessert, and Humm made his way to the dining room. He sat at the bar and had a glass of champagne with Guidara. As they talked about the evening, he saw a bartender pouring shots of whiskey for guests … and himself. Humm was angry, but he looked over at Guidara, who was looking at the same situation and smiling.
"Here is the thing. Will is in charge of the dining room, not me. If he's not angry, I don't need to be angry. First, it's because I trust Will, and trust is the most important part of our relationship and the foundation of our company. He runs the dining room and I trust that he knows what's right."
Humm said it takes people with different skills to succeed and run a restaurant the "right" way. "If the bartender acted like a chef and just focused on making sure the garnishes were right on drinks, that night would not be fun."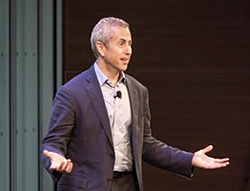 Being Right Is Completely Irrelevant
The final speaker of the conference was Danny Meyer, CEO of Union Square Hospitality Group, which includes the restaurants Gramercy Tavern and Maialino. He's also the man behind Shake Shack, and arguably one of hospitality's most respected voices.
His advice: "Forget being right. It's completely irrelevant."
He said some in his industry waste too much effort on being right, and it gets in the way of good service and the customer experience. "Being right can be used as the most dangerous shield of hospitality … and of life." Meyer said. "When policy ends up causing the chaos it was trying to prevent, it's time to let go of pride."
Be Awesome Instead
Tim Harris, founder of Tim's Place, said it's better to focus on being awesome. He gives out hugs, dances, and started what he calls the "world's friendliest restaurant." He also was born with Down syndrome and has dedicated his life to helping those with disabilities.
"The world can be a scary place. And some people just want to be scared. Not me. I want to make the world a better place. I want to make the world totally awesome. That is the closest I can get to telling you how to be right. No one's perfect. And no one can be right all the time. But everyone can be awesome."
The Welcome Conference was presented in partnership with Chase. Video of the speakers is posted online.
Photos by Noah Fecks | Heather Freiser is an editor for Chase News & Stories. She was formerly a producer for Bloomberg Television and Fox Business News.