Your Life
Enjoy Dining and Entertaining
Meaningful dining at one of San Fran's most in-demand restaurants
Chase Sapphire Preferred® Visa Signature® Private Dinner series highlights industry trends
By
Linda Childers
Posted: 09/05/16
Updated: 06/13/19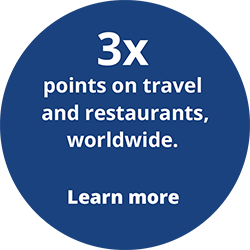 On a recent night in the heart of San Francisco's Pacific Heights neighborhood, Michelin-starred chef Melissa Perello is preparing an intimate dinner for 50 Chase Sapphire® and Chase Sapphire Preferred® Visa Signature® card members.
This exclusive dining experience, part of this year's Chase Sapphire Visa Signature Private Dinner series, is being held at Octavia, Perello's second San Francisco restaurant, which opened last year to rave reviews. Following the San Francisco trend of successful restaurants opening a sequel to their first hit restaurant, Perello debuted Octavia seven years after opening her first San Francisco restaurant, Frances.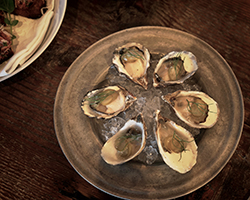 Casual atmosphere with fresh, local ingredients
Featuring a casual neighborhood vibe in a rustic yet modern space, Octavia's entrees are made with seasonal, locally sourced ingredients prepared in a way that highlights their natural flavors. Perello begins each morning at the Marin Farmers' Market, where she scours the food stands for the best products to feature on her mercurial menus. Her culinary strategy aligns perfectly with the National Restaurant Association's Hot Forecast for this year, with locally sourced meat, seafood and produce among this year's top restaurant trends.
"It's all about the ingredients," says Perello, who has procured fresh chanterelle and porcini mushrooms, white corn and fresh berries to serve at the evening event. "Our menu changes frequently but always features foods that are seasonal and fresh. I think it's very important to support local farmers and artisan producers and to introduce our customers to flavorful foods that are grown and sourced locally."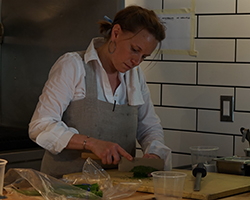 Perfect pairings
After designing the evening's four-course menu, Perello meets with Octavia's wine director, Joshua Thomas, to select vintage wines that will enhance the flavors of each course. Wine pairings are another growing trend cited by a 2016 Wine and Spirits magazine restaurant poll, and a way to introduce diners to new wines and the confidence to be more daring with their wine selections. Thomas chooses wines that enhance and complement the dining experience, while also introducing patrons to many new undiscovered wines.
"Many customers are intimidated by wine pairings, but a good pairing is meant to be pleasurable, not stressful," says Thomas, who visits tables throughout the evening to answer questions about the wines chosen. He also takes time to explain the reasons the Tyler Chardonnay from the Santa Barbara, California, coast so perfectly complemented the second course pappardelle pasta dish, or why the Bedrock Syrah from the North Coast seemed to complete the grilled Five-Dot Ranch petit filet served as the main entree—without overwhelming the flavor of the meat.
A one-of-a-kind experience
While some cardmembers are attending their first dinner event with Chase, the Octavia event marks cardmember Kristen Zeitzer's fifth time attending one of the exclusive dinners.
"It's such a unique experience to be able to dine in one of the city's most popular venues and to hear the chef discuss the concept behind the restaurant," Zeitzer says. "I'm a big foodie and these dinners offer a meaningful experience that is almost like dining in a chef's home."
It's also an opportunity to expand one's boundaries. In fact, dining with strangers is a trend currently sweeping the globe, and one that offers a chance to unplug from social media and to dine in small groups that promote camaraderie and friendships.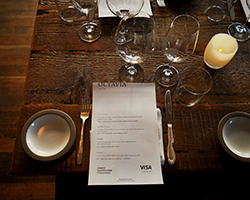 "I enjoy meeting and talking with people who share my love of food," Zeitzer says as conversation at her table turns to a recent White House Correspondents Association dinner. One guest who attended the event in Washington, D.C., shares photos and stories from that evening's festivities. Two other guests exchange business cards, and discuss a joint-venture after discovering both their companies are committed to selling cruelty-free products.
As dessert is served—a summer berry Eton mess that executive pastry chef Sarah Bonar has created with fresh berries, buttermilk, Meyer lemons and lavender ice cream—diners enjoy the last wine of the evening. It's a rich and rare sweet wine from the Miraflores Winery, hailing from Placerville in Northern California.
Towards the evening's ends, a diner admires one of the restaurant's rustic benches. Perello explains how her father, Phil, a former woodshop teacher, designed the bench seating and the restaurant's rustic serving boards.
"I want the restaurant to evoke a sense of family and to be comfortable and welcoming for our customers," Perello says, echoing a restaurant trend that diners crave the hospitality and familiarity of small cozy restaurants as an escape from the harried digital world.
With more casual and intimate dining concepts taking the country by storm, and patrons requesting more sustainable foods, eating out has never been more enjoyable. And restaurants like Octavia are proof that good food never goes out of style.
Photo: Nik Childers | Linda Childers is a California-based freelance writer who has written for O magazine, NBC News, CNN Money, Redbook and many other national media outlets.