Your Life
Enjoy Dining and Entertaining
"Comfortably luxurious" dining in the heart of NYC—no jacket required
At Gabriel Kreuther, fine dining in a relaxed setting
By
Barbara Bellesi
Posted: 09/06/16
Updated: 06/13/19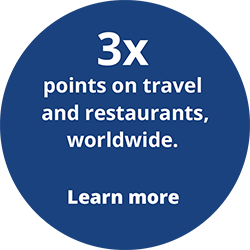 Overlooking Bryant Park in midtown Manhattan, the AAA 5 Diamond Award-winning restaurant Gabriel Kreuther was the site of a recent Chase Sapphire® Visa Signature® Private Dinner Series. Even with all its accolades and impeccable internationally inspired cuisine, "comfortably luxurious" is the way many describe Chef Kreuther's restaurant.
While Kreuther's menu, accented by premium caviar, fresh fish and the choicest cuts of meat, is delectably classified as fine French dining, it does not carry the lofty air one might expect from such cuisine.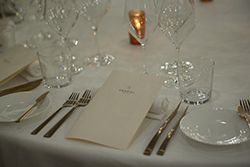 In other words, you can leave the jacket and tie behind when you come to dine at Gabriel Kreuther, a sentiment that makes Chef Kreuther proud.
Dining without the fanfare
In a city like New York, gourmands not only have a wide variety of cuisines virtually at their fingertips, but also a myriad of venues in which to enjoy them. From elegant restaurants to expedient sushi counters to food trucks that serve up artisanal selections on paper plates, New York is flush with foodie experiences—reflecting the trend of top chefs and restaurateurs moving toward more casual and fun dining atmospheres.
"It all depends on what kind of experience you're looking for, but there is nothing wrong with having excellent food in very casual places," Kreuther explains.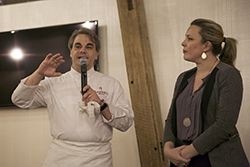 It's no surprise, then, that many casual restaurants were included on TimeOut New York's 2016 list of the 100 best restaurants in New York City. The magazine reports that "New York dining morés have experienced a seismic paradigm shift in the past decade, toppling Old World restaurant titans and making conquering heroes of chefs that champion accessible food served in casual environments."
"[New York] is a very exciting place, and the way the cultures have come together here is quite interesting," says Kreuther. "It's very exciting for [chefs] to borrow techniques and even [ingredients] for different cuisines, and integrate them with what we do."
Since its opening in June 2015, Chef Gabriel Kreuther's eponymous eatery has won a host of awards, including Best New Restaurant of the Year by the Village Voice, and was noted as one of the "Best of the Best" in dining by the 2016 Robb Report, a luxury living magazine. But for the award-winning chef, it's surprisingly not always just about the food.
"I think a [dining] experience is the way people receive you, the way people talk to you, the way they make things that touch you and that touch your senses," Kreuther says. "It's the little pieces of attention that transform the experience."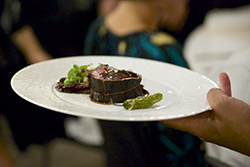 Perfect Pairings
The sound of laughter and clinking wine glasses set the tone for the private dining experience of Chase Sapphire cardmembers who gathered for wine and hors d'oeuvres. The highlight of the evening was the main course, a poached black Angus beef tenderloin, coupled with a Cabernet Sauvignon from the Napa Valley. Kreuther described the poached dish to his guests as "very surprising," because they would likely be expecting a hearty piece of beef to be seared or grilled at a high temperature. Instead, poaching submerges the meat in a liquid, like stock or wine, and cooks it at a low temperature. The dish was indeed as surprising as it was delightful.
Then again, the entire evening was a surprising delight in that one could enjoy a sumptuous meal in such a relaxed atmosphere at Gabriel Kreuther.
"You're going out for a reason: It's to have a good time," says Kreuther. "It's not going out and being told exactly how to behave, or what to do. Hopefully, we give diners what makes the experience different."
From gourmet food trucks to five-star restaurants, hungry New Yorkers have many different choices for going out and having a good time. Fine dining in New York City might not be as buttoned up as it once was, but no one's taste buds seem to mind.
Photo: Paul Familetti | Barbara Bellesi is a New York-based freelance writer whose work regularly appears in BELLA NYC Magazine.