Your Life
Enjoy Dining and Entertaining
Chicago's Acadia serves up a bounty of beautiful ingredients
Local sourcing of ingredients—and inspiration
By
Samantha Lande
Posted: 09/06/16
Updated: 06/13/19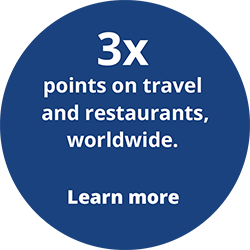 At Chicago's two-Michelin-starred Acadia, thoughtfulness is on the menu. That's because Vietnamese-born Chef Ryan McCaskey draws inspiration from his childhood experiences and worldly travels, and combines it with what he's gained in each kitchen on his culinary journey. In fact, the name Acadia means "idyllic place," an emotion the chef tries to achieve in the restaurant through his meticulously composed dishes.
"We tell a very specific story, that are accounts of things I experienced and lived," says McCaskey, "The story telling flows through and are my personal expressions and creativity."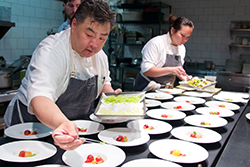 Perhaps the memories that pique McCaskey's palette the most are those from Maine (the restaurant shares a name with one of the state's national parks), and he shows this by sourcing ingredients native to the Pine Tree State. Spend any time speaking to the chef and it becomes apparent he wants only the best ingredients to grace his diners' plates—and goes to great lengths to source them. On par with many of the best culinary minds in Chicago, McCaskey forms relationships with the best purveyors, giving him the ability to serve extraordinary and often rare ingredients.
McCaskey recently got to tell a part of his story at the Chase Sapphire® Visa Signature® Private Dinner series. The dinner gave attendees an opportunity to not only taste the food from the highly acclaimed restaurant, but to also interact with McCaskey and sommelier Jason Prah to learn the stories behind the menu. For this event, Chef McCaskey created a meticulous sampling that highlighted the flavors of the summer months.
Sourcing only the best
The first course of the evening is a refreshing dish of compressed melons and heirloom tomatoes grown at Ohio's Chef's Garden to McCaskey's exact specifications, underneath a palate-cleansing cucumber consume.
The second course is pork belly from local Slagel Family Farms in Fairbury, Ill., (a favorite among Chicago chefs), complemented by a creamy corn pudding and pickled Maine blueberries, which McCaskey is lucky enough to procure each week during peak season.
"Maine blueberries are different than your average blueberry—they are super small and grow similar to a Pinot Noir grape through sandy and rocky soil," explains McCaskey. He pickled the blueberries to add a sweet yet tart flavor to the savory dish.
Aaron Russell, a first-time attendee of the dinner series, describes the pork belly dish as "a new standard for a savory course."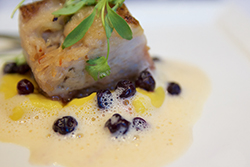 McCaskey's sourcing from all over the country extends throughout the evening and into his regular menus as well. For his signature mini-lobster roll canapé, the lobster comes straight from Maine, while the mini Éclair-like bun on which it is served is made in-house. On any of his regular five- or ten-course menus, that change over seasonally, you may find vegetables from farms like Yellow Birch Farm in Maine, grits from Anson Mills in South Carolina or lamb from Pennsylvania's Elysian Fields.
The butter served during the Private Dinner Series' bread course—a rosemary and green olive focaccia—also boasts an interesting backstory. The milk comes from a particular cow on Vermont's famed Animal Farm to create a butter handmade for Acadia. The farm makes butter for many other famed chefs, including Thomas Keller.
Perfect pairings
The wine and spirits that are served with McCaskey's food are another element of his story, one told by Acadia's sommelier, Jason Prah, who the chef has known for 17 years. Prah knows McCaskey's food intimately well, and is given full liberty to create a drink menu that pairs flawlessly with the food. As chefs expand their repertoire, sommeliers in the city are following suit, pairing dishes with lesser-known wines and even cocktails on occasion. For this dinner, Prah poured a little bit of white and red, along with a vibrant gin cocktail featuring flavors of heirloom tomatoes and cucumbers that was a perfect complement to the evening's first course.
"I wanted to provide something that evoked the flavors of the dish—bright, fresh and delicate," Prah explains.
A one-of-a-kind experience
As the last dish is served, a sous vide center cut of rib eye topped with a decadent blue cheese butter, diners were wowed.
"I took inspiration from [the late Chicago chef and restaurateur] Charlie Trotter for this dish," says McCaskey.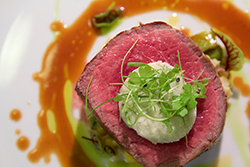 The rib eye was served like a baby steak on a summer succotash of shiitake mushrooms, pepper, corn, fava beans, thyme, bacon and reduced onion cream, all brightened by a white wine vinegar. Trotter's inspiration was also seen in a trio of sauces—chive oil, tomato oil and red wine reduction—that was on a plate similar to one the chef served during the 1990s, McCaskey explains.
The culinary experience created by McCaskey is one diners like Sao Mai Nguyen-Mau were hoping for. "You can tell the rib eye is all about the quality of the meat," says Nguyen-Mau. "The preparation is perfect and the wine pairing is on point."
Chef McCaskey keeps the mood light when he speaks to the attentive diners, but turns serious when the topic of his culinary aspirations comes up. In a competitive market like Chicago, a chef always needs to be thinking of what's next.
"The Acadia you see today is not the same Acadia you may have seen a year ago," says McCaskey. "We never want to get complacent. In two years we hope to gain that third Michelin star."
Samantha Lande is a Chicago-based freelance writer and content producer who has written for The Food Network, Eater, Time Out and many other local and national outlets.