Your Life
Enjoy Dining and Entertaining
Gearing up for the big game? Here's how you can save on your next tailgate
Four budget-friendly tips to ensure your tailgate earns a touchdown.
By
Ann Loynd Burton
Posted: 08/28/19
Updated: 02/14/20
This story is brought to you by Freedom Unlimited. Earning on the things you need. Earning on the things you want. Always Earning 1.5% cash back with Chase Freedom Unlimited on everything you buy. Learn more.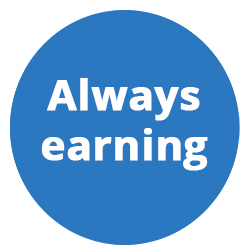 From country concerts to college football, a tailgate is a great way to celebrate a large outdoor event while saving money on overpriced (and underwhelming) food and beverages inside the venue.
Still, transporting a grill, bringing the booze and cooking for a crowd can be expensive if you overdo it.
"The key to saving money on a tailgate is to have a budget in mind and only spend on items you need," says personal finance writer and Dear Debt author Melanie Lockert. "The main point is to have fun with friends, so focus on that while enjoying some food before the game."
Follow these four easy tailgating hacks to make the most of your money—and avoid those sad stadium nachos at all costs:
1. K.I.S.S.
Nashville chef and self-described grilling addict Matt Bolus has just one rule when it comes to tailgates: Keep it simple, sports-fans!
"My absolute go-to tailgate foods are always easy to eat with one hand because there's supposed to be a cold beverage in the other," he explains.
Easy and affordable options include chicken wings or cheeseburgers as well as skewers and kabobs of all kinds. With kabobs, you can buy a reasonable cut of meat and slice it up to extend the amount served. For example, a $20 pack of ribeye can feed four, instead of two.
Club Thrifty personal finance writer Holly D. Johnson confirms that restraint is key.
"Pick a menu, and stick with it," she says. "Don't worry about going overboard, and make sure to shop your pantry before you buy the basics."
2. Rethink your grill
Save on gas and bring a small tabletop charcoal grill instead of your large gas one. According to chef Nicole Guzman, you can find a tabletop grill at a drugstore or wholesale club for as little as $15. Plus, a 12-pound bag of charcoal costs $5 compared to $20 to fill a 20-lb tank of propane.
Or, forget the grill entirely! Guzman says she pre-cooked buffalo chicken kabobs with Hawaiian rolls for her last tailgate. "It was great because I was able to prepare all of this ahead of time, and the food required no reheating, so no grill!" she adds.
Another genius hack: your slow cooker.
"Bringing a slow cooker along opens up a world of possibilities—pulled pork or chicken, chili and soups" adds Johnson.
After all, a pound of beef goes a lot further in chili than it does making hamburgers.
Worried your stew will go cold by the time you pull into the stadium? My Debt Epiphany blogger Choncé Maddox suggests a power inverter (which costs about $15 to $30) that plugs into your car.
3. Buy in bulk and shop the sales
If you're feeding a crowd, Maddox says wholesale clubs typically have the best food deals. For example, she estimates you can buy 36 hot dogs for under $15 at a warehouse store, which is a great way to score comfort food on the cheap.
But while wholesale clubs are known for their steep discounts on bulk items, they're not the only deal destinations. If you have some time before the big game, it might pay off to shop around.
"Regular grocery stores will likely offer deals and discounts of their own to compete for the best prices," Maddox adds.
4. Large batch your beverages
Forget craft beers and make a large cocktail to share in a big sports cooler. Johnson says easy and affordable options include sangrias, mojitos and margaritas. A $10 box of wine can make 20 glasses of sangria, and you can upgrade to a premium blend from there. Domestic beer can be an affordable option as well—just don't buy it in the venue.
"The last time I went to a baseball game in Los Angeles, a beer was $16," Johnson notes.
Dodge the hefty markup by purchasing six-packs on sale at your local grocery store.
Ann Loynd Burton is a Chase Newsroom contributor who focuses on fashion and lifestyle content. Her work has been featured in Quest Magazine, Footwear Plus, among several other media outlets.