Your Life
Explore Major Purchases
How to buy great tickets for a steal
Five tips for scoring prime seats without paying a premium.
By
Arianne Nardo
Posted: 08/28/19
Updated: 08/29/19
This story is brought to you by Freedom Unlimited. Earning on the things you need. Earning on the things you want. Always Earning 1.5% cash back with Chase Freedom Unlimited on everything you buy. Learn more.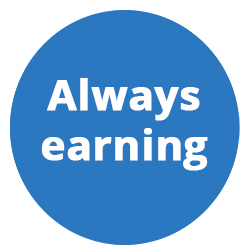 Want to see a band play your all-time favorite song? Watch your home team score big in the playoffs? Well, it's going to cost you.
Live events are setting records with jaw-dropping prices just to enter the venue. It also means we're all vying for the same thing: good seats at a great price.
The good news is it's not all a lost cause. With a smart strategy and a little patience, it's possible to score the ticket of your dreams and still have some money left in your savings account. Below are five tips to get you great seats minus the sticker shock:
1. Delay for discounts
While your first inclination may be to buy tickets as soon as they go on sale, it can pay off to wait.
"Budget-minded consumers have to be willing to wait until the last minute," says Stephen Glicken, a former music executive who recently launched a Nashville-based ticketing company called Project Admission. "This tactic may not work for a hot event, but you can often find last-minute, discount tickets as it is very rare for an event to completely sell out."
When deciding how far in advance you should purchase your tickets, it's a good idea to factor in the type of event.
"For a big concert we tend to see prices rise on the secondary market leading up to the show, so in general earlier can be better, but for a sporting event like a playoff game prices often drop leading up to the start," explains says Chris Leyden, communications manager at SeatGeek, a mobile-focused ticket platform where people can buy and sell tickets for live sports, concerts and theater events.
Pressing pause on your ticket order is a smart option if you want to attend a certain event, but aren't too picky about where you sit.
2. Look to membership benefits
There's a good chance the key to affordable tickets is already lurking in your wallet. Many credit cards offer rewards points you can put toward the cost of a ticket, and some offer special access or exclusive VIP experiences that enhance the entire outing.
Another way to cash in on great seats is by joining your favorite artist or team's fan club. Glicken says some mailing lists offer pre-sales with a good inventory and fair prices.
3. Search on social
Chances are there are tickets available directly from fans who, for whatever reason, can't make it to an event. It's a strategy that's worked well for Danielle Skeaton, founder of the smart budgeting blog, Any Mom Can Budget. "Back in 2017, we sat two to three seats above the sideline during New Year's Eve football game for $50 each! You can't beat that!"
If there's an event you really want to attend, but don't have tickets for, scroll through your social media feed. Who knows? You might have a connection who's willing to cut you a deal.
4. The price is right
Think the price of a ticket is too good to be true? There's a good chance it might be. In today's digital world, it can be easy for fans to be lured into scams, which is why Glicken urges consumers to research the market before they buy.
"The reality is tickets are going to end up on a wide variety of websites," he says. "I would suggest consumers first check primary sites before visiting secondary sites, as this will give them a sense of what the face value is."
A performer's website or venue's box office are two trustworthy places to start your search. Understanding the show's going rate—and dodging questionable listings—can save you time, money and stress in the long run.
5. Compare the costs
Getting tickets to a special performance or event can be an emotional purchase, so it's important to think about what you want the experience to be—and how much you're willing to pay for it.
You may be accustomed to looking for the cheapest tickets in the arena, but it's worth comparing different ticket tiers to find the best value for your money.
"Fans often just search for the cheapest ticket, but often for just a few dollars more fans can find a significantly better seat," says Leyden.
Arianne Nardo is a Chase News contributor. Her work has previously been published in Robb Report and Business of Home.