Community
Giving Back to Community
Charity Is the New Fitness: The J.P. Morgan Corporate Challenge
J.P. Morgan Corporate Challenge Emphasizes Teamwork, Philanthropy
By
Dawn Allcot
Posted: 08/27/15
Updated: 11/10/17
Not every race is about winning.
While some of the 30,000 runners in June's New York City edition of the J.P. Morgan Corporate Challenge® sought to cross the finish line first, many more competed only with themselves.
"I finished in 35 minutes, so I beat my personal goal. I feel so great about that," said J.P. Morgan Executive Director Renee Minott, who aimed to finish the 3.2-mile race in 40 minutes.
Fitness, Friendship and Camaraderie
The Corporate Challenge mandates that runners compete in teams of at least four, adding team-building aspects that appeal to corporate leaders and encourage new runners. "The company team element is what separates the Corporate Challenge from all other road races," said Ariel Johnson, project manager for the event. "It promotes teamwork and camaraderie, and there is strength in numbers in going out to do something that requires physical effort."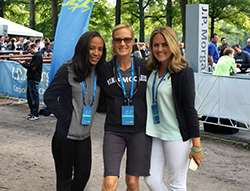 And the team members agree. "In today's world, so much is virtual that we're not always face to face with our coworkers," said Tony Morelli, vice president of sales for Cisco Systems, which fielded a 70-person team this year. "This is a good opportunity for everyone to gather together. This race is about fitness, friendship and camaraderie."
Morelli says he plans to grow Cisco's team even further for next year's race, though that might be a challenge because the race is so popular in New York that it reaches its full capacity within an hour after opening registration.
Sharing a common experience breaks down the barriers of job titles, said Johnson. "That's one of the really cool things about the Corporate Challenge. A C-level executive is on equal footing on race night with an entry-level employee."
The event also helps break down cross-department barriers.
"You might meet people new to the company or people you've never encountered before in your day-to-day work," Morelli said. "You forge new friendships. You get to know your co-workers more deeply. And then when you're working together on a project, it's easier to go to them if you need something. You have a common connection."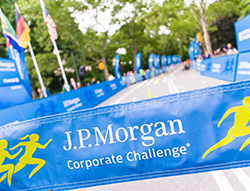 Creating Corporate Stars Since 1977
The Corporate Challenge began in 1977 as an offshoot of Chase predecessor Manufacturers Hanover Bank's sponsorship of the New York City Marathon. It garnered the attention and support of marathon runners Bill Rodgers and Grete Waitz.
"America was on the cusp of a running boom, and [this gave us] instant credibility," said Johnson. "From there, the companies became the stars as they embraced the Corporate Challenge enthusiastically."
This year's New York event, one of 13 races on five continents, took place in Central Park and benefited the Central Park Conservancy. "The donation provided another tangible reason for employees to feel good about taking part in our event," said Johnson.
The Corporate Challenge is designed to be accessible for busy executives, with its location (in Central Park), timing (on a weeknight evening) and length (3.5 miles) allowing them to advance their physical training in a competitive run, support their company and donate to a good cause all at once.
"You have to have balance in your life," said champion fencer Tim Morehouse, who presented the medals to the winners at the finish line. "It's important to keep the mind and body strong."
Dawn Allcot is a freelance writer whose articles have appeared in Mint.com, AOL Careers, Yahoo! Finance and more. Her writing credits cover diverse topics from paintball to personal finance.