Small Business
Success Stories
Supermodel to Entrepreneur: Beverly Johnson
The Face That Changed Fashion Forever
By
Caitlin M. O'Shaughnessy
Posted: 08/27/15
Updated: 11/10/17
Beverly Johnson, like many iconic models, has graced the covers of hundreds of magazines, has walked too many runways to count and has a face that's known throughout the global fashion industry.
But unlike other models' faces, hers is a symbol of change.
Johnson's modeling career began in 1971, when she was a student at Northeastern University majoring in criminal justice. Three years later, she made history as the first African-American model to be on the cover of the American edition of Vogue.
"I was just at that pivotal moment in history where people of color were finally accepted on Main Street and Madison Avenue as being beautiful," she says. "And it resonated around the world. So that kind of took all the fun and games out of it and for me put a really serious spin on that gift that I had just been given. I felt such a sense of responsibility to acknowledge it."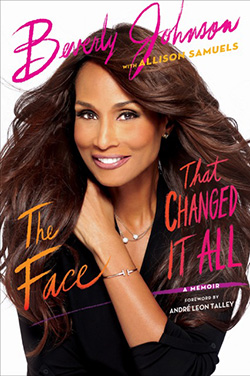 An Entrepreneurial Life
Johnson has been working as a model, actress, author and entrepreneur ever since. When she's not promoting her new memoir, The Face That Changed It All, she's concentrating on her forthcoming handbag and mineral makeup lines, along with developing her new reality show, Bev Inc., which follows models in Manhattan getting into the business she knows so well, as well as developing a mini-series based on her memoir.
"I'm really energized and mentally stimulated. I've always been in business for myself. I've been working since the age of 14. I come from a lower-middle class family, where my father instilled a work ethic that was really ingrained in us. But as a model, you're basically self-employed. So I basically was self-employed my entire life. But building and running a business, it's a total different mindset."
Johnson was in the hair business for 14 years with an endorsement and licensing deal with one of the largest wig and hair extension companies before she launched her own line of high quality hair extensions. It was a business decision, she says, that allowed her to create the brand she wanted, without compromising on quality.
From Model to Mogul to Mentor
Johnson says that becoming a successful businesswoman has been a difficult but inspiring adventure.
"Business is its own animal. It's been an interesting, fascinating and challenging journey to really learn the brick-by-brick concepts of building the business and how arduous it is, and the process. As a businesswoman, I'm using my mind like never before. One of the main lessons I have learned is what we call "hair-on-fire" situations where you think it is going to go right and something always goes wrong. Things that you didn't think very much of can be your biggest successes. And it's that kind of on your toes and on the edge of your seat, that I find thrilling about business."
Johnson says she's committed to mentorship, helping her employees carve their own paths to success.
"We always try to help people on our team. We find out ultimately what their dreams are and we realize that we're not the be-all and end-all."
This commitment extends to her charitable endeavors as well. She's on the board of the Barbara Sinatra Center for Abused Children, where she teaches a self-esteem course. She says that involvement grew in part out of her own experiences.
"Just to see [the children] come in with their eyes down. They don't make eye contact. They don't laugh. Just to be able to get them out of themselves and to tell my story and to make them feel like 'Wow, she too had some hard times... and maybe I can make it.' Seeing their smiles just means everything to me."
Finding time to balance work, philanthropy and family is a priority for Johnson, and something she takes very seriously.
"I used to say I don't have time. I have to be here, I have to be there. I realize that there's enough time for everything. That there really is enough time for everything. And that you, of course, have to have your priorities, but if you realize that there's enough time for everything that's important, then there's enough time for everything important. Funny how that works out."
Photo: Fadil Berisha | Caitlin M. O'Shaughnessy has edited fiction and non-fiction at Penguin and worked as a freelance food writer for CHOW.