Your Life
Experience Insider Access
7 key things to know about the 2016 US Open
By
Valentina I. Valentini
Posted: 08/26/16
Updated: 01/13/17
JPMorgan Chase is celebrating 35 years of partnership with the US Open.
As the first ball toss of the US Open nears, we've gathered some insider tips for one of the world's most popular tennis tournaments. The tournament will be held August 29-September 11, at the USTA Billie Jean King National Tennis Center, in Flushing, New York. Here's a list of tournament essentials—from what to eat, to who to watch, to where to charge your phone: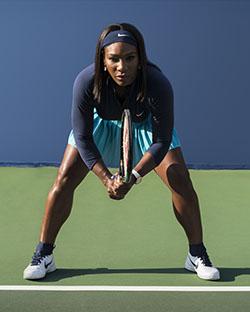 Serena's road to 23
At Wimbledon, Serena Williams tied Stefi Graf's open era record for Grand Slam singles titles. At this year's US Open, Williams is aiming for a recording-smashing 23.
The young and the restless
This year's US Open will likely offer some exciting matches with a crop of young stars, and veteran tennis players. Sam Querrey, currently ranked the world's 29th-best tennis player (as of August 15), generated buzz recently when he knocked number one Novak Djokovic off his 30-match Grand Slam winning streak at Wimbledon. During the Open, the 28-year-old will definitely be one to watch.
Another player worth paying attention to is Jack Sock, a 22-year-old American. He's an excellent doubles player who won Wimbledon in 2014 with Canadian partner Vasek Pospisil and will be aiming to make his singles mark.
On the women's side, Sloane Stephens, 23, has had mixed results this year. Of the 13 tournaments she has played, including the Olympics, she won three titles, but was also knocked out in the 1st or 2nd round eight times. If she makes it to the 3rd round at the US Open, watch out!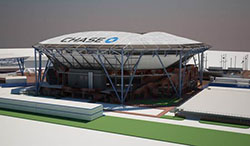 Raise the roof
The world's largest tennis stadium has gotten a makeover. Now, if it rains, fans will be covered by a new 13,000,000 pound retractable roof that will be operational for the first time in 2016. Designed by renowned architects ROSSETTI, the roof features two one million point retractable panels, with the entire steel roof structure sheathed in state-of-the-art PTFE fabric. Notably, the roof features the Chase logo. "We weren't necessarily looking to just put a logo on the roof, but it provided real functionality and a real benefit to fans and players," says Frank Nakano, head of Sports and Entertainment for JPMorgan Chase.
Sips to beat the heat
Stay cool by ordering The Honey Deuce from The Grey Goose Bar—an icy mix of Grey Goose vodka, fresh squeezed lemonade, and Chambord garnished with frozen honeydew melon balls that look like tennis balls. It's been the US Open's signature cocktail for nine years. If you can't make it to the tournament, there are recipes and videos online to make your own at home.
Becoming a ballperson
There were about 80 highly sought-after spots as ball-persons for this year's tournament. In June, 350 people showed up to compete for the job by showcasing their running, throwing and catching skills. Anyone 14 years old and above can apply; usually, the gigs go to teenagers. It is a paid position and they wear uniforms designed by Ralph Lauren.
Matches made in heaven
Not all the action is in Arthur Ashe Stadium. Be sure to check out Court 17—completed in 2011—as well as the new Grandstand, and the grounds courts. There are always great matches at these locations, and at the outer and practice courts. To find out who's playing here, their rankings, and more info to determine if it's a good match to watch, check out the US Open app for iOS or Android.
Freedom! (to charge your phone)
This year, Chase is offering free live-streaming, mobile charging devices. Whether you're in line for your Honey Deuce or wandering the outer courts, you can catch multiple key matches as they happen, all without eating into your data. Even better, it will simultaneously charge your phone. Chargers are available to all tournament attendees while supplies last and can be easily checked out and returned at the Chase Booth next to the Food Village. Don't sit on this one, supplies are limited.
Read more about Chase at the US Open.
Valentina I. Valentini is a freelance journalist living in Los Angeles. She has contributed to VanityFair.com, Vulture.com, LA Magazine, Boston Magazine, Variety and many other publications.