Your Money
Explore Major Purchases
Selling your home: How to make a great impression with potential buyers
Fix up your home for a faster sale
By
Barbara Bellesi
Posted: 08/26/16
Updated: 06/27/18
Ready to sell your home? The real estate market is competitive, and buyers can be choosy. In order to woo potential buyers, your house needs to have its game face on. Depending on how long you've lived there, prepping your home for the market could range from a simple sprucing up to a major renovation.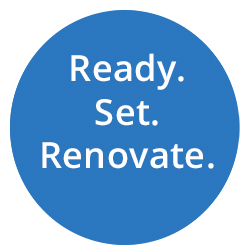 Gearing up for the market
Investing in fixing up your home before it goes on the market is always a good move. That's the mindset Joanne Costa, the New York-based owner of Joanne Costa Realty, shares with her clients.
"You need to spend money in order to make money," says Costa, who has been in the business for 25 years. For long-time homeowners who haven't done much updating over the years, Costa always suggests starting with a kitchen renovation. "The kitchen is the heart of the home," she explains.
However, Costa is quick to remind sellers there's no need to go overboard on a renovation. Anything from a fresh coat of paint to replacing a countertop is often enough to increase a home's value. And if a complete kitchen renovation just isn't in the budget, consider less expensive endeavors, such as staining older cabinets or resurfacing appliances with stainless-steel covers to give buyers the modern touches they want in a new home.
"Do as little as you can do for the most impact," says Peter Fressola, of Crossroads Realty, in New Jersey. One of his recent listings sold quickly after he convinced the homeowners to replace worn carpeting with hardwood floors.
Small fixes can pay off—in a big way
While a property doesn't have to be completely turnkey in order to sell, Fressola encourages sellers to do anything they can to mitigate potential issues for buyers. This includes hiring a home inspector to find, and rectify, any issues that might affect the home's structural integrity.
When potential buyers view a home, says Fressola, they often see positives in a general way—but create a list of negatives. If they find two or three major things, they'll pass on making an offer, he says.
These small-scale suggestions can result in big results, he says:
Neutralize. Look around your home and "edit heavily," suggests Fressola, removing any décor or furniture that won't appeal to the masses. "People aren't always willing to pay for your taste." The idea is to make your house a blank canvas for buyers. "You want people to imagine how they would live in the house," he says.
Deodorize. Cigarette smoke and pet odors often go undetected by current residents of a home, but will be noticed immediately by potential buyers. Fressola says a worthy investment would be to hire professionals who can rid your home of any unpleasant odors—and the future homeowner will thank you.
Declutter. Potential buyers want to see how they can live, work, play, and entertain in a home, so you'll need to clear out the clutter so they can get a sense of the space. Plus, it will help keep you on track with the formidable task of packing up your home. "You're in the process of moving, so begin the process now," Fressola says.
Making a Good First Impression
Making your home look desirable from the outside as well as the inside is a key step in getting that "Sold" sign up quickly. Curb appeal isn't just a clever catch phrase you hear on home improvement shows.
Potential buyers always like to pass by a home before they make an appointment, so curb appeal can make or break their reaction, Costa says. "Your first impression is always the best impression, and some flowers and removal of unwanted bushes and plants are a big plus."
Barbara Bellesi is a New York-based freelance writer whose work has appeared in BELLA magazine.