Small Business
Start Your Business
Brewing up a small coffee business—with big returns
Brewing success with quality, confidence and teamwork
By
Adam Johnson
Posted: 08/29/16
Updated: 11/10/17
Gregorys Coffee is a Chase for Business customer.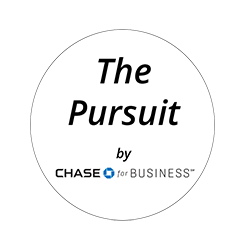 In 2006, Gregory Zamfotis took a gamble: He opened a coffee shop in New York City, arguably home to some of the world's most discerning coffee drinkers. Now 34-years-old, Zamfotis owns nearly 20 Gregorys Coffee shops in New York City.In "The Pursuit," a new Chase for Business series featuring inspiring entrepreneurs, Zamfotis offers insights on how blending confidence, quality and attention to detail is driving his business. Here are excerpts, edited and condensed for clarity:
Chase: It's 2 p.m. on a Tuesday, and this store is jammed. What's your secret?
Zamfotis: You have to stand out from the crowd. At Gregorys, we offer ultra-high quality coffee, we make people feel welcome and we serve them quickly. There are so many coffee and food choices in New York City. One of my stores in midtown has six other coffee shops within a single block. So we have to be on our game every day with every customer.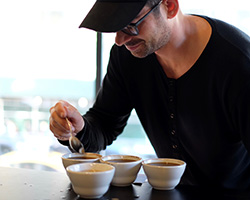 Chase: You make it look so easy!
Zamfotis: I drink 10 cups of coffee every day! I sample our best-selling drip brew as I go around to our locations to make sure it tastes great everywhere. Coffee has more flavor points than wine and our stores sell 500 pounds of coffee every week. That's about seven times the national average.
Chase: How do you maintain the quality?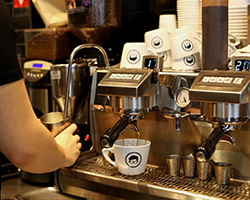 Zamfotis: Training, and a constant focus on our employees' happiness. This morning we set a new record at one of our locations—we served 330 guests in one hour. It's possible because everyone goes through our training program. In three days, new employees learn about specialty coffees, milk science and workflow behind the counter. We have a separate facility that looks like our store, so people can practice before they get in front of customers.
Consistency and attention to detail is key, which is why training is so important. We use scales to measure, to the gram, how much coffee goes into every batch we brew. Guests have to be greeted within 90 seconds of arriving. It all requires practice, and every employee goes back for a training refresher twice a year.
Chase: You are very focused on process. Where does that come from?
Zamfotis: In high school, I scored 800 on my math SAT. I thought I was going to be a banker. I majored in finance at Boston University and then went to law school in Brooklyn. After my first year, I realized it wasn't for me.
I like being on my feet and interacting with people. My dad owned a deli near the law school and needed a new manager, so we talked it over and I left law school to run the place.
Chase: How'd you go from running your dad's deli to opening your first coffee store?
Zamfotis: My dad owned several restaurants and he'd visit the deli every few weeks to talk about the business. We'd always get coffee around the corner, and I kept telling him everything I'd do differently if I were running [that shop]. After about the 12th conversation he told me I needed to open my own coffee shop.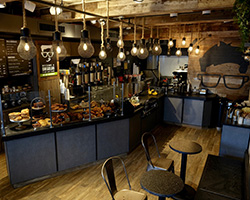 Chase: What was going out on your own like?
Zamfotis: Hard. We spent over a year scouting for a location. Landlords ask a million questions and want a lot of money up front, so it's a really big undertaking.
We thought we knew a lot about coffee when we started, but we didn't. We figured it out along the way.
Chase: What are some key qualities you look for when hiring?
I want each of my managers to think like me and consider the business as a whole—to be able to walk into a store and immediately sense what needs to be done to make the customer experience seamless. I hire responsible people who communicate well and want to please our customers.
Chase: What other advice can you share?
Zamfotis:
Be confident. That's really important. Customers respond when you believe in what you're selling.
Treat your team well. We have monthly pizza nights and latte design contests for employees, and we reinvest in training every six months.
Chase: How do you maintain work-life balance?
Zamfotis: My wife has been great about helping me find balance.
I spent my first few years working 70 hour weeks, every week. Now I have weekend managers and a little boy at home. I get up at about 5:30am so he and I can play before I start visiting stores.
Like the business, I'm always tweaking things to find ways to improve. Balance is important.
Adam Johnson is a journalist and former business-news anchor at Bloomberg Television. He worked as an investment professional for two decades and writes frequently about business and finance.