Your Life
Arts & Culture
Emmy Nominations Usher in a New Era of Content
Shows With Younger Audiences Rise to the Top
By
Valentina I. Valentini
Posted: 08/19/15
Updated: 11/10/17
It has been a seminal year for television, with the end of Mad Men and David Letterman's retirement, Saturday Night Live's 40th anniversary and transgender stories taking a front seat.
The medium, as Television Academy Chairman and CEO Bruce Rosenblum said at the 67th Emmy® nominations ceremony, "ignites passion in viewers around the world."
While HBO received the most nominations by far again this year, with 126, newcomer Amazon Video (which swept the animation category in the Daytime Emmy Awards with its children's programming) had 12, 11 of which went to Transparent, the semi-autobiographical dramedy from Jill Soloway about a Los Angeles family and their transgender father.
"We're seeing a lot of diversity in the nominated programming this year," said Maury McIntyre, the Academy's President. Asked whether cable and network need to double down against the rising wave of success in the digital world, he said, " I think everyone has upped their game and the nominations in fact are spread out over programs and content from all platforms."
Networks' nominations were up this year as well, with ABC topping out at 42 and CBS at 41 nominations. As New York magazine's Vulture describes it, this year's nominations painted a portrait of a medium that is still remaking itself, against its will in some ways, with Amazon, Netflix (and Hulu, despite its absence from the nominations) shaking things up much in the way that HBO did in its nascent stages.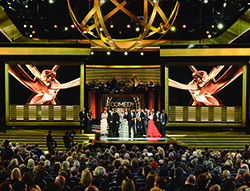 A New Process, A New Age
"We now have 20,000 members, and voting is up over 10 percent this year, which is due entirely to the new online voting process for both the first round to determine Emmy nominations, and then the final round to select Emmy winners," said Rosenblum.
This new approach opens final round voting to all members, rather than small "blue ribbon" panels of members, a change designed to get more eligible members voting. Online voting in both rounds makes voting easier for members than paper balloting and addresses past criticisms that the voting favored shows watched by groups of volunteers who signed up for panel judging and may have chosen more traditionally.
Young Viewers Inspire New Content Strategies
Among shows aimed at diverse and younger viewers, Comedy Central's "Inside Amy Schumer" garnered seven nominations and its "Key & Peele" took six, with the network getting 25 overall, up from 21 in 2014 and 16 in 2013.
With high-quality video cameras becoming more affordable and easier to use, said McIntyre, "TV has never been better, and it's never been easier to make good TV. Anybody can pick up an iPhone and tell a good story."
As a number of newer companies create original content, Rosenblum says the shifting landscape is providing a larger pool of potential Emmy nominees. "The tent is just getting bigger," he said. "It's not a zero-sum game."
This year Chase Sapphire Preferred® is the official credit card sponsor of the Television Academy. Be sure to tune into Backstage LIVE on Emmys.com, FOX.com and Yahoo.com to see interviews with the winners captured in the Chase Sapphire Preferred Blue Room.

Learn more about upcoming Sapphire cardmember events at www.chase.com/SapphireEvents.
Photos: Invision for the Television Academy | Valentina I. Valentini is a freelance journalist living in Los Angeles. She has contributed to VanityFair.com, Vulture.com, LA Magazine, Boston Magazine, Variety and many other publications.