Small Business
Manage Your Business
The business of "cutting-edge" small business marketing
How one barber is getting "filthy rich"
By
Adam Johnson
Posted: 08/24/16
Updated: 11/10/17
Rich Mendoza was compensated for his participation in this video.
Rich Mendoza makes a promise to every customer who enters his Queens, New York, barbershop: "Come in Filthy, Walk Out Rich." It's not your typical marketing approach, but Mendoza isn't your typical barber.
"I want people to feel like a million bucks when they walk out of here...urbanized, modern and hip," explains the 33-year-old entrepreneur and owner of two locations called Filthy Rich Barbershop. "'Rich' is a lifestyle. We hook you up like a champ."
NBA players double-park Ferraris out front to wait their turn. Kids on skateboards stop by as the 7 train rumbles overhead. With words like "Imagine" and "Believe" mounted on the walls, this isn't a shop, it's a mindset. And people can't get enough.
With more than 32,000 Instagram followers watching Mendoza's latest updates, three guiding principles have propelled this soft-spoken son of Filipino immigrants into an urban style authority: "Keep It Real," "Save and Plan," and "Stay Close to Your Customer."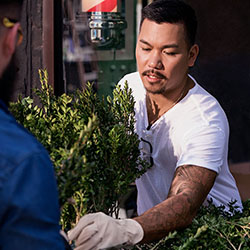 Marketing That's on the "Cutting Edge"
Mendoza credits his mother for inspiring him to "chase the dream and set a high bar." But dreams don't come cheap. Like any small business owner, he watches expenses closely and works to get the most out of his marketing dollars, enlisting creative, cutting-edge tactics that engage and excite those in his local community—and beyond.
Each spring Mendoza invites a new artist to paint the front of the barbershop, and turns the effort into a global campaign on Instagram. This year, he cashed in 60,000 points from his Chase Ink Business Card to plant a 12-foot hedge over the front window into the shape of a mustache.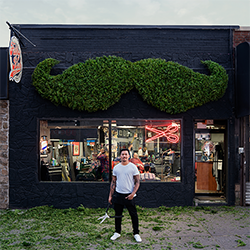 "We wanted to show the world what a good mustache looks like," says Mendoza. "People come to us because they know we'll hook them up. A good mustache curves up like a smile, and we make people smile."
The best part: Mendoza only used his rewards points from his Chase Ink Business Card to make the endeavor happen. It's a perfect example of his tenet to "keep it real"—and real affordable.
Stashing Away Savings: A Stylish Way to Succeed
Mendoza has built his business one cut at a time, planning for the future by saving a little every day. Even when he worked out of his parents' kitchen "practically for free" to get experience, he set aside a portion of every cut.
He managed to stash away $100,000 over 10 years, and in 2006 used the money to open his first shop. He had to pay three months rent upfront, buy eight barber's chairs at $1,000 apiece and set a budget to spruce up the place. He used MySpace to find barbers with the same creative vision, and within weeks he was in business.
It couldn't have happened without savings and passion, says Mendoza. Even now with business booming, he saves $500 to $1,000 every few weeks to fund the next project. It's how he's opening his new store in Brooklyn. He's also working on a product line, and has discussed franchising with his team of 13.
"We can help each other grow," he explains. "If one of my barbers wants to open a shop, make it a Filthy Rich shop." It's all part of his plan to become "the Supercuts of urban cuts," one step—or cut—at a time.
Going Afar to Stay Close to What Matters
Mendoza loves to travel, and he's taken his show on the road with weekend pop-up shops in Japan and London. He knows it's impossible for everyone to get to New York, so he goes to them. The added exposure helps build his client base, he says, and keeps him ahead on what's trending in other hip, urban environments.
Like his long-term savings plan, he funds trips by setting aside a few dollars from every cut. "These shears have taken me around the world," he says, pulling scissors from a Craftsman tool cabinet.
It's all part of staying plugged in and keeping it real, he says, which is just what cutting-edge marketing—perfect for a pro of Mendoza's caliber and talent—is all about.
Rich Mendoza and other small business owners found creative ways to use the points earned on their Chase Ink card to reinvest in their business. Learn more about the Chase Ink Business Card.
Adam Johnson is a journalist and former business-news anchor at Bloomberg Television. He worked as an investment professional for two decades and writes frequently about business and finance.