Your Life
Enjoy Dining and Entertaining
Four food festivals you'll absolutely crave
Satisfy your hunger for culinary delights
By
Samantha Lande
Posted: 08/24/16
Updated: 02/28/18
The Epcot® International Food & Wine Festival is presented by Chase.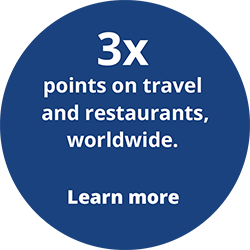 Food festivals are a great way to experience a destination with incredible food, top-notch culinary talent and one-of-a-kind special events. Festival-goers revel in bites from their favorite chefs and the chance to imbibe in creative cocktails. Summer and fall are the best times to experience these events, from an international spread of cuisine at the Epcot® International Food & Wine Festival to a bounty of seafood at the Maine Lobster Festival. Here are four events across the country worth visiting for unique experiences and delicious cuisine.
Epcot® International Food & Wine Festival
A trip to Epcot® is a delight any time of year for its vast array of rides and attractions. But it's a special treat to visit during the Epcot® International Food & Wine Festival (Sept. 14-Nov. 14), when global cuisine takes center stage. "A highlight is the more than 30 global marketplaces. Our team has really done great research, looking into each region featured. It's about bringing to life great food for our guests," says Angeline Aguayo, marketing event manager for the Food & Wine festival.
Epcot® and the surrounding Disney Resort and Disney Springs hotels become a platform for amazing food and beverage experiences like the "Mix It, Make It, Celebrate It!" hands-on culinary demonstrations; an interactive cooking experience at the Culinary Adventures with a Master Chef; and The Secrets of Flavor where guests can test their palates.
Nightly events, like the Eat to the Beat concert series with acts like Toad the Wet Sprocket, along with various Party for the Senses and a Rockin' Burger Block Party competition, add to the fun. One of the most popular events, "What's Cookin With..." offers a decadent plated brunch as well as a Q&A with some of the country's most beloved chefs, like Geoffrey Zakarian. All Chase debit and credit cardholders have access to the Chase Lounge¹, an air-conditioned respite to relax and recharge.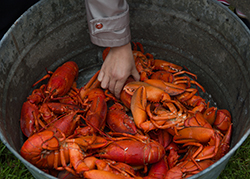 Maine Lobster Festival
For the past 69 years, a five-day festival (Aug. 3-7) in Rockland pays homage to Maine's most revered food—lobster. From lobster rolls to lobster dinners, steamed crabs to crab cakes, this is the best place to experience the coastal cuisine of Maine. A lobster crate race, big parade, seafood cooking contest and live entertainment round out the festival activities. This isn't a fest for big-name chefs; rather, it's one to really get to know the community and indulge in delicious delicacies of the sea.
Feast Portland
In recent years, Portland, Oregon, has become a must-visit destination for food lovers due to its abundance of unique restaurants, great coffee shops and farmer's markets, among other delights. Now in its fifth year, Feast Portland, brings the best of the city's cuisine along with a slew of other nationally recognized chefs and restaurants. The three-day event (Sept. 15-18)—which will make a sizable charitable donation to end childhood hunger—is packed with events, including a Latin-inspired night market, a cookout with Austin's famed Franklin BBQ and an annual sandwich showdown. Not to mention the Grand Tasting with bites from more than 80 incredible chefs, and the Beverage Tank with the best of food, wine and cocktails.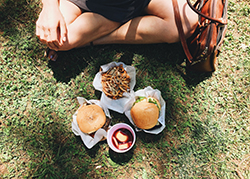 Chicago Gourmet
Set in Chicago's gorgeous Millennium Park, this food festival (Sept. 23-25) reigns above the well-known Taste of Chicago for its focus on top chef talent from across the country and incredible bites. This year's fest is hosted by acclaimed chef Rick Bayless and will feature an art component for the 2016 theme, Food is Art. The weekend is full of tasting samples and special events, including the jubilant hamburger competition, the Hamburger Hop.
Learn more about the Epcot® International Food & Wine Festival presented by Chase: www.chase.com/epcotfoodandwine
¹Theme Park admission to Epcot is required.
Image: Samantha Lande | Samantha Lande is a freelance writer and content producer with work featured in Eater, The Food Network, Time Out and other publications.