Your Life
Celebrate Life Moments
Moving? Here's how to buy a car for your new home
Four tips for buying a car for the next chapter of your life.
By
Jess Shanahan
Posted: 08/16/18
Updated: 01/07/20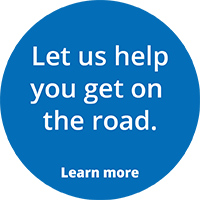 Let's face it: moving to a new place is often stressful.
You have to sift through dozens of property listings, do extensive research on neighborhoods and schools districts, and redirect all your mail to the new address. But somewhere between closing on a place and packing clothes and furniture, you need to find a car that fits in with your new home.
There are many factors that go into finding a car that matches your new lifestyle, including the climate and commute to work. To streamline your search, here are four tips for buying a car for your new home:
1. Moving from the country to the city? Size matters.
Moving from the quiet countryside to a busy city with taxis, subways, and buses will inevitably change how you get from point A to point B. But before you settle on a make and model, ask yourself if you even need a car.
"A lot of people will bring their car to the city then realize they don't need it because of ride sharing and public transportation," says Melinda Welsh, Chief Marketing Officer for Chase Auto.
If you do need a car in the city, think about its size.
"Think about how difficult it may be to park," she adds. "You might want something smaller than you're used to and you won't be too upset about if it gets a ding on the door."
For example, a small hatchback is well suited to the narrow streets of a city.
2. Going to the country? Find a reliable car.
There's a lot to consider when moving to the country, too. It's likely the weather will have more of an impact on travel, plus you'll need to cover longer distances for errands, work, and socializing.
While Bluetooth speakers and heated seats will make your drives more enjoyable, you ultimately want a car that's reliable.
"Once you get further out into the country, you'll need a car you can trust, as you need to be able to rely on it for longer drives," Welsh says.
She recommends an all-wheel drive or crossover vehicle with great gas mileage.
"You don't need a monster SUV, just something with good traction," she says.
3. Consider the weather.
What's the weather like in your new town? Will you be basking beach side or tucked away in the tundra? Welsh says it's important to consider the climate—especially when moving somewhere snowy.
"Ice can be really dangerous, so I'd recommend a four-wheel drive in areas with cold winters," she says. "Also look for anti-lock brakes and make sure you have the right type of tires for the conditions."
Kevin Point, head of product development for Chase Auto, adds that it's important to read the manual for your new ride.
"Waxing your car is so important," he explains. "The manual may tell you to hand wax twice a year to protect from UV rays. It's needed if you are really going to protect the vehicle from a hot, dry, dusty climate or a cold, salty winter climate."
4. The best saving tip—no matter where you live.
Once you've decided where you're moving, find a local dealer for your make of car. Establishing a relationship early on is important, especially if you want to trade in your car for something more suitable.
While you're at it, stay on the lookout for deals and discounts.
"Manufacturers may offer deals such as low financing and cash back," Welsh explains. "Hone in on your budget and the type of car you need then really investigate what kind of incentives are out there."
As for saving time on your car search? Welsh recommends finding dealerships that deliver to your home or offer test drives from your home or office.
Jess Shanahan is a Chase Newsroom contributor.