Your Life
Experience Insider Access
8 key things to know about the US Open
By
Bill Hageman
Posted: 08/14/17
Updated: 11/10/17
The US Open is part of the fabric of America.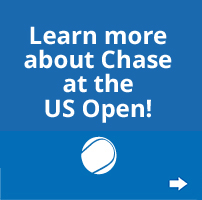 With roots in the late 19th Century, it has hosted the greatest tennis players the world has ever seen and been home to some of the best tennis ever played. It's an end-of-summer tradition that even non-tennis fans are drawn to.
Here are eight reasons why the US Open is the great event that it is.
1. Bests
Sports fans love to debate the "bests," but when discussion turns to the best US Open match ever, the 1991 meeting of Jimmy Connors and Aaron Krickstein appears at the top of almost everyone's list. Connors was 38 when that year's Open began—he would turn 39 on Sept. 2, the day he and Krickstein met—and was on the downward slope of his storied career, ranked 174th in the world at the time. In a dramatic, emotional fourth-round battle, Connors emerged victorious.
2. Location
The US Open traces its roots to the United States National Championship, which began in 1881 in Newport, Rhode Island. It was a different ballgame then—more entertainment than sport, a men-only event, and each year's champion was automatically seeded into the following year's final, where he'd face the winner of an all-comers competition. The tournament left Newport after the 1914 event, moving to Forest Hills, New York, before settling in its present home, Flushing Meadows, in 1978. Over the years, it has been played on grass, clay and hard surface. And here's some trivia: Who is the only player to win US Open singles championships on three different surfaces? Jimmy Connors, who won on grass in 1974, on clay in 1976 and on hard surface in 1978.
3. The roof
The 2016 Open saw the debut of a retractable lightweight roof over Arthur Ashe Stadium. The roof, which includes the Chase brand logo to emphasize its long-standing partnership with the Open, was born of necessity. In the 2008-2012 tournaments, rain forced delays in the competition and pushed the men's singles final to Monday afternoon. So in 2013, plans were announced to construct a roof. The $150 million roof project features two movable panels that are brought together via cables. The 236,000-square-foot structure is supported by steel and concrete-filled pilings that sit 180 feet below the surface.
4. Arthur Ashe
The main stadium at the Billie Jean King National Tennis Center is named after Arthur Ashe, the first men's singles winner in the tournament's Open Era (1968) and the first African-American to win the Open's men's singles title. But there was no big payday. Ashe, who earlier in 1968 had won the US Amateur Championship, wanted to keep his amateur status to maintain his Davis Cup (an international team event in men's tennis) eligibility. So the winner's $14,000 prize was awarded to runner-up Tom Okker.
5. Long-held records
In terms of total championships in Open events, Bill Tilden and Margaret Osborne duPont hold the men's and women's records with 16 and 25 championships, respectively. And we'd be remiss if we didn't give a tip of the visor to Richard Sears. He won the inaugural US National Championship—precursor of today's US Open—in 1881. He repeated from 1882...right through to 1887. During his seven-year run, he lost only three sets in the finals.
6. Purse prizes
In 2017, men's and women's singles champions will each pocket $3.7 million, part of a $50.4 million prize pool, the richest purse in tennis history. By comparison, each member of the 2017 Super Bowl-winning New England Patriots received a $107,000 bonus, and last year's World Series-winning Chicago Cubs split a $27.6 million pot 66 ways among players and other team personnel, with a full share worth $368,872.
7. Winning streaks
They say that records are made to be broken, but Roger Federer may have put the lie to that axiom with his five consecutive US Open singles championships. He started his streak in 2004 by defeating Lleyton Hewitt, then added more championship hardware in 2005 (over Andre Agassi), 2006 (Andy Roddick), 2007 (Novak Djokovic) and 2008 (Andy Murray). Federer's closest rivals in the men's open (post-1968) era are three-time winners John McEnroe (1979-81) and Ivan Lendl (1985-87). On the women's side, Chris Evert won four straight singles titles (1975-78), and Serena Williams won three (2012-14).
8. The Williams sisters
Head-to-head meetings between the Williams sisters, Venus and Serena, are always attention grabbers. They have met 28 times in their careers, with Serena holding a 17-11 edge. And five of those meetings have been at Flushing Meadows, with Serena coming out on top three times. Venus won the first encounter, topping Serena in the 2001 final, but Serena beat her older sister in the 2002 final. Three years later, Venus came out on top, and Serena was the winner in their next two matches, in 2008 and 2015, in quarterfinal play. Another US Open meeting will have to wait until 2018, at least. Serena is sitting out this year's tournament, awaiting the birth of her child.
Read more about Chase and the US Open.
Bill Hageman is a Chase News contributor. His work has appeared in the Chicago Tribune.