Your Life
Discover New Destinations
Destination: Los Angeles
Check out these Sapphire Six spots on your next adventure.
By
Adam McKibbin
Posted: 08/14/17
Updated: 05/23/19
We know our Chase Sapphire Reserve cardmembers are pretty savvy when it comes to knowing great places to grab a bite, have some fun, or enjoy a drink…or two. So we took a cue from where our Sapphire Reserve cardmembers visit to develop our Sapphire Six Lists. The best part? You earn 3X points when you use your Sapphire Reserve card on travel and dining. Check, please!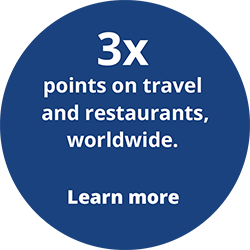 Long known for entertainment options, Los Angeles has solidified a reputation as a foodie's paradise in recent years. But how to sort through the ever-evolving choices for an evening out?
Here's our Sapphire Six travel guide for Los Angeles:
Arts District Brewing Company
Not long ago, downtown L.A. felt almost abandoned, with crumbling marquees reminding visitors of a glitzier yesteryear. Now, it's one of the city's most vibrant spots for nightlife, culture and fine dining.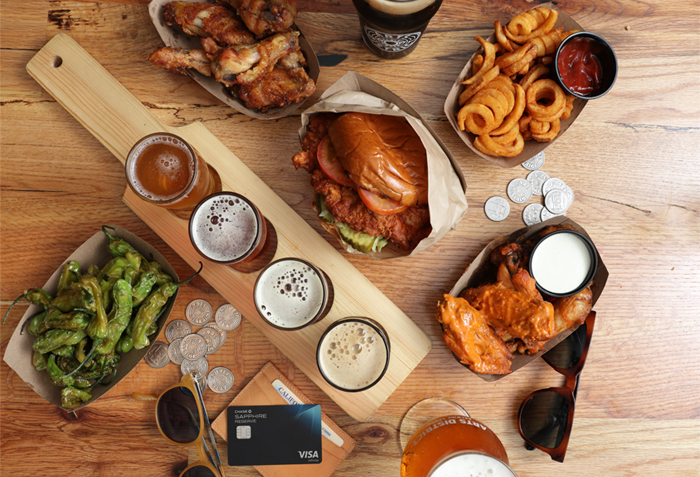 The 17,000-square-foot Arts District Brewing Company is a prime spot for gathering with 499 of your closest friends. Or if you're looking for a more intimate gathering, why not take over the 90-seat outdoor patio?
There's an in-house beer for nearly every palate; frugal visitors should keep an eye out for the $5 daily special as well as the happy hour on Mondays through Thursdays. And don't forget to stretch your Skee-ball muscles prior to arrival.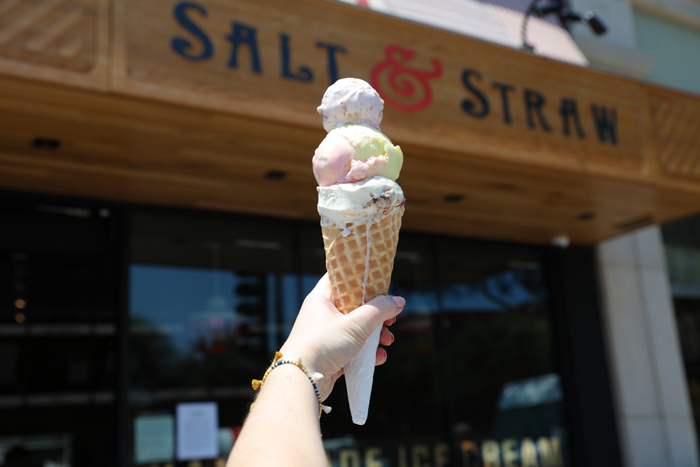 Salt & Straw
It's ice cream weather year-round in Southern California. And you'll find Salt & Straw's "classic" flavors a little different than your grandma's vanilla and butter pecan. If you get stuck in line in any of the five locations in some of the city's trendier neighborhoods, you'll have time to decide between black olive brittle and goat cheese or chocolate gooey brownie.
If you can't decide between flavors, or wind up with remorse about your choice, stop by again.
"When my East Coast family came to visit L.A., we went to three different Salt & Straw locations in three days," says Suzi Hofrichter. "Needless to say: big fans."
"Salt & Straw is utterly delicious and uses only the best ingredients and has the most amazing flavor combinations," says Sharon Jensen, who first fell in love with the store's original location in Portland, Oregon.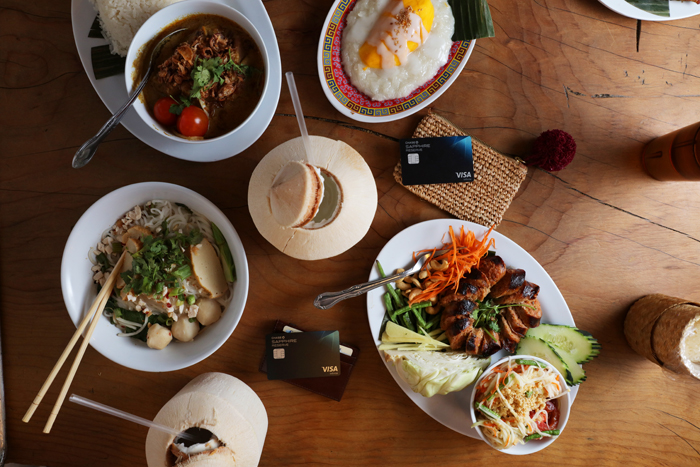 Sticky Rice
Opened in 1917, the Grand Central Market was surely showing its age a few years back. But the revitalized market became another symbol of downtown's phoenix act, including David Tewasart's Sticky Rice as a pioneering vendor in 2012. His limited, market-driven menu pays homage to the authentic Thai food of his childhood, while rebelling against the Americanized version that became popular at the time.
"Guys like Tommy Tang ruled the 80s with pad thai and cream cheese wontons," Tewasart says. "Thai food was considered exotic, [but] it was dumbed way down. In the meantime, kids like me were eating real Thai food at home and at family gatherings, regional cooking, varied, using ingredients and spices imported from Thailand.
"Well, we all grew up and now we're opening our own restaurants," he says. "I didn't want to open a typical Thai restaurant that had 100 items on the menu that were just okay. Instead, I was going to focus on a handful of my favorite dishes and knock them out of the park.
"I didn't try to reinvent the recipes, but there was an opportunity to elevate the ingredients."
As a rather apropos bonus, Sticky Rice serves up what may be the best mango sticky rice in town.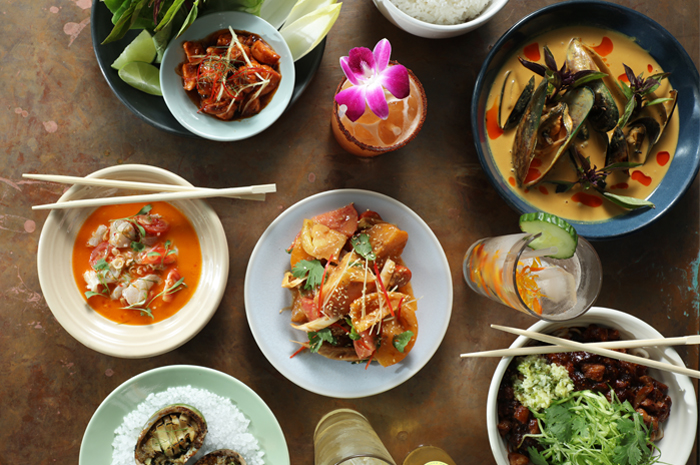 E.P. & L.P.
An eating and drinking tour of L.A. isn't complete without visiting at least one rooftop. There's a view for everyone, whether you want the beach or the skyline, and whether you want to wear a suit or a swimsuit. West Hollywood's E.P. & L.P. offers up a one-two punch of rooftop lounging and laid-back dining.
E.P. is the Asian-inspired kitchen, serving up dishes such as Fijian chicken curry and wood-grilled lamb neck. For the adventurous or indecisive, chef Louis Tikaram will put together a special menu for $50 per person.
The showstopper effect comes at L.P., the rooftop bar offering a sweeping view of the Hollywood Hills. Wines are available by the glass, and specialty cocktails include boba cocktails, frozen cocktails, and a rum drink in a Tiki mug. They don't take dining reservations, so plan to arrive a little early, especially on weekends, to claim your first-come, first-serve spot.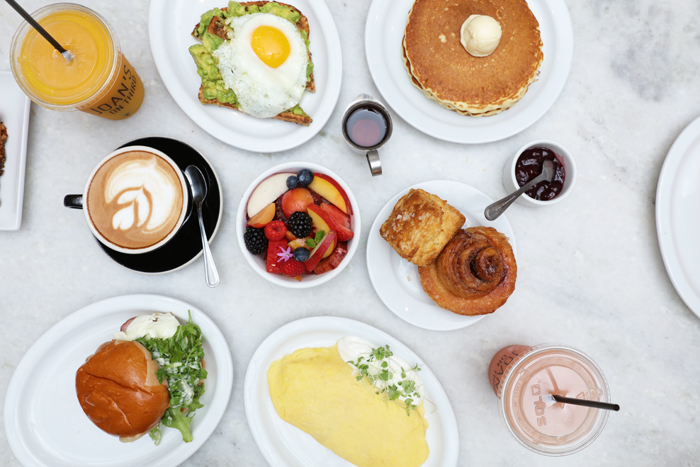 Joan's on Third
In the dizzying pace of L.A.'s dining scene, new restaurants are being anointed among the city's best, while past darlings sometimes fade or close up altogether. That makes Joan's on Third's longevity so impressive: It's still a good spot for star-watching, about two decades after opening.
With the confidence of an established fixture in L.A., Joan's doesn't feel the need to put its own spin on every sandwich or salad on its menu.
"Joan's on Third is the hands-down winner for a Chinese chicken salad," says Michelle Nishikawa. "It's so simple. I think it only has four ingredients, but combining those with the perfectly sour and slightly sweet dressing makes it a hell of a salad."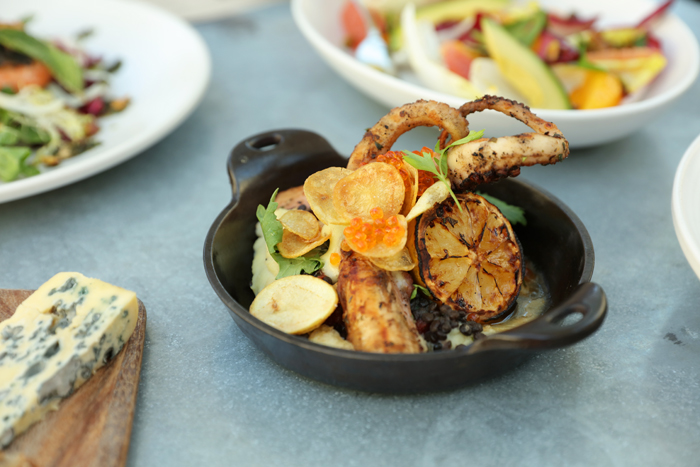 Tavern LA
Brentwood's Tavern brought together a James Beard winner and a James Beard nominee, and became a prime spot to participate in one of L.A.'s most time-honored traditions: the power brunch. It's 10 a.m. to 2:30 p.m. on weekends here. Not surprisingly, given its tony location, Tavern is another spot where you may spot an A-lister digging into a smoked fish plate.
Brunch highlights include the lemon ricotta pancakes with blueberries and Meyer lemon marmalade as well as the sweet-tea-brined fried chicken biscuit with buttermilk gravy and sunny side up eggs.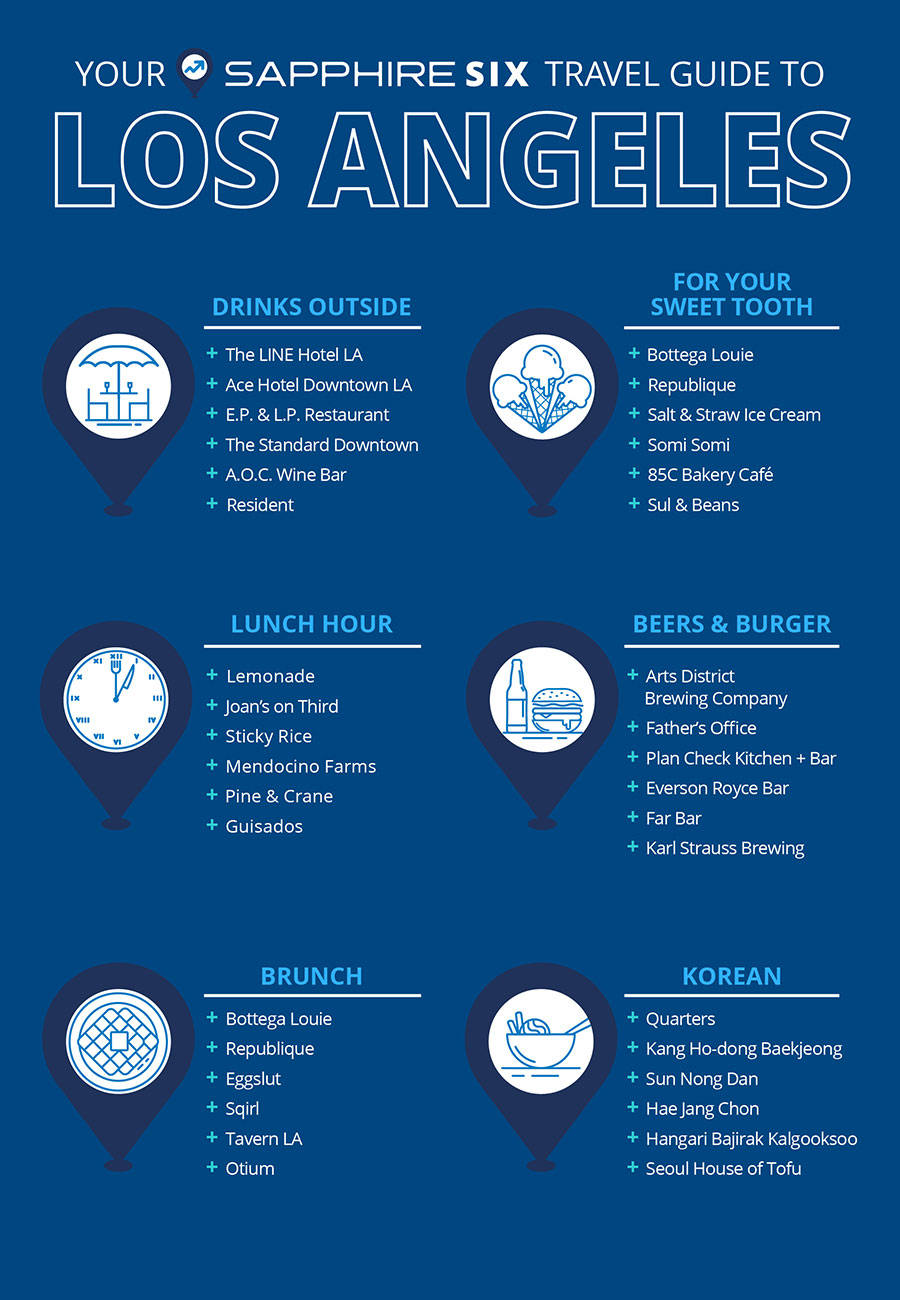 A quick note on methodology:
So how did we come up with the Sapphire Six? By pairing anonymous Sapphire Reserve cardmember spend data with feedback shared on social media, we were able to determine the most popular restaurants by unique visitors and category.
Inclusion on the Sapphire Six is not an indication of an affiliation or endorsement by JPMorgan Chase. The words or symbols used to identify the source of goods and services of a third party may be the trademarks of their respective owners.
Adam McKibbin is a Chase News contributor. His work has been featured in Adweek, Inc., the Chicago Tribune, LA Weekly and The Nation.