Your Life
Enjoy Dining and Entertaining
Raw passion: Michael Stember's unconventional business approach
By
Rebecca Dalzell
Posted: 08/12/16
Updated: 11/10/17
The founder of Sushi Belly Tower and Upstream Foods, Michael Stember became a sushi obsessive when he was on the Stanford track team. Before hosting underground dinners and winning celebrity acclaim, he was an athlete running 80 miles a week, aiming for the 2000 Olympics, and needing fuel.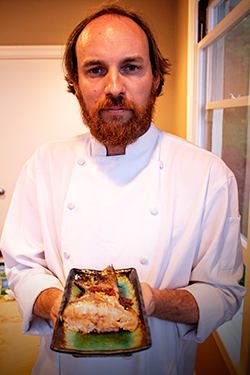 Food for fuel
As a student athlete, Stember wanted high-performance food that looked and tasted good. "That was my mission," he says. "Can you achieve a sense of peace, not break the bank and still eat the best possible meal you can? And make it a fun experience for you and your friends?"
He started his freshman year shoveling down plates of cafeteria pasta and chicken, but it left him lethargic. Protein shakes and energy bars, often pitched to runners, didn't appeal. "It was very far from the old world way in which I was raised, which is much healthier," he says. His mother cooked food from their Fair Oaks, CA garden and always kept a pot simmering on the stove. Stember wasn't about to adopt a fad diet.
Hooked on sushi since high school, Stember discovered that raw fish was the perfect training food, with high protein, fat and omega-3 content. It's also easier for the body to process and convert into energy than cooked meat, which is hard to break down. He realized that he needed the fish without the sugary white rice and artificial sauces found on Japanese menus, but at student prices.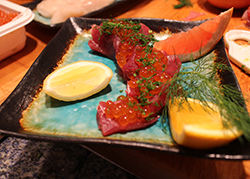 In pursuit of perfection
He followed a driver who delivered seafood to a top restaurant in Palo Alto and asked if he could buy fish directly. Sweetening the deal with a Stanford track suit, Stember paid the driver $40 for a 15-pound king salmon, which he brought back to school and sliced with a butter knife. With a little lemon and soy sauce, "it was one of the better meals I've ever had," he says.
Soon Stember had the best fish in San Francisco delivered regularly to his dorm. His teammates joined in and started organizing sushi dinners on campus, with artful presentation and a festive vibe. To maximize the nutritional benefit, Stember started pairing the sashimi with decidedly nontraditional sides: root vegetables, kale salad, or avocado oil. All of this took about ten minutes to prepare, thanks to fresh ingredients and simple seasonings. Bingo.
Stember has maintained this diet ever since, on the U.S. Olympic team and while competing professionally in Europe. In 2012, he returned to sushi dinner parties as a way to make a little money, hosting them in his loft in downtown Los Angeles. Non-athletes also liked this way of eating, and he quickly attracted friends of friends and Hollywood scenesters.
The laid-back multicourse dinners came to be called Sushi Belly Tower, with live music, specialty cocktails, and dishes prepared in front of guests. In three years it has traveled to eight cities and served more than 12,000 people. Stember has held dinners in Soho lofts, trophy homes in Miami, and on Edward Norton's private Malibu beach.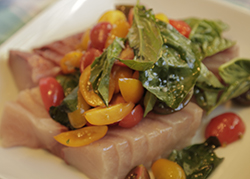 The long run
With invitation-only dinner parties, the community has been largely private until now. This December, Stember opens his first retail outlet Poké Run, a restaurant in lower Manhattan serving poké, or marinated cubed fish.
It's the culmination of Stember's unconventional career path, one that has taken him from dorm room dinners to cooking for celebrities. There was never a long-term plan, something he feels was to his benefit. "It's daunting to think about the big prize years down the road," he says. But it's manageable when you're just cooking for friends.
"Start small and start now," he advises entrepreneurs. "Just press play."
Stember hopes to have this way of eating become mainstream. He plans a quick national expansion of the poke restaurant, which will serve fast-casual bowls of raw tuna or salmon with fresh ingredients like sweet potato and ginger paste. Like the best sushi restaurants, most of the fish will come from Japan, with some shellfish and vegetables sourced locally. Unlike other, more well known sushi restaurants, Stember's menu will be priced under $20.
Poke has long been popular in Hawaii, but it's only just reached the mainland. "I'm not sure what took so long," says Stember. "But it certainly hasn't had sashimi-grade fish applied to it at U.S. restaurants. We will do that." Stember isn't just selling premium fish, though. He's offering up a new way of eating—power foods that are simple, healthy and beautiful.
As he's discovered, it makes for a fun way to live.
Rebecca Dalzell is a journalist and historian. Her writing has appeared in The Washington Post, New York magazine, Travel + Leisure, Time Out and other publications.