Your Money
Understand Your Finances
We're expecting a new baby—and a new savings plan
By
Tonya Rapley
Posted: 08/10/18
Updated: 09/04/18
This is part of Savings Diaries, an original series in which people share how they try to reach key savings goals during 2018. It is part of a broader Chase initiative to encourage more Americans to save money.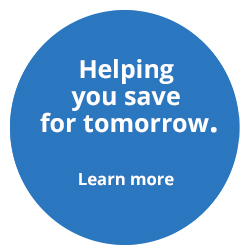 We're more than halfway through 2018. This is usually an important benchmark for me, a time when I check my progress toward my yearly financial and professional goals.
We're on track to reach our main goal of the year: buying a multi-family unit in Los Angeles. We've picked an agent, and a lender, and recently submitted paperwork to get a pre-approval for our building.
But 2018 has also been a year of surprises. The latest is that, as of November, our little family of two will become a family of three!
Anxiety and excitement
My husband, Khomari, and I had planned to begin trying for a family, but we're surprised at how fast it happened. Despite the fact that we're more financially secure than ever, the news of our latest edition brought a little anxiety. After all, we're adding a new person to our family—and entering a totally different financial dynamic. Caring for a baby isn't cheap: it costs an estimated $230,000 to raise a child through age 18—and that doesn't even include the cost of college.
While we've been working diligently this past year to prepare our finances for a family, my path actually began four years ago, when one of my coworkers became pregnant with her second child. I watched as she worked every day until her 39th week of pregnancy because she was afraid to begin her maternity leave too soon. Even though our company was very family friendly—it paid 100 percent of our health care costs—she still had to return to work three months after her baby was born.
Building a baby-friendly life
Witnessing her experience, I resolved to build a business that would allow me to own my time, so that when I became pregnant I could deal with morning sickness on my terms, and spend as much time as I wanted with my child after their birth. A year later, in 2015, I made part of my plan a reality, when I stepped into working for myself full-time. Since then, the goal of being "present" parents—active in our child's life—has informed every financial decision that my husband and I have made.
Our other financial preparations for the baby include:
1. Creating a family-friendly home: Since we live across the country from our relatives, we expect them to visit for extended stays once the baby arrives. With that in mind, we're looking to expand out of our current one-bedroom apartment, and we would like to close on a property this summer.
2. Securing health insurance: We purchased health insurance last year after my husband had a medical incident. At the time, we joked that this was the right year to have a baby—after all, we're covered! It turns out that the joke is on us...sort of. Once we found out we are expecting, I immediately looked into our maternity care coverage and discovered that it is actually very family-friendly.
3. Eliminating debt: Between the arrival of our child and our pending loan application, the clock is ticking for us to aggressively eliminate the rest of our debt. We are progressing well and anticipate that 75 percent of our consumer debt will be eliminated by August.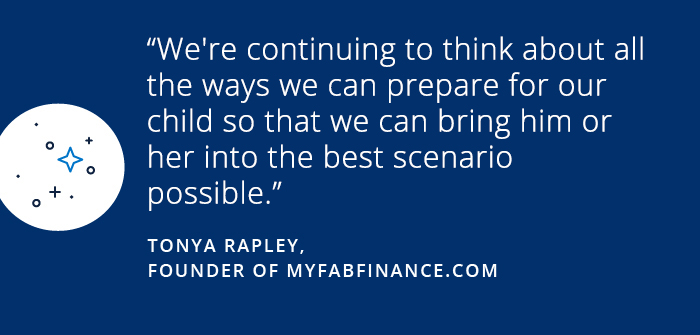 4. Designing our own maternity leave: I plan to work through my pregnancy, but will cut my workload and eliminate travel in September. Unfortunately, I will not be accepting speaking engagements in the fall, which is typically a large income generator for me, so I've begun working with my team to establish systems and products that will replace that loss of income.
We're continuing to think about all the ways we can prepare for our child so that we can bring him or her into the best scenario possible. At the same time, we're reminding ourselves to enjoy this process. After all, if there is one thing we have learned this year, it's that you can plan as much as you want, but you also need to be prepared for big surprises!
Tonya Rapley is a Chase News contributor. Her work has appeared Forbes, The Root, and Mic, among other media outlets.