Your Money
Understand Your Finances
Savings Diaries: How I learned to love my budget
By
Rhyanne Guerrero
Posted: 08/10/18
Updated: 09/14/18
This is part of Savings Diaries, an original series in which people share how they try to reach key savings goals during 2018. It is part of a broader Chase initiative to encourage more Americans to save money.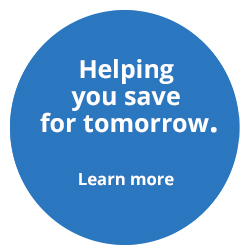 As my husband Raul and I have worked toward our savings goals over the past few months, we've changed the way we think about spending and budgeting, particularly when it comes to food. After our son Dizzy was born, we ate out three to four times per week, but we've cut way back on that. These days, we eat out once or twice a month as a family, usually to celebrate a special occasion, like our anniversary or a friend's visit to town.
A highlight from this month was checking out a local food hall. It was a last minute decision—we had Dizzy with us in the baby carrier—but it was still a really special night. Raul and I haven't been on a spontaneous date in a very long time, and now that we are not picking up dinner several times a week, it feels freeing to slow down and enjoy a nice night out. And, because it's infrequent, there's no spending guilt!
Changing the way we shop—and live
Our grocery habits are changing, too. Nowadays, we go shopping about once per week and try really hard to keep it simple. We still aren't planning our meals, because it's tough to find the time to plan, shop, and cook every week. Instead, we're doing a modified meal plan: we buy staples that are quick, easy, healthy, and that we know we will eat. We make whatever we feel like that night, and always cook enough for extra lunches or dinner the next night, just in case we don't have time to cook.
Our families are helping. Most nights, Dizzy eats dinner with my family, and our parents are helping us navigate parenthood and our savings journey. We have shared our goals with them, and they've made an effort to keep us accountable and encourage us. My 19-year-old sister Georgia is beginning to think about starting her first mutual fund, and my parents are teaching us the budgeting strategies that have helped them over their 30 years as a married team. My Mum is old school—she still uses a composition notebook to keep track of her household finances!
Staying on track
Since beginning our savings diary process, we've done the following:
Met our Chase card payment goal each month. We are on track for paying no interest this year.
Added about one month's income worth of savings.
Moving forward, we still want to do the following:
Consolidate our pensions and retirement accounts.
Consolidate our vehicle expenses.
Start attacking the remainder of our student loans.
A new perspective
Beyond striving toward our goals, we've changed the way we see and work with money. Although we have cut back on our spending, budgeting hasn't been a negative experience. It's strengthened us, teaching us to focus on quality over quantity. When we started this process, one of my initial goals was to maintain a positive attitude. We've been able to do that, and I believe that our attitude has become a big part of our movement toward our goals.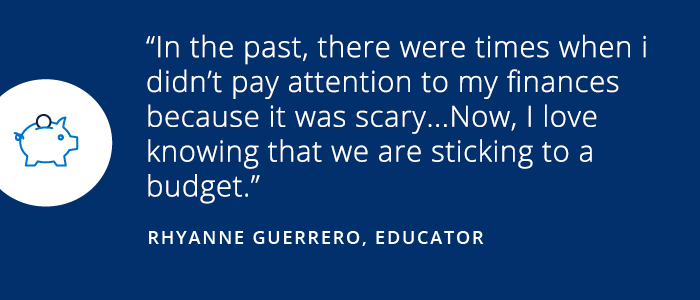 In many ways, this has changed the way I view money. In the past, there were times when I didn't pay attention to my finances because it was scary to think about our monthly expense breakdown. Now, it's liberating to know exactly how much we spend in each category. I love knowing that we are sticking to a budget and can fully pay our expenses each month.
We've definitely had to handle wrenches thrown in the plan—last month, a former student visited us from Las Vegas, and we ended up spending more money than we'd planned. But even though that weekend didn't perfectly fall in line with our budget, our overall change in habits allowed us to focus on savoring those moments—and not feeling guilty for enjoying a special occasion.
Rhyanne Guerrero is a Chase News contributor.