Your Life
Discover New Destinations
How to see the world without breaking the bank
By
Lindsay Tigar
Posted: 08/14/17
Updated: 02/04/20
Chase is sponsoring GOOD Money to help shape your financial future, at every step as you move from the haze of student debt toward the horizon of retirement. We are here to help the young and ambitious understand what the world of money is going to look like in the years ahead.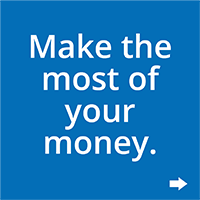 You know the types: confident with an oversized backpack, smartly conversing in languages you've never heard of and happily updating their Facebook with their latest departure date to yet another country. World travelers are often lusted after and for good reason: They have found a way to fulfill the dream of seeing the world without going broke.
But just how do they do it?
Even if you're not planning on taking the post-college voyage route of seeing Europe, chances are, you'd like to travel without spending quite as much of your savings as you typically do. Good news: These world travelers have figured out how to make trip planning both memorable and affordable, and they're willing to give you the goods.
Here's how to save on your next trip:
Spend more time planning
You already know time is money (especially if you've hired a handyman, a lawyer, or a psychiatrist) and the same logic applies to traveling.
Josh Summers and his wife give travel tips on their blog, Travel China Cheaper. They started touring the world as newlyweds, fell in love with Asia and Europe, and never looked back.
For the Summers, taking time to carefully detail their trips has been game-changing. "I believe that every hour spent planning a trip directly correlates to savings once you depart, Josh explains."
Pack as little as possible
Managing partner of Event Host Live, Brian Corsetti, explains that he got into traveling when, in August of 2013, his then-wife confessed she was leaving him to have another man's baby.
In a quest to heal and rebuild his life, he decided to seek therapy via passport stamps: "Straight from the cafe where she told me, I ran. In fact, I drove straight to the airport with nothing but my passport and the clothes on my back and took the next available standby flight out of town. I didn't expect to wake up in Tokyo, that's for sure. Nor did I plan to continue traveling to 12 different countries for the next year and a half," he says.
Corsetti suggests taking it easy on the suitcase. Not only is it easier on your back, but it will save you in airline fees. "Become an expert packer with just a carry-on bag. This sometimes involves tightly rolling your clothes and dressing in layers to avoid bringing a second suitcase," he says.
Plan your trip in the off-season
It probably seems counter intuitive to visit Belize in August instead of during the dead of winter, but Corsetti suggests consulting your wallet before making a commitment. When you visit a destination during their off-season, you'll not only save on your nightly hotel rate, but on airline costs, too.
Another word to the wise if you're being indecisive about booking your flight? The more you search on your computer, the more expensive it gets, according to Corsetti. He suggests you "always clear your internet history after searching for a flight. Travel websites will raise the cost when they see what you're searching for online."
Consider alternative housing
The most luxe travel experiences are often at hotels, but the most interesting ones that throw you headfirst into the culture and give you some remarkable memories are found elsewhere. Many travel bloggers will choose an Airbnb or a house sitting opportunity over a hotel because of the immersion into the local community that it provides and the money it saves.
"One thing to keep in mind when booking a stay using Airbnb or HomeAway is that location is key. The best area to be in is right in the center of a city, or if you're going somewhere tropical, make sure you're in the downtown area, which is typically the hotel district. This way you're close to nightlife and food. You'll probably be in closer proximity to the beach as well if going somewhere tropical," world traveler and lifestyle blogger, Amber Brown explains.
Another option? House sitting. Just as it sounds, house-sitting is keeping a careful eye on someone's place while they're out of town. James Cave, travel blogger at Portugalist, uses the site TrustedHousesitters, which he estimates has 1,000-plus house-sitting opportunities a day.
"In return for walking the dog, feeding the cat, and just keeping things safe and in order, you get to stay for free. It's a fantastic setup for owner, pet, and sitter. The pet doesn't have to go to a kennel, the owners save money on kennel fees, and you get free accommodation for the duration of the house sit," he explains.
Travel slowly
You might think, "'I'm already in Europe, I might as well knock out a few countries while I'm here.'" Though crossing off your bucket list of travel is important, it is often not as cost-effective as moving slowly with your wanderlust.
Summers says, "It seems contradictory, but I believe that the slower you travel, the easier it is to travel on a budget. If you're rushed to get from point A to point B, you'll probably spend more money on a plane ticket instead of taking time on a slow train."
Lindsay Tigar is a Chase News contributor. Her work has appeared on Refinery29, Bravo.com, and in Self magazine.