Your Money
Enjoy Dining and Entertaining
Destination: San Francisco 2017
Check out these Sapphire Six spots on your next adventure.
By
Brittany Shoot
Posted: 08/06/18
Updated: 05/23/19
We know our Chase Sapphire Reserve cardmembers are pretty savvy when it comes to knowing great places to grab a bite, have some fun, or enjoy a drink…or two. So we took a cue from where our Sapphire Reserve cardmembers visit to develop our Sapphire Six Lists. The best part? You earn 3X points when you use your Sapphire Reserve card on travel and dining. Check, please!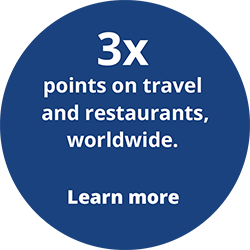 Since the Gold Rush brought fortune-seekers to the cool California coast, San Francisco has nurtured a reputation as a creative city built by and for self-starters. That's still evident in the city's innovative, constantly changing food scene.
Here's our Sapphire Six travel guide for San Francisco:
Craftsman and Wolves
Chef William Werner, the former pastry chef at Quince, has been a finalist for the James Beard Outstanding Baker award twice since opening the beloved bakery Craftsman and Wolves in 2012. Now serving four busy locations, this wildly popular patisserie features flaky French-style pastries, confections and tarts, and high-octane cups of joe from Oakland, California-based Highwire Coffee Roasters.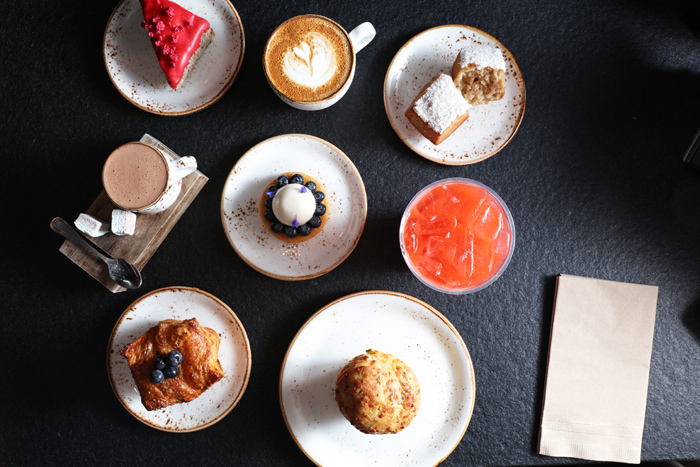 Werner's buttery Kouign Amann is among the best in a town with no shortage of old-world bakeries. The brunch-going masses also regularly line up here for sweet morning buns and slices of their savory market vegetable quiche. The Rebel Within, a local Boccalone sausage-studded muffin with a hint of asiago and a soft-boiled egg center, oozes onto your plate when cracked open.
Other sought-after selections that are ready to take out include smoked almond brittle and daintily wrapped packages of the chef's deceptively simple pâtes de fruit candies in flavors such as pineapple mezcal and old-fashioned raspberry.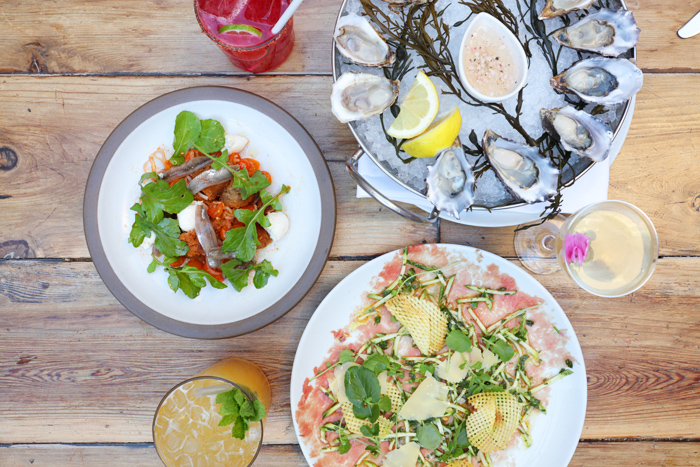 Foreign Cinema
A favorite for more than 15 years, Foreign Cinema pioneered a true San Francisco blockbuster success: pairing film classics with bottles of Champagne and oysters on the half shell. Several indoor dining rooms, plus the coveted patio seats, offer an array of options, depending on your mood and movie-viewing intentions.
Nightly dinner and weekend brunch are both popular options with a few distinct offerings. The dinner menu focuses on antipasti and Pacific-sourced seafood, while al fresco brunch—which is served sans movies and under large umbrellas for shade—revolves around farm egg frittatas, warm sandwiches and burgers. Naturally, both meals feature those famous oysters by the half or full dozen and a full beverage list.
Plan ahead to enjoy dinner and an evening movie, knowing that the most coveted seats are on the heated open-air patio and the film is projected on a high, wide wall. The screenings include a mix of favorites and contemporary classics from the off-kilter cult comedy The Princess Bride to Sandra Bullock in the Oscar-winning space drama Gravity.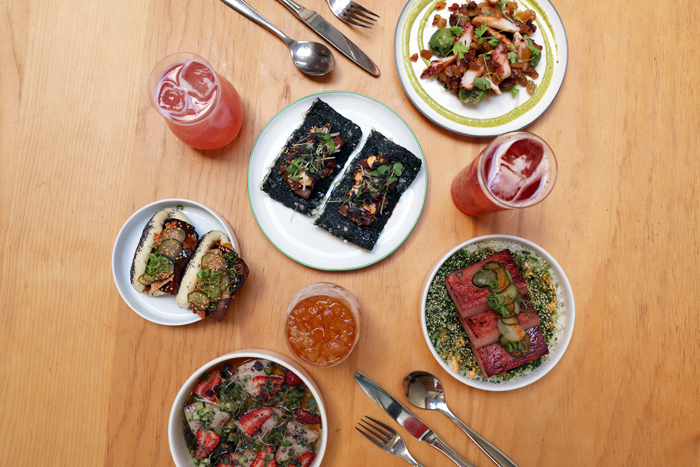 Liholiho Yacht Club
The dream team that founded local Mexican-fusion favorites—Nopa and Nopalito—helms this unassuming Hawaiian fusion hotspot that opened in early 2015. Located a few blocks from Union Square, Liholiho Yacht Club often requires reservations, available 30 days in advance. But it also accommodates walk-ins who want to eat well and talk in a refined, relaxed environment.
Look for the ocean blue "aloha" spelled out amid the white floor tiles, and you'll know you've arrived.
It's easy to splurge here, especially on the Bulgarian osetra caviar and whole Maine lobster to share. But there's something for everyone, from duck liver toast to tamari honey-glazed game hen served with cashews, pineapple, and broccoli. The dessert menu features island favorites such as plum sake and an elaborate baked Hawaiian meringue beehive served with caramelized pineapple ice cream.
To keep the night going with a tasty nightcap, tuck into Louie's Gen-Gen Room, the intimate, Tiki-theme basement bar below the Liholiho dining room.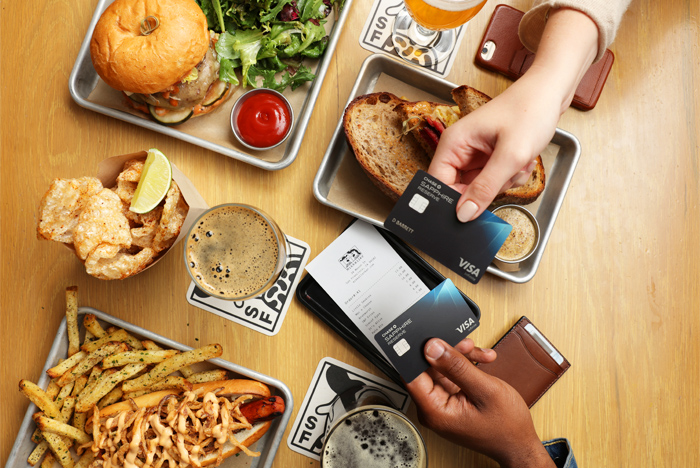 Mikkeller Bar
Copenhagen's celebrated "ghost brewery" Mikkeller has taken its roving operations global in recent years, including this large, welcoming space near Union Square. Pick a brew from one of 42 taps—or from its impressive bottle selection—to pair with a heaping cheese and charcuterie spread, updated daily to feature the freshest local ingredients.
For lunch or dinner, enjoy Northern European fare such as a housemade sausages, including bratwurst with fresh sauerkraut as well as an American-style half smoke made from beef and pork and topped with mustard, onion and chili.
If you're dining with friends, consider the five-sausage platter, complete with all the toppings. Late-night revelers take note: Mikkeller keeps the kitchen open until 11 p.m., an hour or two longer than most restaurants nearby.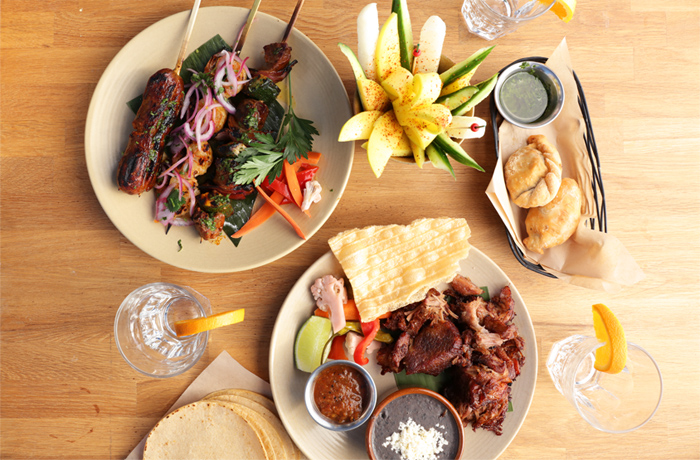 El Techo
You'll find some of the city's finest al fresco dining above Lolinda, the lively Argentine steakhouse in the Mission District. The El Techo rooftop bar features Latin-inspired street food and strong rum cocktails as you take in the skyline views.
Weeknight happy hour spans two hours from 4 p.m. and features strong margaritas and pitchers of sangria. Stay for dinner, and start with small plates of empanadas and quesadillas. Move on to sample the skewers, and customize your roasted pork shoulder chicharrones order based on your appetite.
Dessert is a classic caramel flan or housemade alfajores sandwich cookies served with dulce de leche and a mug of smooth, sippable hot chocolate.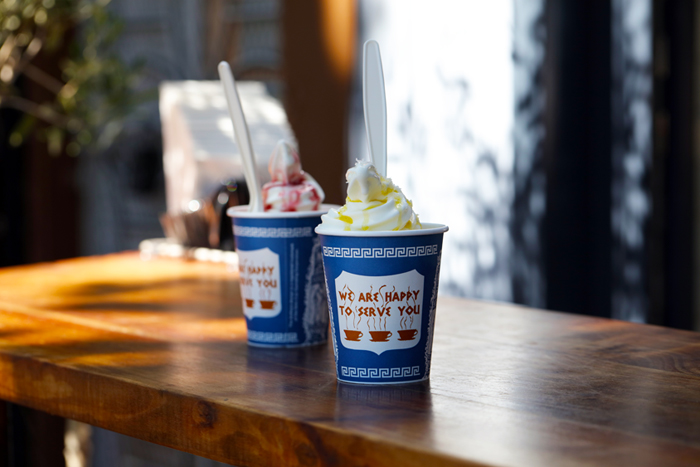 Souvla
Named for the skewer rod on which meat is rotisserie roasted, Souvla serves up warm, savory sandwiches, fresh salads, and fruit sodas from Greece. It's also the only place in town to offer glasses of refreshing retsina, an ancient, aromatic wine fermented with pine resin.
With three locations—in Hayes Valley, and the NoPa and Mission District neighborhoods—quick service and plentiful seating makes this small chain a popular lunch destination.
You can even just pop in for a midday frozen treat: Greek yogurt topped with your choice of cherry syrup, olive oil and sea salt, or baklava crumbles and honey.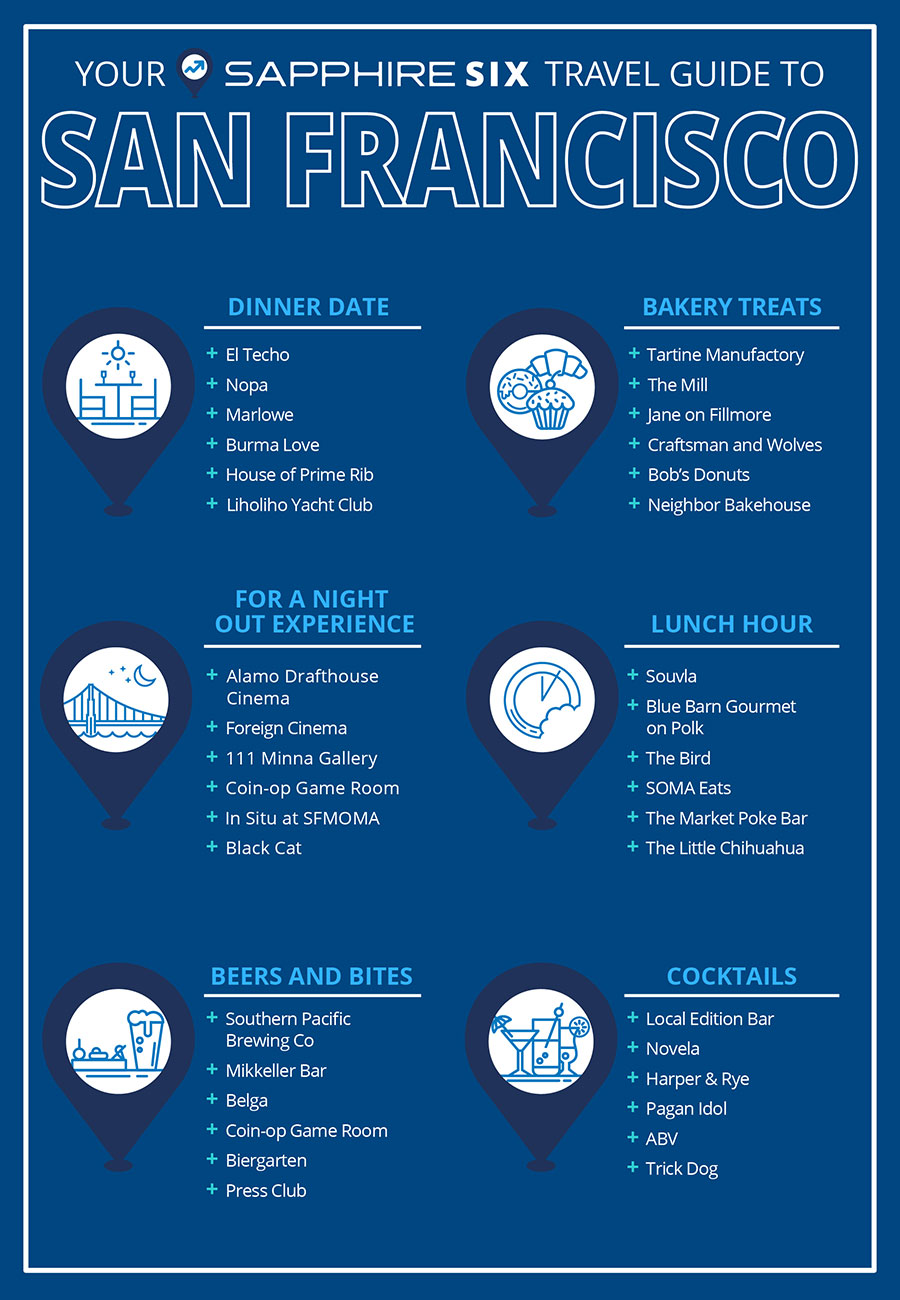 A quick note on methodology:
So how did we come up with the Sapphire Six? By pairing anonymous Sapphire Reserve cardmember spend data with feedback shared on social media, we were able to determine the most popular restaurants by unique visitors and category.
Inclusion on the Sapphire Six is not an indication of an affiliation or endorsement by JPMorgan Chase. The words or symbols used to identify the source of goods and services of a third party may be the trademarks of their respective owners.
Brittany Shoot is a Chase News contributor. Her work has appeared in Time, the New York Times, Fortune and the Economist.