Your Life
Enjoy Dining and Entertaining
Destination: San Francisco 2019
Check out these Sapphire Six spots on your next adventure.
By
Amy Sherman
Posted: 08/06/18
Updated: 05/23/19
We know our Chase Sapphire Reserve cardmembers are pretty savvy when it comes to knowing great places to grab a bite, have some fun, or enjoy a drink…or two. So we took a cue from where our Sapphire Reserve cardmembers visit to develop our Sapphire Six Lists. The best part? You earn 3X points when you use your Sapphire Reserve card on travel and restaurants. Check, please!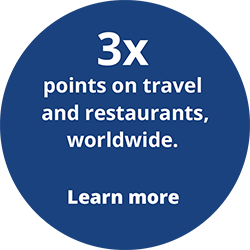 By popular demand, Sapphire Six heads back to the City by the Bay. San Francisco's bustling dining scene is packed with Michelin-starred hot spots, the latest street food sensations, and everything in between. And while new and trendy restaurants are always sprouting up, some of the city's local favorites have been around for decades.
Whether you're craving burritos or tiki drinks popularized in San Francisco's Mission neighborhood, start your trip with these six local gems: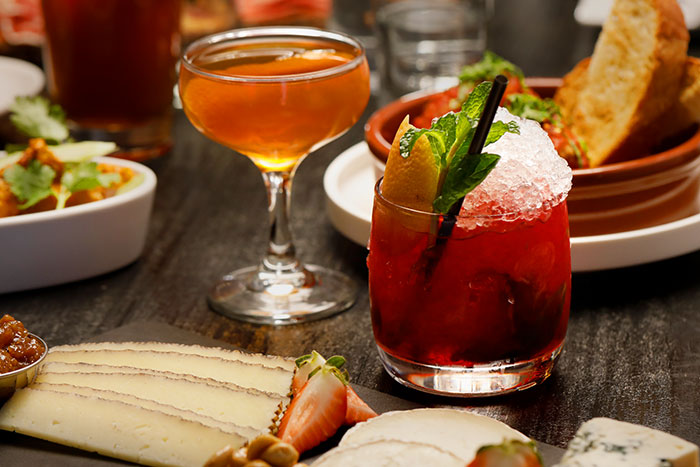 Novela
"Cocktails with character" is the motto at Novela, a bar named for the Spanish word for novel. Decked out in moody lighting and recessed bookshelves that display glowing rainbows of books , the chic space boasts an array of literary touches including photos of famous authors and a drink menu that pays homage to famous books and characters. Try the Jay Gatsby—a signature bourbon drink with Calisaya, nocino, amaretto, and Islay scotch—or peruse Novela's seasonal menu, which is divided into two categories: "Refreshing and juicy" and "stiff and spirituous."
Menu Must-Have: Try one of Novela's seasonal cocktails like Miss Moneypenny, a delicious blend of honey and bitters.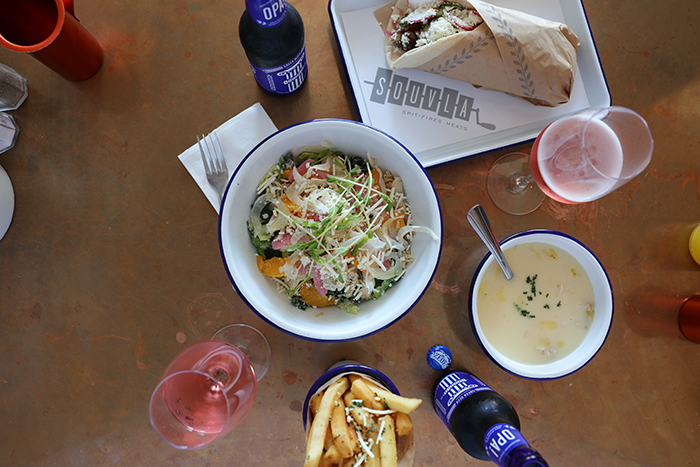 Souvla
Named for the skewer rod on which meat is rotisserie roasted, Souvla serves up warm, savory sandwiches, fresh salads, and fruit sodas from Greece. It's also known for its refreshing retsina, an ancient, aromatic wine fermented with pine resin.
With three locations—in Hayes Valley, and the NoPa and Mission District neighborhoods—quick service and plentiful seating makes this small chain a popular lunch destination.
You can even just pop in for a midday frozen treat: Greek yogurt topped with your choice of cherry syrup, olive oil and sea salt, or baklava crumbles and honey.
Menu Must-Have: You won't regret ordering a salad "Greek style," which is served with fries on top. Yum!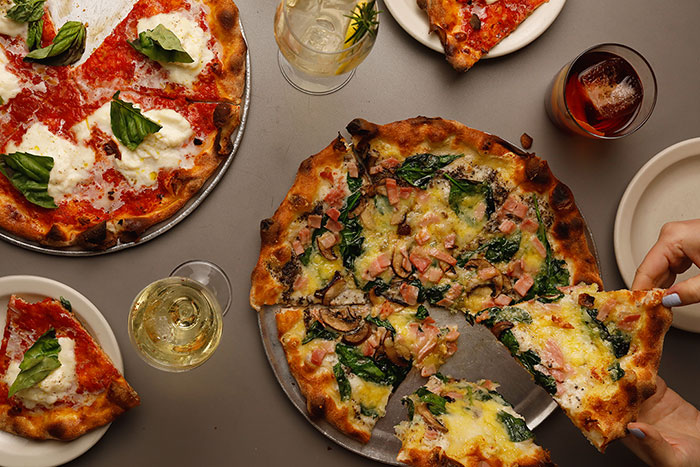 Beretta
Is Beretta a great bar or a neighborhood restaurant? It's both, and for the past 10 years it has also laid the groundwork for San Francisco's obsession with craft cocktails and pizza.
Though its dangling lightbulbs and pressed tin ceiling offer a trendy, rustic vibe, Beretta's bumping rock soundtrack and unpretentious service keeps the space friendly and inviting. Its menu is packed with a handful of boozy beverages like the Ex-Lion Tamer, a mezcal-based libation complete with lemon, passionfruit, elderflower, and habañero.
Of course, no visit to Beretta is complete without a snack. Though the majority of guests order one of its thin crust pizzas, its array of creamy risottos, salads, and nightly specials offer a myriad of options.
Menu Must-Have: Trust us, it doesn't get better than the burrata and salami pizza.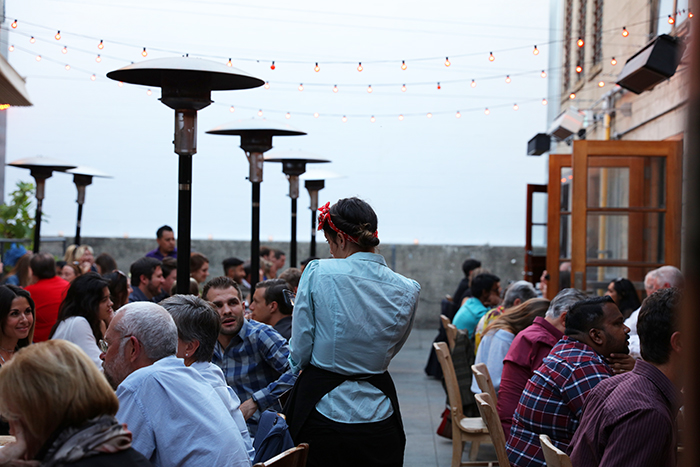 Foreign Cinema
A favorite for more than 15 years, Foreign Cinema pioneered a true San Francisco blockbuster success: Pairing film classics with bottles of Champagne and oysters on the half shell. Several indoor dining rooms, plus the coveted patio seats, provide plenty of places to sit, depending on your mood and movie-viewing intentions.
Nightly dinner and weekend brunch are both popular options with a few distinct offerings. The dinner menu focuses on antipasti and Pacific-sourced seafood, while al fresco brunch—which is served sans movies and under large umbrellas for shade—revolves around egg dishes and warm sandwiches. Naturally, both meals feature those famous oysters by the half or full dozen and a full beverage list.
Plan ahead to enjoy dinner and an evening movie, knowing the most coveted seats are on the heated open-air patio and the film is projected on a high, wide wall. The screenings include a mix of favorites and contemporary classics from the noir classic "The Maltese Falcon" to the family friendly "Alice in Wonderland."
Menu Must-Have: The menu changes daily, but keep an eye out for the pork chops and beef sirloin carpaccio.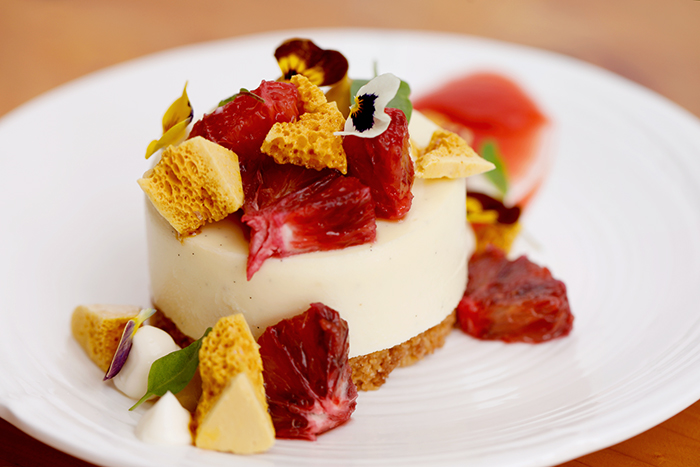 The Slanted Door
A crown jewel on the waterfront, this James Beard award-winning spot features stunning views of the bay and the Bay Bridge and a fresh approach to Vietnamese cuisine. Owner and Executive Chef Charles Phan uses organic and sustainable produce, meats, and seafood to bring seemingly simple food to new heights. A favorite for both young professionals and families, it's also the site of marriage proposals and celebrity sightings.
Dishes like cellophane noodles with Dungeness crab and the grapefruit and jicama salad showcase its range of authentic Vietnamese flavors and locally sourced ingredients. Another highlight is its carefully curated wine list, which features categories like "delicate reds" and "herbal and dry whites." If you don't make a reservation, you may end up dining at the bar, where you can order a refreshing Ginger Limeade, made with kaffir lime, vodka, ginger, and lime.
Menu Must-Have: If you have room for dessert, be sure to order the vanilla bean cheesecake, an eclectic mix of whipped greek yogurt, macerated blood oranges, and salted honeycomb.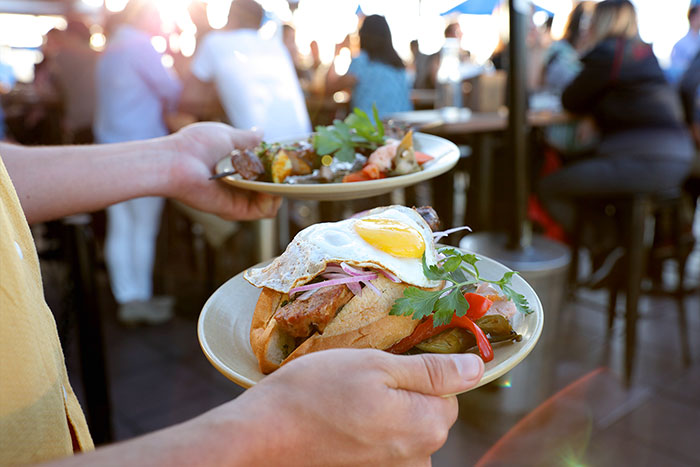 El Techo
You'll find some of the city's finest al fresco dining above Lolinda, the lively Argentine steakhouse in the Mission District. The El Techo rooftop bar features Latin-inspired street food and strong rum cocktails as you take in the skyline views.
Weeknight happy hour spans two hours from 4 p.m. and features strong margaritas and pitchers of sangria. Stay for dinner, and start with small plates of empanadas and quesadillas. Move on to sample the skewers, and customize your roasted pork shoulder chicharrones order based on your appetite.
Dessert is a classic caramel flan or housemade alfajores, a cookie sandwich served with dulce de leche and a mug of smooth, sippable hot chocolate.
Menu Must-Have: Come for the cocktails, but stay for the choripan, a delicious, Argentinian take on the hot dog.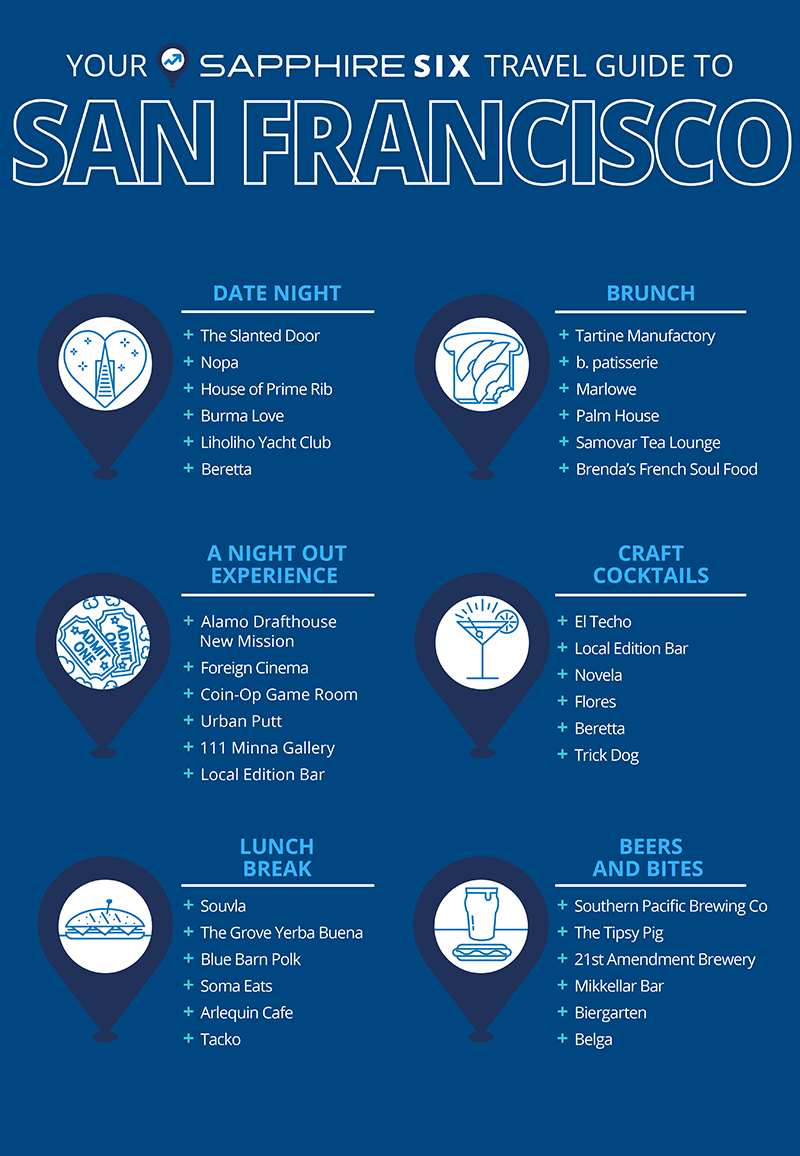 A quick note on methodology:
So how did we come up with the Sapphire Six? By pairing anonymous Sapphire Reserve cardmembers spend data with feedback shared on social media, we were able to determine the most popular restaurants by unique visitors and category.
Inclusion on the Sapphire Six is not an indication of an affiliation or endorsement by JPMorgan Chase. The words or symbols used to identify the source of goods and services of a third party may be the trademarks of their respective owners.
Amy Sherman is a Chase News contributor. Her work has appeared in Fodor's and Architectural Digest among several others.