Small Business
Managing a Small Business
Despite Sandy's Devastation, a Coney Island "Star" Is On The Rise
For One Business Owner, Customer Relationships Were Key to Recovery
By
Barbara Bellesi
Posted: 06/04/15
Updated: 11/10/17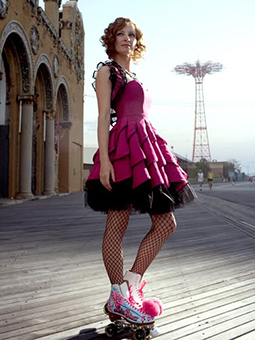 The iconic Coney Island boardwalk has long been synonymous with summer fun in New York City. But when Superstorm Sandy arrived on October 29, 2012, it left a path of destruction that stretched far beyond the legendary Cyclone roller coaster and Nathan's Famous Hot Dogs stand.
"Sandy really impacted the entire neighborhood, not just the amusement district, but also the commercial corridor and the residential area," says Johanna Zaki, executive director of the Alliance for Coney Island. The Alliance is a nonprofit organization committed to the development of Coney Island not only as an exciting seasonal attraction, but also as a community of residents and business owners that stays vibrant year-round. The Alliance has been instrumental in the recovery efforts, which continue as the third anniversary of the storm approaches.
Lola Star, owner of two eponymous boutiques located on the boardwalk and Surf Avenue, came to Coney Island more than 15 years ago, enamored with the energetic vibe. In addition to selling novelties and her unique, Coney Island-themed apparel, Star opened the Dreamland Roller Rink, first on the boardwalk and now in its current home in Brooklyn's Prospect Park.
Devastation and the Aftermath
When Sandy made landfall, one of Star's boutiques was completely destroyed. In what would become a familiar refrain for too many business owners in the aftermath of Sandy, Star found that her insurance policy was of little help. Still, there was a rainbow after the storm.
"My customers were the ones who came together to help to recover," Star says. "The community was there to help me clean up my store and help me rebuild." She says the spirit of community kept her and her neighbors going during the long months of recovery.
"That was really inspiring, to know that we have such a strong community and there's so much love for Coney Island that everyone just came together to help rebuild it. Now it really is better than ever," she says.
Rebuilding a Community
Star had been active in supporting the Coney Island community long before the storm, so the recovery was about much more than just reopening her store's doors.
"I really felt like my store was so much more than just a retail store … that it was an important contribution to the community that really needed creativity and renewal," she says. Star's Instagram account is an ever-growing photo album of smiling customers posing with their boutique purchases, skaters rocking and rolling at the rink, and, of course, images of the boardwalk, all showing her strong desire to make a connection with Coney Island's residents and visitors.
Summer fun is now back at the boardwalk, but Coney Island is still in recovery. Some businesses, like Star's, are thriving; the entrepreneur recently opened another boutique in Rockaway, a beach neighborhood in Queens that was also seriously affected by the storm. But a number of businesses never reopened after Sandy.
Still, Coney Island is resilient and its future is bright, according to Zaki. She says the Alliance and other community groups are working to help Coney Island grow stronger and to ensure that "come the next storm, we're ready and we're prepared and better able to recover quickly from the effects of a storm like Sandy."
Photo: iStock | Barbara Bellesi is a freelance writer whose work has appeared in BELLA magazine, AOL, Yahoo, Staten Island Parent and other publications.