Small Business
Success Stories
Rediscover the Personal Touch of Handcrafted Communications
Ditch the Digital and Make a Real Connection
By
Nancy LaFever
Posted: 08/06/15
Updated: 11/10/17
Tweeting, texting and pinning are expedient digital ways to connect, but some business owners believe there's still strong demand for unique, handcrafted ways to stay in touch.
Just ask New York City entrepreneur Tanea Smith, who says instant communications diminish the message.
"I find that with the social media boom, we've become woefully detached in terms of authentic connection," she says. The handmade cards from her company, She's Got Papers, feature images designed to make the recipient feel empowered and valued. "The handwritten note congratulating you on your promotion will be treasured long after your news feed disappears into cyberspace," she says.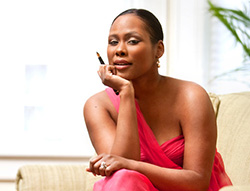 The inspiration for Smith's company began when she was a teenage mother on welfare in 1994. "My postpartum weight-loss struggle, my appreciation for a heartfelt thank-you and my passion for thriving despite the odds have all been influential themes in my design process," she says.
Her "This Road Must Travel" card is a perfect example. "It tells the story of my life. Falling down is hard, but getting back up is so worth it. Each of us know at least three people who need to hear that message right now in our own penmanship, not in a meme."
Smith also speaks about her past and her business to groups in New York, her hometown, and reminds them of the power of a physical note when seeking a job. "This is one of the most competitive places to do business," she says, "but companies remember the candidate who stands out. That's where a handwritten note can set you apart from your competitors and solidify the connection."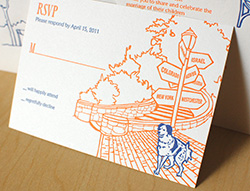 Invitations Incorporate the Personal
Artist Nicole Block also helps business customers connect. Block's background as an illustrator and graphic designer informs her card, invitation and corporate branding designs.
"From logos to wedding invitations, the key is my ability to work on two levels, design and art," she says. "The best resolution to any design problem is to find that one key detail that turns the piece on its head — perhaps not the most obvious, but definitely the most personal."
Block's business, The Nic Studio, in Brooklyn, N.Y., specializes in unique custom wedding invitation designs.
"I first like to get some background on a couple's relationship — the story of their lives together, what they want their wedding day to look and feel like. If they're local, I go to the wedding location to take photos and get a sense of the mood," Block says.
She often prints her designs in old-style letterpress, very popular for its distinct visual and tactile impression on paper.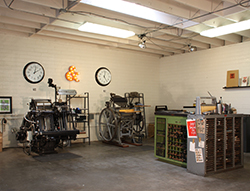 Modern Take on a Centuries-Old Printing Style
Nancy Hill is the letterpress operator at Hazel & Violet in Phoenix, where she and co-owner Beverly Wolfe produce wedding invitations, stationery and business marketing materials. Letterpress is a labor-intensive process, as individual metal letters are handset in lines of type.
"It's the appreciation for handmade and the desire to connect with people in a more 'real' way than social media and email," says Hill.
Her company also offers letterpress workshops for those wishing to learn the technique themselves. Surprisingly, it's not all artists or designers, she says. "They're usually friends or even work groups, doing a team-building thing." She offers lessons in typesetting and the operation of the press, and let's students create a unique, handcrafted piece.
A handmade message communicates a powerful personal brand, says Smith. "In today's digital age, receiving a handwritten note in the mail elicits the same warm feeling as when a neighbor would bake you an apple pie to welcome you to the neighborhood. My products are providing a genuine sincerity that you simply can't get from an email."
Illustration: Elvis Swift | During her 10 years as a freelance writer and book editor, Nancy LaFever's work has been published online and in print in ReadersDigest.com, BELLA, Orbitz.com, and The Crafts Report magazine, where she was a senior columnist for three years.