Community
Success Stories
How non-profits have created a stronger community in Detroit
A Community Joins Together to Build a Better City
By
Amanda Lewan
Posted: 08/09/16
Updated: 11/10/17
For much of the last century, Detroit's economy was exclusively focused on the manufacturing industry, particularly automobiles. Many of the city's residents believed they could work a lifetime in stable, middle-class jobs--often without a high school diploma or any advanced training. But the situation in Detroit changed. The city experienced an economic decline, factories closed and the city went into bankruptcy. These challenges significantly hurt Detroit's unskilled workers and their financial futures.
Today, the future is looking brighter: the economy is more diverse, especially in the advanced manufacturing, healthcare and tech sectors. Many residents are finding opportunities to re-tool their skill sets to prepare for the highly technical jobs being created in the city.
JPMorgan Chase has committed to investing more than $100 million into Detroit's recovery, including workforce readiness efforts that prepare residents with the necessary skills to find well-paying jobs or start their own businesses.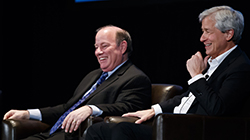 Some of this investment was showcased at a recent Detroit Startup Week, sponsored by JPMorgan Chase. Led by Detroit-based entrepreneur volunteers, the event's 150 sessions in many ways reflected how the city has emerged from bankruptcy. Talks throughout the week focused on job creation, youth engagement, food entrepreneurship, art and design.
Creating jobs closer to home
JPMorgan Chairman and CEO Jamie Dimon said during the Detroit Startup Week's keynote address: "I'm a fan of collaboration. If we all work together, we'll make it work."
This means creating programs that serve Detroit residents who struggle to find jobs in the city. Nearly two-thirds of residents commute to work outside of the city, which can be difficult with sparse public transportation. A pivotal role in workforce development is to connect Detroiters to opportunities closer to their homes where transportation isn't a barrier.
JPMorgan Chase plays a role in supporting nonprofits that collaborate with area corporations and the City of Detroit on job training programs and the creation of local jobs.
One of the many projects that JPMorgan Chase supports in Detroit is Focus HOPE, a non-profit organization on the city's east side. More than 250 area residents are being trained in machine tooling, robotics and other valuable tech skills. About 85 percent of the people who complete the program are immediately placed into new jobs.
Focusing on Detroit's youth
Improving Detroit's workforce requires a proactive approach. That's why Detroit's leaders are focusing on the city's youth—and its schools. From an early age, children must be inspired to believe they can enter the workforce and feel motivated to get through graduation and into a job. Detroit's mayor, Mike Duggan, recently joined Dimon to discuss possible solutions for engaging youth.
"We're now in the 8th year of state management for Detroit Public Schools and half the kids have left," said Duggan. "We are not investing in our schools and youth enough. We have to change this."
The United Way for Southeastern Michigan is one such organization working toward that goal. With $4 million from JPMorgan Chase, the United Way is working to connect 10,000 Detroit high school students to career education and work experiences over the next three years. Specifically, they'll help young people earn credentials that qualify them for career pathways and college in several important industries, including advanced manufacturing, health care, information technology, digital communications, engineering and public service.
The collaboration, and investment, all point to a powerful new period for Detroit, and its people. "It's been kind of remarkable," Dimon said recently, adding: "The political change, the people pulling together, the sense that we are in it together. "
Read more about JPMorgan Chase & Co.'s investment in Detroit.
Photo: Amanda Lewan | Amanda Lewan is a Detroit entrepreneur and writer.