Your Life
Explore Seasonal Trends
5 amazing travel routes for your next road trip
Exploring America by car lets you see new things save money.
By
Julie Tremaine
Posted: 08/01/18
Updated: 04/07/20
Brought to you by Chase Freedom, the Savvy Spending series teaches you how to become a smarter, savvier shopper—one purchase at a time. This quarter, Chase Freedom cardmembers who activate can enjoy 5% cash back at gas stations, tolls, and drugstores. Spend and category limits apply. Learn more.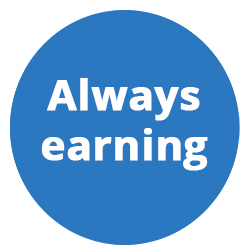 Forget about planes and trains: There's nothing like cruising around the country with your convertible top down and your favorite road trip playlist blasting. Buckle up and get ready to explore these five, lesser-known travel routes:
Outdoor adventure in New England
New Hampshire and Vermont may be known for their exceptional slopes but come summer, it's all about water. You could get to Burlington via VT-15 West in less than three hours, but the roundabout way guarantees some fun in the sun.
Start your adventure in New Hampshire's White Mountains and cross the Kancamagus Highway to Lincoln, New Hampshire, where there are ample opportunities to go rafting on the small rapids of the Pemigewasset River. A quick detour down I-93S to Lake Winnipesaukee offers kayak and stand-up paddleboard rentals. Once you make it to Burlington, take in the sweeping views of Lake Champlain.
Insider Tip: While in the White Mountains, hike up to Arethusa Falls and splash around in Diana's Baths, a series of natural swimming holes and rock slides. Both are free and pay dividends in natural beauty.
Coastal Beauty in Low Country
From touring the iconic Cape Hatteras lighthouse, to munching on fried shrimp, to hang gliding at Jockey's Ridge State Park, North Carolina's Outer Banks is a great destination for adrenaline-seeks and foodies alike. Turns out, it's only the beginning of your adventure.
Head down to South Carolina via US-64 W and I-95 S, and make a pitstop at the selfie-ready "South of the Border" roadside attraction. You'll end up in Charleston, SC, a historic city where everything is tinged with sweet Southern charm.
Insider Tip: Get a taste of the city for less at Charleston City Market. Home to hundreds of artists and vendors, there are plenty of affordable, delicious Southern dining options to go around.
Out to the Old West
An Old West adventure for the digital age. Start at the grave of outlaw Billy the Kid—which has been stolen not one, but twice—in Fort Sumner, New Mexico. Speaking of ghosts, modern-day ghost town Duran is nearby and has about 35 residents. From there, get a healthy dose of Western culture in Albuquerque. Though its Old Town dates back to the 1706, it's bustling with delicious restaurants, street musicians, and Western art.
From there, take I-10 W down to Tombstone, AZ, where you can tour the town by stagecoach and see old fashioned gun shows every day. Once you reach Scottsdale, explore the Native American galleries of Old Town and the Western Spirit: Scottsdale's Museum of the West, an homage to the cowboys of yesteryear.
Insider Tip: If you're visiting Scottsdale on a Thursday, check out the Scottsdale Art Walk. You can jump from gallery to gallery and see most of the Southwest's most celebrated artists for free.
Make way for music
Audiophiles, this is the trip for you. Kick off your trip at Dollywood in Pigeon Forge, home to delicious park food and Dolly Parton's coat of many colors. About three hours west of Dollywood is Nashville, TN, which boasts landmarks like the Grand Ole Opry and the Country Music Hall of Fame. Hop on I-40 Wt to head to Memphis, home to Graceland. While you're there, visit Beale Street for barbecue and blues and check out Sun Records, where Elvis Presley and Johnny Cash famously recorded top hits.
Jazz abounds in New Orleans, which is just a few hours south of Memphis. Don't forget to scarf down beignets and po'boys on your way to the famous Bourbon Street, and check out the New Orleans Jazz Museum.
Insider Tip: Save on parking at Dollywood by taking the Pigeon Forge Trolley, which costs $1 per person.
Purple mountains majesty
With spectacular mountains, canyons, and natural wonders like the Old Faithful geyser, you may be tempted to spend an entire vacation hiking and camping in the Yellowstone National Park. But if you do, you'll miss Wyoming's stunning Grand Teton National Park.
Head into the South Dakota Badlands to see its otherworldly landscape of colorful, wind-carved rock spires. The nearby Black Hills are home to the Crazy Horse Memorial, commemorating the Native American chief, which has been under construction since 1948 and will be the world's largest carved monument when it's finished. Next stop: Mount Rushmore, the iconic tribute to American presidents. On your way, stop at any roadside joint for frybread, a savory doughboy that can replace tortillas to make Navajo tacos.
Insider Tip: Nature lovers should buy the America the Beautiful—National Parks and Federal Recreation Lands Pass Series, which gives you access to over 2,000 recreational sites for $80 per year.
Julie Tremaine is a Chase News contributor.