Your Life
Inspire Bold Leadership
Teamwork led former tennis pro to top of US Open
"Serving" has double meaning for former pro standout
By
Roger Sands
Posted: 08/09/16
Updated: 11/10/17
JPMorgan Chase is celebrating 36 years of partnership with the US Open.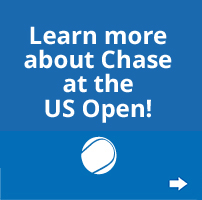 It's safe to say that when Katrina Adams started playing tennis forty years ago, few of her relatives knew what to expect. The 1960s Civil Rights Movement had barely ended, and few Americans—especially black families—had access to tennis.
Today, the 49-year-old Adams is CEO of the United States Tennis Association (USTA), which manages the US Open—one of the world's most prestigious sports tournaments.
She's the first former tennis player, fourth woman, and the first black person, to hold the position. And right now, she's busy leading a team of more than 300 people preparing for the tournament, scheduled to open at the Billie Jean King National Tennis Center, in Flushing, New York.
From tagging along to tennis pro
Adams grew up in a middle class Chicago family. She'd frequently follow her teenage brothers to the summer tennis program and watched them play—hoping for a chance to hit a few balls. Eventually, a summer tennis instructor invited Adams to play. Soon, she was beating older kids. "I have been a visual learner ever since I was a little girl—so with my hand-eye coordination, I was a natural," she says.
At Northwestern University, Adams helped lead the tennis team to major championships. And after college, for a dozen years she played on the professional Women's Tennis Association (WTA) tour—and earned impressive rankings. "It was a fantastic, great experience," Adams says, adding: "I got to travel the world and play against people who were heroes of mine growing up."
In 1988, she reached the fourth round of singles at Wimbledon. While serving on the WTA's board as a player representative, she had a key awakening: she could do just as much for the sport she loved off the court as she did all of those years with a racket in hand.
Serving up teamwork
In 1999, when her career on the courts ended, Adams began working as a volunteer USTA National coach. "That's where I began to understand what the USTA was all about," she says.
Adams gradually climbed the organization's ranks. In 2015, she became the USTA's president.
Her experience has given the outgoing, no-nonsense leader the opportunity to rub elbows with major tennis figures like Billie Jean King, Serena Williams, Roger Federer and Novak Djokovic. It's also given her a platform to develop the sport's growth on every level, including local communities.
Hitting the sweet spot
Adams strives to hit the sweet spot in her busy schedule. Every day during the US Open, she carefully reviews checklists with the tournament's director, security staff, and other officials. She effortlessly juggles meetings with international guests, and tournament sponsors—including JPMorgan Chase. "They are passionate about the Open, and passionate about tennis—as they support the sport at every level," she says. "With partners such as Chase, the USTA can bring more tennis to more people in more places."
For example, the USTA helped create the concept of a shorter tennis court, and lower net—to hopefully help make it easier for small kids to learn the game. The USTA's player development program, meanwhile, is helping cultivate young players. By most accounts, the efforts have been successful at clubs across the country—and will hopefully push young talent to the biggest tennis stage, the US Open.
It takes a powerful team—and bold, visionary leaders like Adams—to produce the tournament each year. "We have a great group at the USTA and everyone plays an important role," Adams says.
After she completes her tenure at the USTA, Adams says she will continue serving as Executive Director with the Harlem Junior Tennis and Education Program, which empowers children in underserved communities to reach their highest potential through tennis, character building and education. "I always want to make a difference."
Photo: USTA/Ned Dishman | A freelance writer for more than 30 years, Roger Sands' work has appeared in the New York Times, the Philadelphia Inquirer, the Pocono Record, Racket Sports Industry, Ski Magazine, U.S. News & World Report and others.