Your Life
Dining and Drinking
Jon Batiste Marches to the Tune of a "Love Riot" Drummer
Weeklong Hotel Takeover Brings Social Music to New York City
By
Rebecca Dalzell
Posted: 06/04/15
Updated: 11/10/17
Car horns blared on Broadway. Three saxophones and a tuba honked back, playing in the street and blocking traffic. The band paused for a guitar solo, then plowed through a red light at 27th Street.
Jon Batiste was leading a "love riot," so New York City's drivers just had to wait.
Playing a melodica, the jazz musician who's about to become the bandleader on Stephen Colbert's late-night television show paraded the swelling crowd to Eleven Madison Park, a Michelin-starred restaurant that became a raucous concert hall for a night.
Guests in suits and high heels stood on banquettes and sang along to Batiste's funk anthem "Express Yourself."
The party closed out the artist's week-long residency at Manhattan's NoMad Hotel, sponsored by Chase Sapphire Preferred®.
In taking over the NoMad, Batiste staked a claim for social music, his term for the upbeat, engaging shows that have become his trademark. Each concert aims to create an instant sense of community and unbridled joy. The residency explored social music in various ways, from bar-top dancing to global rhythms to interactive jam sessions. Snacking on Daniel Humm's hors d'oeuvres, guests milled around with the musicians and Batiste's celebrity friends.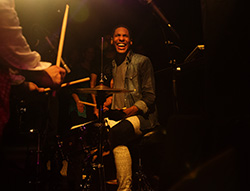 At an intimate evening of jazz, Batiste returned to his New Orleans and Juilliard roots.
Eschewing traditional stages, the band often embedded itself in the audience. In the hotel's vaulted cocktail bar, trombones and tambourines chimed throughout the room. On a rooftop decked out in Moroccan lanterns and Persian rugs, tribal Bedouin beats morphed into a dance party. At a chicken-and-waffles brunch, 14 stories above the historic NYC Pride Parade, doo-wop singers and bluegrass fiddles led diners in "When the Saints Go Marching In."
Batiste got children involved, too. There were daily youth mentoring sessions and a storytelling event with music students. A few nights later, Batiste ceded the spotlight to a 12-year-old guitar phenom. They even turned a kids song into a showstopper, getting 400 adults to rock out to "If You're Happy and You Know It." Few had practiced its syncopations since preschool, but they knew instinctively when to clap.
As he had all week, Batiste ushered everyone in the room to a feeling of childlike glee.
Explore the rewards of Chase Sapphire Preferred.
Photos: Mackenzie Canlis | Rebecca Dalzell is a journalist and historian. Her writing has appeared in The Washington Post, New York magazine, Travel + Leisure, Time Out and other publications.