Your Life
Discover New Destinations
Destination: New York City
Check out these Sapphire Six spots on your next adventure.
By
Jessica Stake
Posted: 07/27/17
Updated: 05/23/19
We know our Chase Sapphire Reserve cardmembers are pretty savvy when it comes to knowing great places to grab a bite, have some fun, or enjoy a drink…or two. So we took a cue from where our Sapphire Reserve cardmembers visit to develop our Sapphire Six Lists. The best part? You earn 3X points when you use your Sapphire Reserve card on travel and dining. Check, please!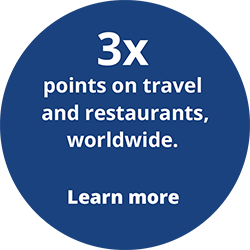 Bright lights, big city, and an ever-evolving-door of restaurants to experience. It's been said that it's impossible to visit all of the New York City bars and restaurants in a lifetime, but wouldn't it be fun to try? Well, our cardmembers are off to a good start - From a hip rooftop with breathtaking cityscape views, to a Greenwich Village staple for the famous and well-heeled, they are certainly in-the-know.
Here's our Sapphire Six travel guide for New York City: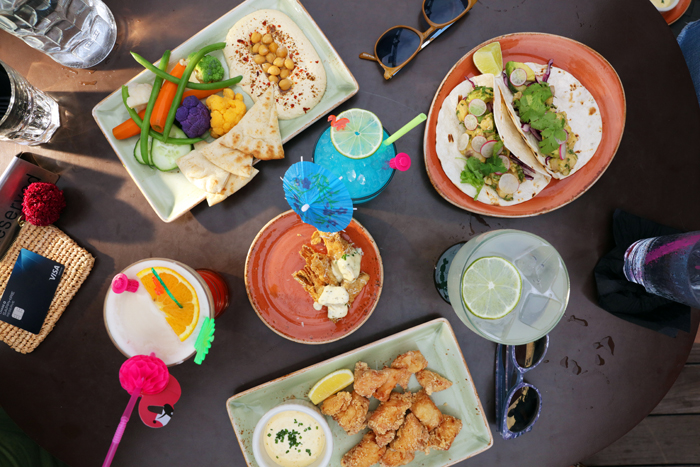 Roof at Park South
The hotel restaurant, just off of Madison Square Park, in Midtown, offers 360-degree skyline views and a menu of perfectly crafted cocktails and delectable bites by James Beard Award-winning chef Tim Cushman. The best time to come is for after-work drinks, when you'll find fashionable young professionals imbibing, letting loose and, of course, trying to catch a sunset.
Roof's drink menu is playful and nostalgic. Try the strawberry daiquiri infused Miami Vice or the eye-catching bright blue Paddle Boarding the Amazon made with Cachaca, pineapple and lime. The yellowtail poke tacos aren't to be missed, served with avocado, cucumber and cabbage—with perfectly seasoned fish.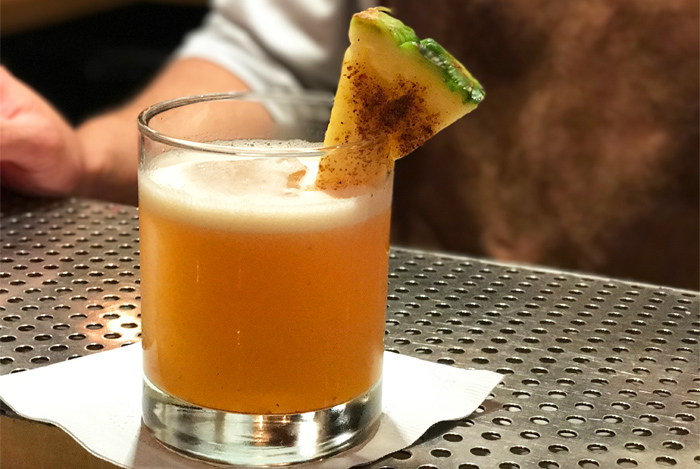 Dear Irving
Just south of the stylish Gramercy Park neighborhood, Dear Irving is an upscale cocktail lounge with a spectacular speakeasy vibe. The interior is dazzling, with four time-change theme rooms, each in the style of a different era. Velvet booths draped by crystal beaded curtains adorn the F. Scott Fitzgerald room, whereas the Marie Antoinette room has a glitzy chandelier and baroque style furnishings. Take note, hopeless romantics, this is a perfect date spot.
While there is a nice selection of nibbles (bite-size lobster rolls and deviled eggs are standouts), this place is all about the cocktails. If you like spicy, smoky and delicious, the Xantolo is not to be missed. This mouthwatering drink is a blend of resposado tequila, mezcal, spiced pineapple and lime and is served with a single ice cube and a pepper dusted pineapple garnish.
If you're looking for an equally stylish drinks spot on the West side, check out Tribeca's The Bennett, by the same owners.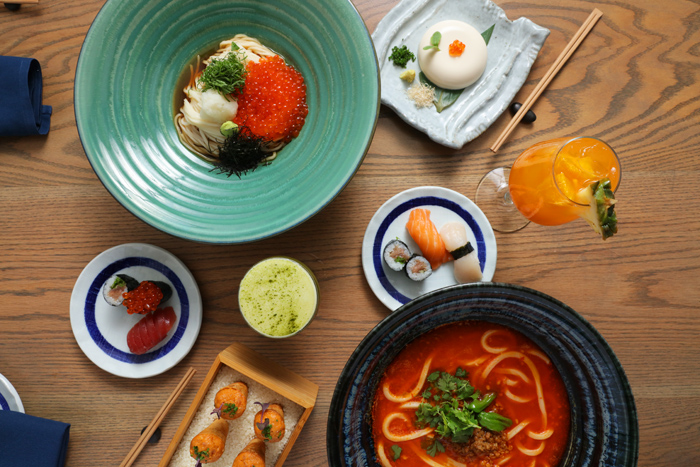 TsuruTonTan Udon Noodle Brasserie
Located just west of Union Square, TsuruTonTan is the US outpost of the famed Japanese udon chain. The restaurant has an impressive mix of house-made noodle combinations. Whether you like warm or cold, spicy or mild, thick or thin, and with a plethora of fresh toppings (vegetarian, meat or seafood), Tsuru has your noodle cravings covered.
The restaurant interior is stunning, with carved wood walls and a warm, welcoming ambiance. It is the perfect retreat from its bustling Flatiron location.
To start, try the Creamy Spicy Shrimp Tempura, battered and lightly fried to texture-perfection in a zesty cilantro sesame sauce. Also not to be missed is the Uni Wagyu Sushi, featuring a super thin raw piece of Wagyu beef draped over warm rice and topped with fresh Uni (sea urchin). For those looking for a hearty, meaty Udon, opt for the Spicy Tan Tan Udon, in a chili-oil, rich broth, topped with ground pork. End your meal with a slice of Lady M green tea cake, delivered daily from the famed bakery.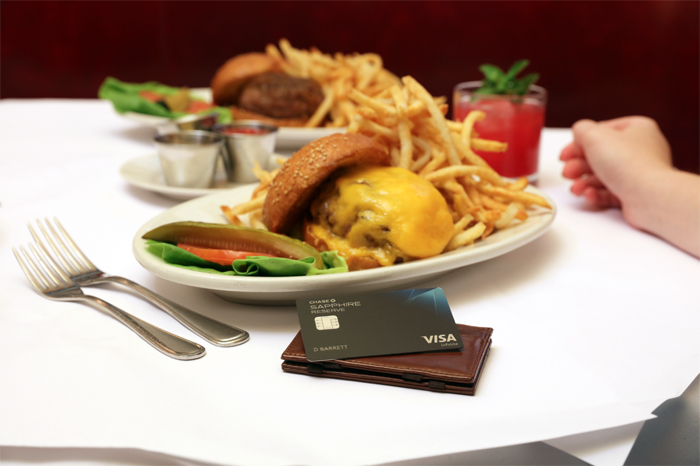 Minetta Tavern
There is an air of historic importance at Minetta Tavern, in the heart of Greenwich Village, and for good reason. The original space opened in the 1930s and evolved from a local hangout to its current revival as a fashionable French brasserie, loved by celebrities and locals alike. The décor features deep crimson leather seats, and classic black and white checkered floors. Reservations are hard to come by, so snag one a few weeks out.
The highlight of Minetta's menu is the Black Label Burger. "Our burger combines four cuts of meat—skirt, chuck, brisket and short rib, and then has 45 day dry age Pat La Frieda beef added to it," explains server Adam Breaux "and the sesame seed bun is delivered daily from Balthazar Bakery." Don't be dismayed by lack of cheese, this burger is flavorful enough to ruin every subsequent burger experience you might have. The unsung hero of the menu may be the sautéed spinach, which has the richness of creamed spinach while maintaining the texture of the full leaf.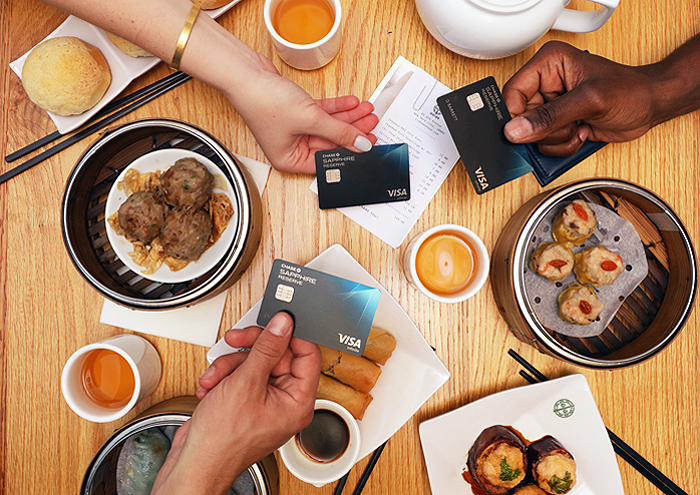 Tim Ho Wan
The second Asian chain restaurant on our list, established in Hong Kong, Tim Ho Wan NYC is an affordable dim sum heaven, if you can bear the crazy long queue. The dumplings, though, are worth the wait. The space is small with only 60 seats, so you may want to grab standing space at the counter to beat the lines.
Try the barbecue pork buns, steamed rice rolls and Chiuchow-style dumplings. Special to the New York menu, the French toast with custard filling is not to be missed. So, be prepared to put your name in to this East Village hot spot, and bide your wait time at one of the many nearby St. Marks bars.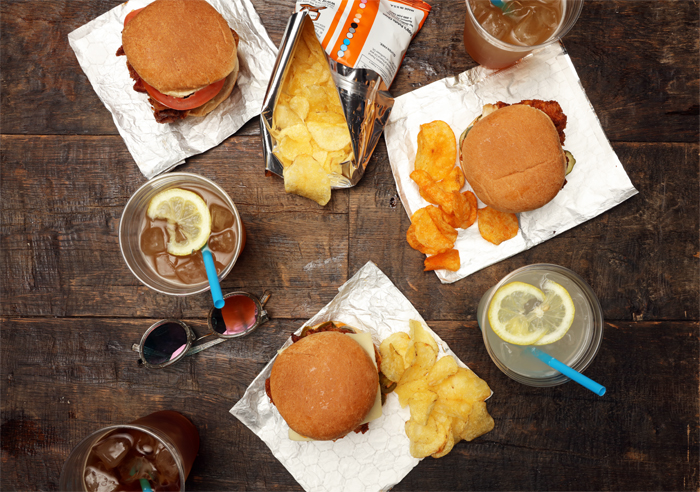 Delaney Chicken
Nestled in a corner of the new Urban Space food market, just north of Grand Central Terminal, Delaney Chicken is a must-visit destination for any fried chicken enthusiast. Its owner, Dan Delaney, rose to fame for his barbecue technique with renowned brisket shops in Brooklyn, but with the opening of Delaney Chicken, has been able to add King of Fried Chicken to his accolades.
You can't go wrong with the spicy chicken sandwich. The sandwich combines a boneless chicken thigh perfectly battered, fried to delightful crispiness, and topped with a magic combo of Crystal hot sauce, Dukes Mayonnaise, Havarti cheese and pickled jalapenos. Sandwiches are served on a house-made potato roll sized just right so that it compliments rather than overwhelms the sandwich. Wash it down with freshly squeezed lemonade, all for under $15, leaving your stomach and your wallet satisfied!
Through October 15, 2017, check out the Chase Sapphire Lounge in the Garden Bar at the South Street Seaport. To learn more, click here.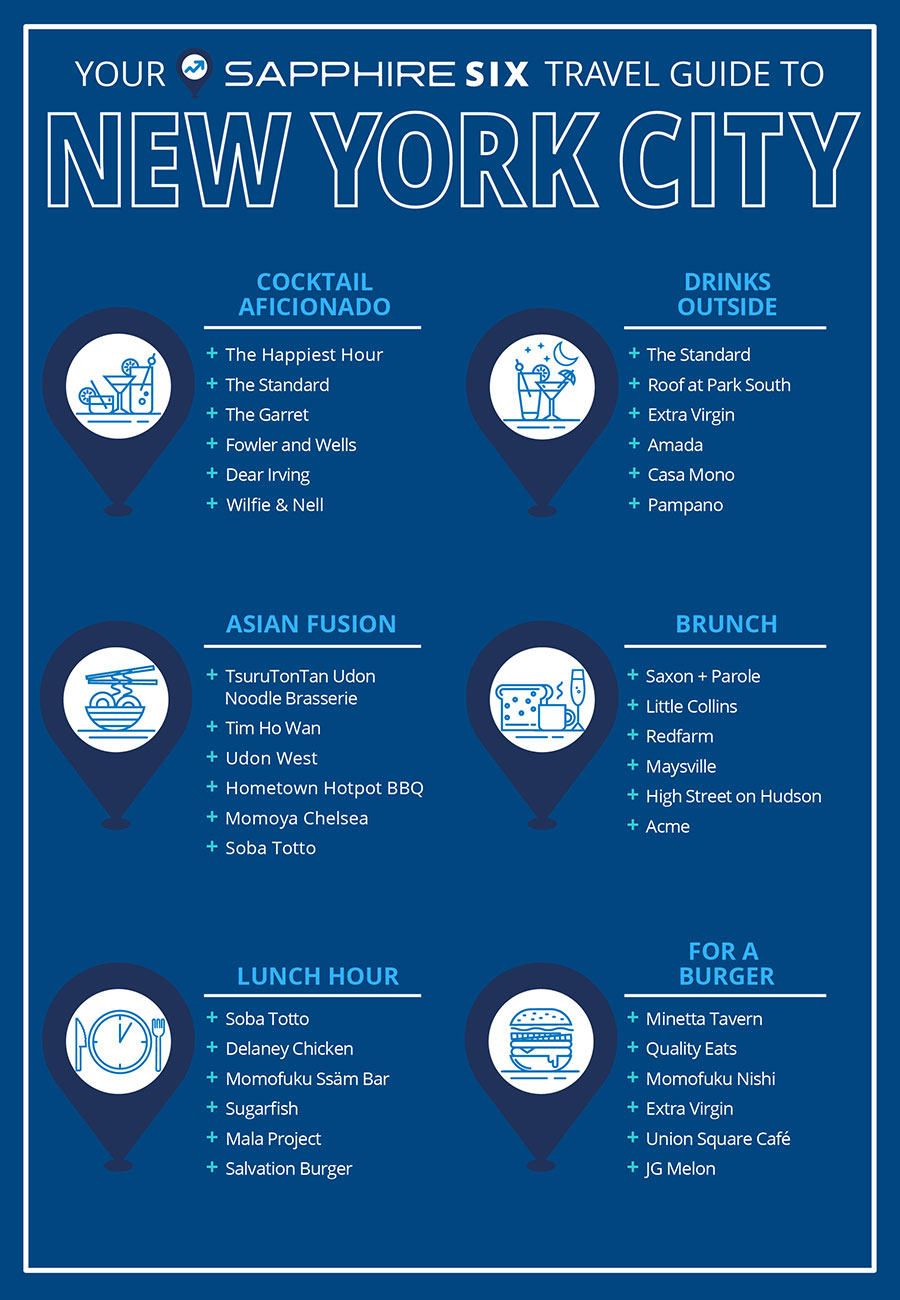 A quick note on methodology:
So how did we come up with the Sapphire Six? By pairing anonymous Sapphire Reserve cardmember spend data with feedback shared on social media, we were able to determine the most popular restaurants by unique visitors and category.
Inclusion on the Sapphire Six is not an indication of an affiliation or endorsement by JPMorgan Chase. The words or symbols used to identify the source of goods and services of a third party may be the trademarks of their respective owners.
Jessica Stake is a Chase News contributor.