Your Life
Travel
Yoga in the Wild: Outdoor Retreats Connect You With Nature
Summer Getaways Let You Practice As Yogis Have for Millenia
By
Valerie Reiss
Posted: 07/22/15
Updated: 11/10/17
Maria Fusco, a yoga instructor and mother of two, does her best to make time for her own routine when she isn't teaching others. Besides going to the studio after a long day of instructing, she makes it a point to get out of her normal routine and do her poses outside.
"My life is hectic. Doing yoga makes me feel grounded," she says. "Taking it outdoors helps me add a different dimension to my practice. Surrounding myself in nature helps me intensify what I'm doing, ease my mind, and focus on the present."
When you practice yoga outside, instead of in the sweaty studio, you're doing as yogis did for millennia — breathing and stretching in the breeze. Outdoors, you can literally do yoga, which means "union" in Sanskrit, by connecting with nature in a way that's often deeply rejuvenating.
There are now many choices for merging asana with fresh air, from rocking your yoga at outdoor festivals to finding stillness in serene settings. Here's a selection of retreats to get you yoga dreaming — and planning that trip you didn't know you needed to take, now.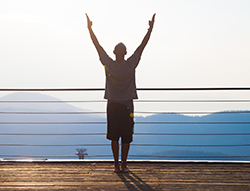 A Festival of Yoga
Squaw Valley in North Lake Tahoe, California, July 16-19, 2015
The Deal: What started as a single festival is now a multi-venue, traveling yoga and wellness party. At this location, you'll practice in open-air tents with some of the planet's most revered teachers, including Dharma Mittra, Seane Corn, Ana Forrest, Shiva Rea, and Rod Stryker. Off the mat, enjoy concerts from yoga-friendly favorites like Michael Franti and MC Yogi and eat healthful food. You can also hike, meditate, hula-hoop, walk a slackline, listen to educational talks and more.
Lodging: Wanderlust partners with hotels, inns, and bed & breakfasts in the area, from fancy to budget.
Costs: Tickets cover four days of up to four activities per day, including yoga, meditation, hiking, and talks, plus all the music you can handle. Or you can explore à la carte options.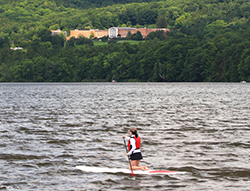 Yoga On (and In) the Water
Kripalu Center for Yoga and Health, West Stockbridge, Massachusetts, July 17–19 or August 21-23, 2015
The Deal: Imagine you, atop a large paddleboard, floating on a quiet lake. Now, you're reaching your arms up, taking in a deep breath and ... ahh. For three days in the Berkshires. With breaks for clean, abundant food, naps, walks, and soaks in a hot tub. Ryan and Juliet Burch lead this stand-up paddleboard yoga retreat to help students get the benefits of the board, nature, and yoga all in one. It's for people who have done yoga for at least two years and are comfortable swimming in the lake, because falling in is part of the fun.
Lodging: Kripalu offers lodging options from shared dorms to luxurious, hotel-like accommodations.
Costs: There's a charge for tuition; meals and accommodations are available for a separate fee.
Choose Your Own (Hawaiian Yoga) Adventure
A Personal Retreat or "Edu-vacation"
Kalani, The Big Island, Hawaii, anytime space is available
The Deal: Create a custom yoga retreat in paradise. Yoga classes are held every day and range from Yin Yoga to vinyasa and more. When you're not on your mat, immerse yourself in swimming (beach, pool or hot tub), snorkeling, scuba diving, hiking by waterfalls or visiting a nearby black sand beach — all with the dramatic Kilauea volcano nearby.
Lodging: Choose from a range of options, from a room with a shared bath to a private cottage.
Costs: For an inclusive package, check out the Kalani Experience, a 6-night stay that includes yoga, housing, food, massage, classes, and events.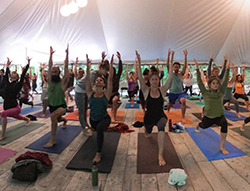 Summer Camp for Grownups
Yoga Hoedown, Abode Mountain Camp, New Lebanon, N.Y., September 4-7, 2015
The Deal: Spend your Labor Day weekend doing yoga, dancing to live music and DJs, and hanging out in nature, a.k.a. going to "summer camp for adults." Most people just pop up a tent in the woodsy setting, but there are other options for a more "outdoor-lite" experience. Though the lineup of teachers is still being finalized, event founder and NYC-based vinyasa instructor Julianna Takacs will lead classes with others from New York studios including The Shala, Yogamaya, Kula Yoga and Greenhouse Holistic.
Lodging: Camping is included in the retreat's price, while cabins and rooms are available for an extra charge.
Costs: One fee includes all classes, food, activities and camping.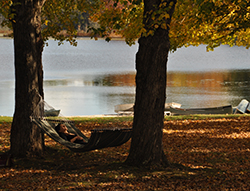 A Yoga Immersion
"The Full Scope of Yoga" Retreat with Rodney Yee and Colleen Saidman, The Omega Institute, Rhinebeck, N.Y., October 23–25, 2015
The Deal: Dive into your yoga practice in this weekend with yoga's two shiniest rock stars, Colleen Saidman and Rodney Yee. You'll do Iyengar-inspired asana, plus meditation and pranayama (breathing practices), all on the bucolic Omega campus, which should be peaking in autumnal glory. Three fresh meals a day, walks by the lake, and sitting outside and breathing in nature are very much included.
Lodging: You can camp in a tent, stay in a dorm, or sleep in a deluxe cabin — with several options in between.
Costs: There's a fee for tuition, plus a separate charge for lodging that includes meals.
Photo: Chris Clinton/Getty Images | Valerie Reiss is a writer, editor, and yoga person who recently moved from Brooklyn to Western Massachusetts. Her work has been published in Yoga Journal, Women's Health, The New York Times, The Huffington Post, and more.